Tiger Too
November 21, 2022 - 9:29pm
Driver Jill Glass drives the 86-S Tiger Too at Chelan, Washington. "It's a fun boat to drive, it's a very forgiving boat."
Tiger Too: A Classic 136 Inboard
Story and photos by Craig Fjarlie
In about 1957, Ron Jones designed and built a 136 inboard for a racer in California. The boat was in action for a brief period of time, then the hull was sold to someone in Scandinavia. In 1971, Jones built another 136 which was purchased by Harold Gitt, of Puyallup, Washington. Included in the transaction was the Flathead Ford V-8 60 and the propeller from the boat that had gone across the Atlantic. "Those were the two things from that other boat," explains current owner Ron Morrison, of Vancouver, Washington. "That's the original combination."
Harold Gitt campaigned the boat for about 10 years. He was the owner, but hired drivers to handle the cockpit duties. Gitt eventually sold the boat to Morrison, who was his son-in-law at the time. "I bought it when I was in graduate school," Morrison recalls. "I've had it since about 1971." Morrison drove the boat in the 136 class, and later in the the 145 class. "I ran it with other engines until about 1985, and then I pulled away," he says.
More than 10 years ago, Morrison decided to restore the boat so it could participate in Vintage events. "I took it to Dave Jerome. He restores Chris Crafts and all that kind of thing. He hadn't done a hydroplane before," Morrison remembers. Jerome quickly realized the boat would require a great deal of work to restore it to running condition. "He got into it a ways. He said, 'I can't rip it—the glue joints come apart.'" Fortunately, Morrison was able to provide needed information. "We had the plans for the original boat, and we had Ron Jones's phone number. It's basically a new boat with about a half-dozen original pieces in it. The bottom is original, all the hardware is original, and the engine is original."
One of the most interesting items is the engine. "This is a 136-class Ford V-8, 60 cubic inches," Morrison says, with pride. "A flathead Ford. They were built from about 1937 to 1939, so they're that old." The engine in the boat was set up for racing in 1958.
The current driver of the boat is Morrison's daughter, Jill Glass, of Milton, Washington. She has competition experience in the 1200 cc inboard class. "I raced in the '80s in the T class, as it was called," she says. "Back then it was called a lady's class. My boat was a converted outboard, so I was actually on my knees with a hand throttle and everything. That was a lot of fun."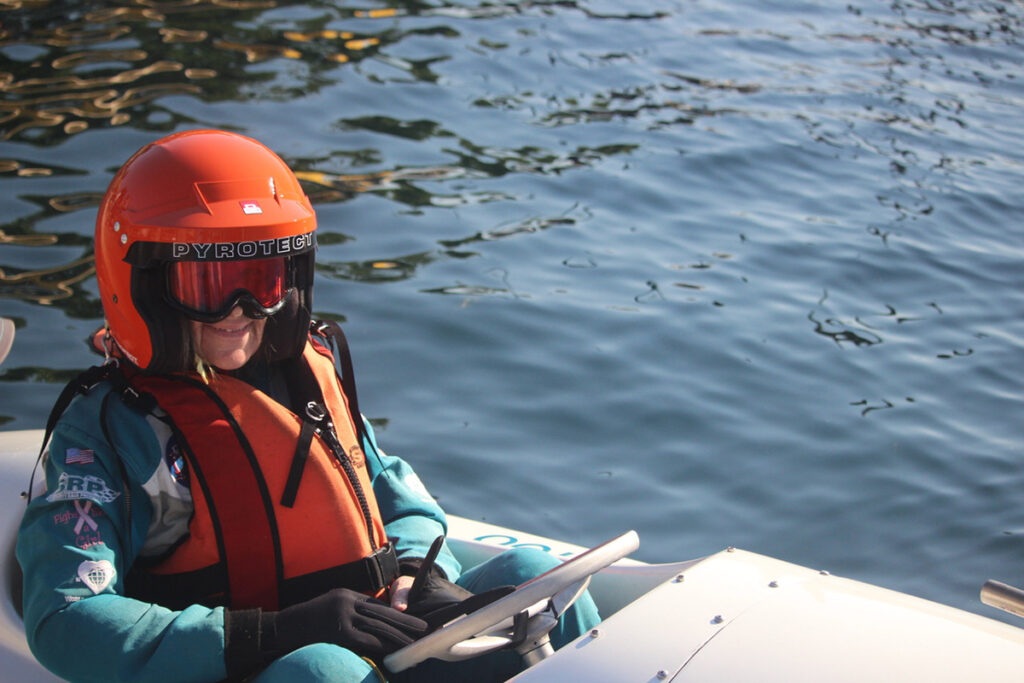 "…whether it be outboard, inboard, whatever, we girls can do it," says Jill Glass.
Glass took over the wheel of Tiger Too for Morrison. "I started driving as my dad's back-up driver in 2012; and then when he gave it up in 2014, I took over as the primary driver." Glass clearly enjoys driving the boat in Vintage events. "The fact that it has been in the family so long makes it special for me," she explains. "The other part of it is, I'm one of the only female drivers out there. That is really important for me, to represent my gender and show them that we can do this, too. If they have any desire or interest or passion to get in a cockpit to drive a boat, whether it be outboard, inboard, whatever, we girls can do it," she says with a confident laugh. Glass feels secure in the cockpit of Tiger Too. "It's a fun boat to drive, it's a very forgiving boat. I know I scare a lot of people out there because of how I push it on the racecourse, but that's just the way the boat runs. It's very reliable. You go out and can have a good time." She slides through turns with an authoritative attitude, sponsons kicking up spray around all the buoys.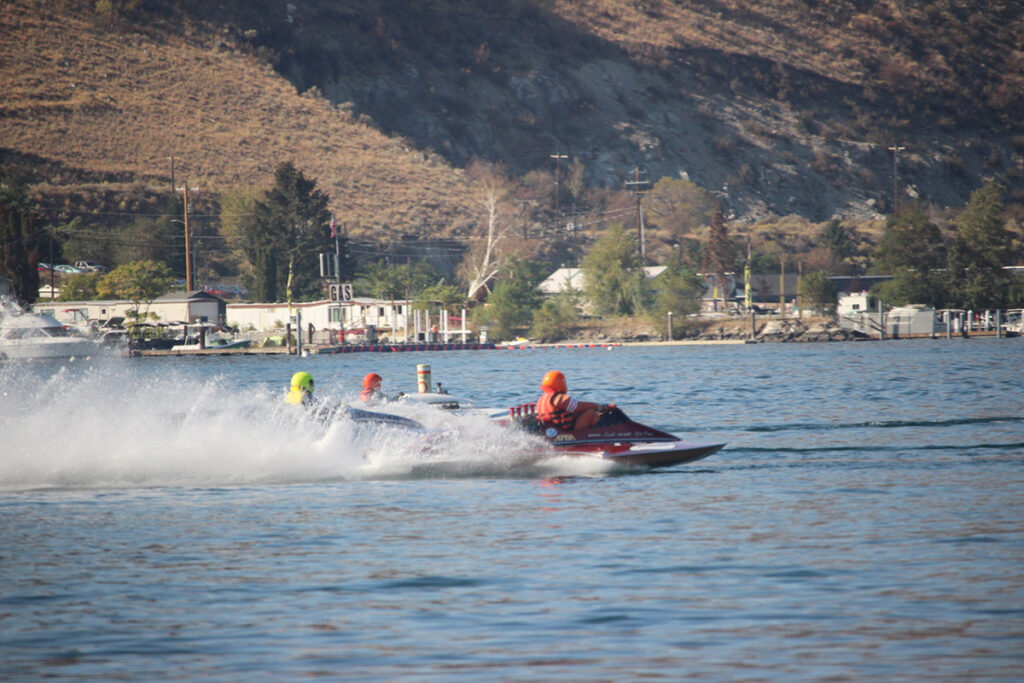 Almost lost in the spray, Jill Glass (inside lane) leads the way around the course in the 86-S Tiger Too at Chelan, Washington.
Morrison has had the boat at a number of vintage events over the years. "Before the (Covid) plague, we would run half-a-dozen weekends in the summer. We would run mostly in Washington, but I've had it as far south as California," Morrison says. In 2022, Tiger Too only appeared at Mahogany and Merlot on Lake Chelan. Those who were fortunate enough to see it witnessed a sleek vintage boat with a fascinating engine, and an experienced driver who puts her foot on the throttle. The combination produces an exciting show that keeps spectators riveted.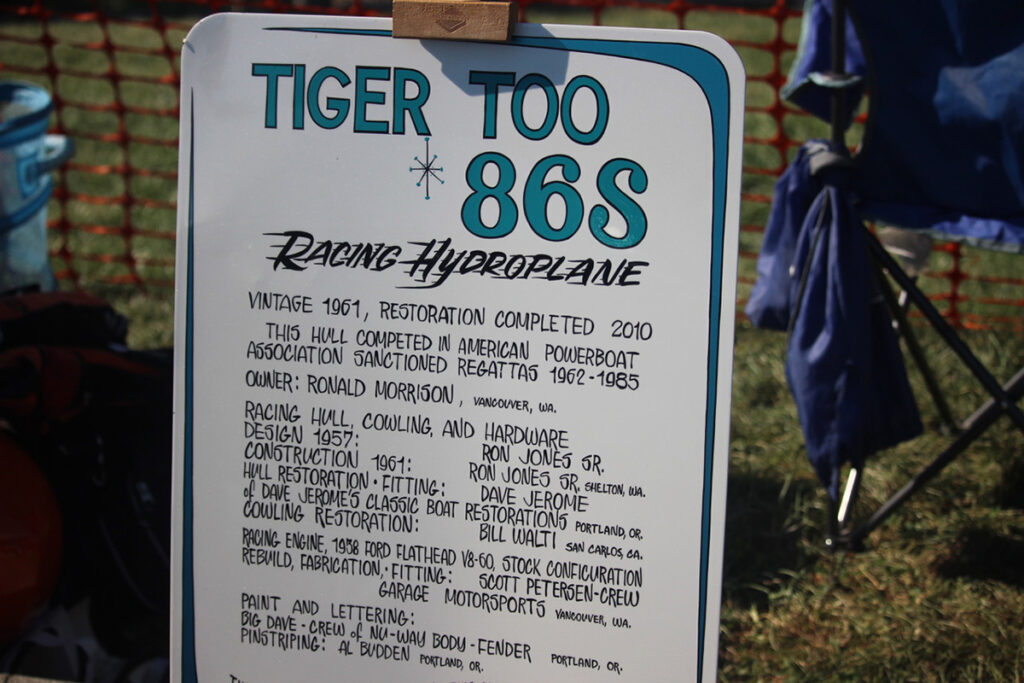 An information sign about Tiger Too.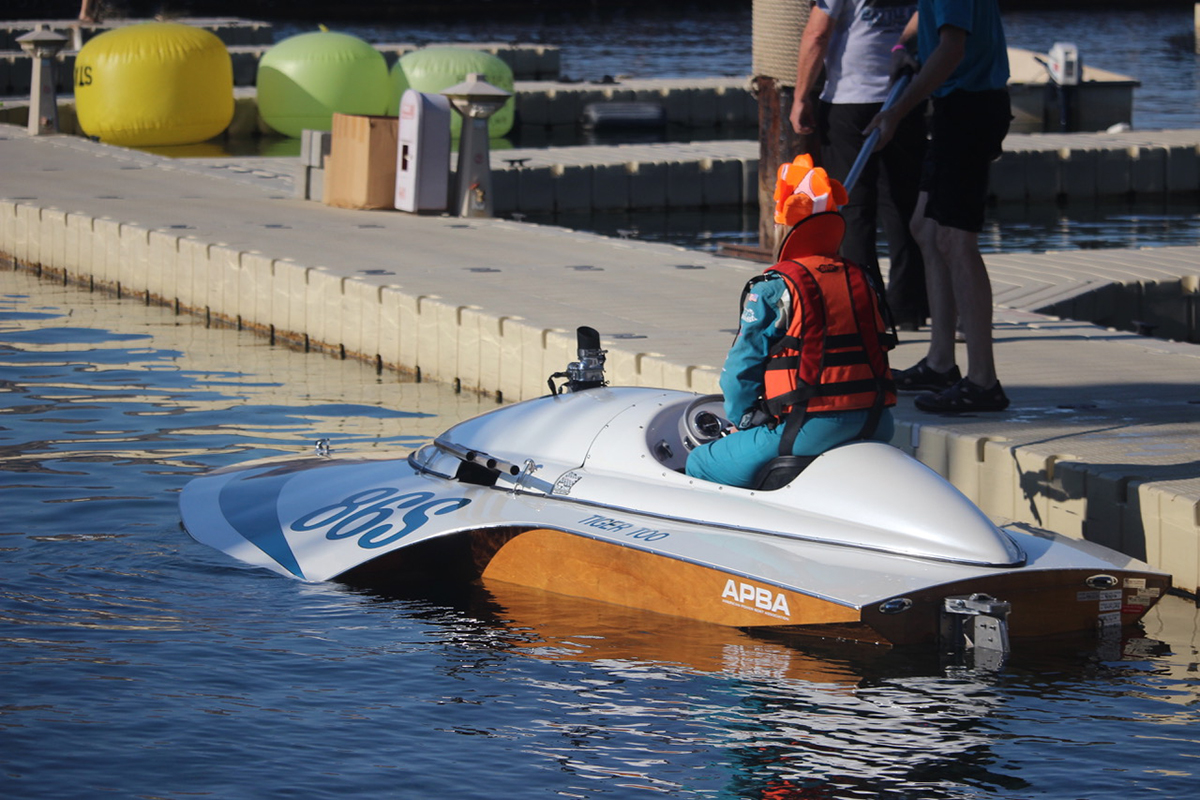 86-S Tiger Too gets ready to run.

Editor's note: Tiger Too has no historic relationship to the 225 class Tiger that was profiled on this site several months ago.
Featured Articles