The APBA Historical Collection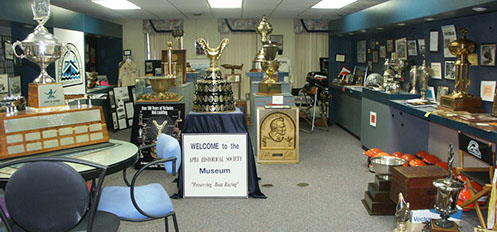 The museum is on display in the home of the Society in Eastpointe, Michigan, a suburb of Detroit.
Since being formed in the late 1970s by the legendary Bill Muncey and current Chairman George "Buddy" Byers, the Society has collected many treasured items tracing back to the early days of powerboat racing.
Iconic trophies like the APBA Gold Cup and the Martini & Rossi trophy, along with helmets, driving suits, and a wonderful collection of photos and memorabilia are on display.
Starting as a small 1,200 sq.ft. plumbing service shop, the facility is now a beautiful 8,000 sq. ft. building situated on a well-landscaped lot, easily accessible from the Interstate highway system (I-94, I-696). The building is shared with the American Power Boat Association (APBA), the oldest and largest powerboat sanctioning organization in the Northern Hemisphere.
Come visit and enjoy a trip through the history of America's most exciting motorsport!
If you need information or might have items of interest to the Society, please email us at [email protected] or Fax: 586-773-6490.
APBA Gold Cup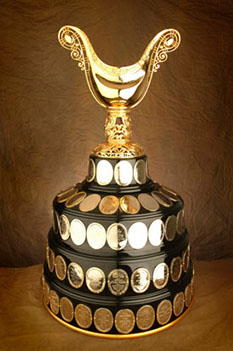 The one and only APBA Gold Cup is the oldest active trophy in motorsports. The trophy was first awarded in 1904 as the APBA Challenge Cup.
President's Cup