The Life of Art Asbury by Doug Cunnington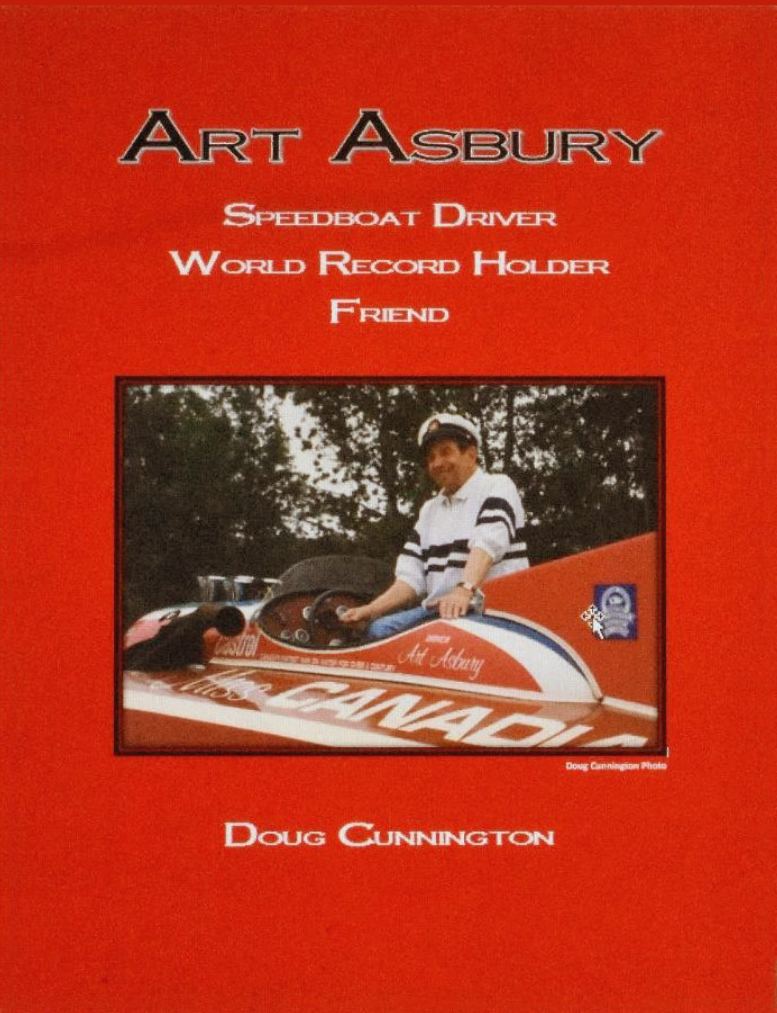 Book Review by Craig Fjarlie
Canadian participants too often have been overlooked in unlimited hydroplane racing history. Ask the casual fan for information about Canadian racers and the result may be a blank stare. Some will remember Jean Theoret, and possibly the Supertest boats, but that's about all.
Truth is, Canada has produced some great owners, drivers, and boats. Doug Cunnington, of Kimberley, British Columbia, has written a book about Art Asbury that helps give Canadian racers the recognition they deserve. Cunnington's uncle was Art Asbury, a top driver in a variety of classes from the late 1940s through the 1980s. Title of the book is Art Asbury, Speedboat driver, World Record Holder, Friend. Among unlimited fans, Asbury is best remembered for driving Miss Supertest II in 1957. He won the Buffalo regatta and on November 1st of that year he set the world kilometer straightaway record at Picton, Ontario, breaking the record that had been held by Slo-mo-shun IV. A few weeks later Hawaii Ka'i III raised the record, but Asbury's mark still stands in Canada. In fact, he remains the fastest Canadian on water.
Asbury won his first race in 1948 in a 225 class boat named Kingcot. He won the Prince Edward Gold Cup in 1953 driving a 266 class boat, My Betsy. His most famous boat was Miss Canadiana in the 266 clsss. He later drove the 7-litre boat Royal Canadiana, winning the U.S. National Championship for the class in 1964 and setting a straightaway speed record in 1965.
Asbury was co-Grand Marshall, with George Simon, of the 1996 APBA Gold Cup race in Detroit. Asbury made contributions to life jacket safety, and served as Harbour Master for Expo '67 in Montreal.
The book includes copies of artwork by Ray Dong, and a three-page interview conducted in 1998 at Clayton, New York, by Hank Kosciuszko, Bob Conner, and Carl Wilson.
Cunnington's book, which is filled with photos – many in color – is a welcome volume that documents the life of an outstanding Canadian racer. It is available directly from the author. He can be reached by email at [email protected]. Pricing and shipping information is available HERE.
Featured Articles