The Energy Behind the Wheeling Vintage Regatta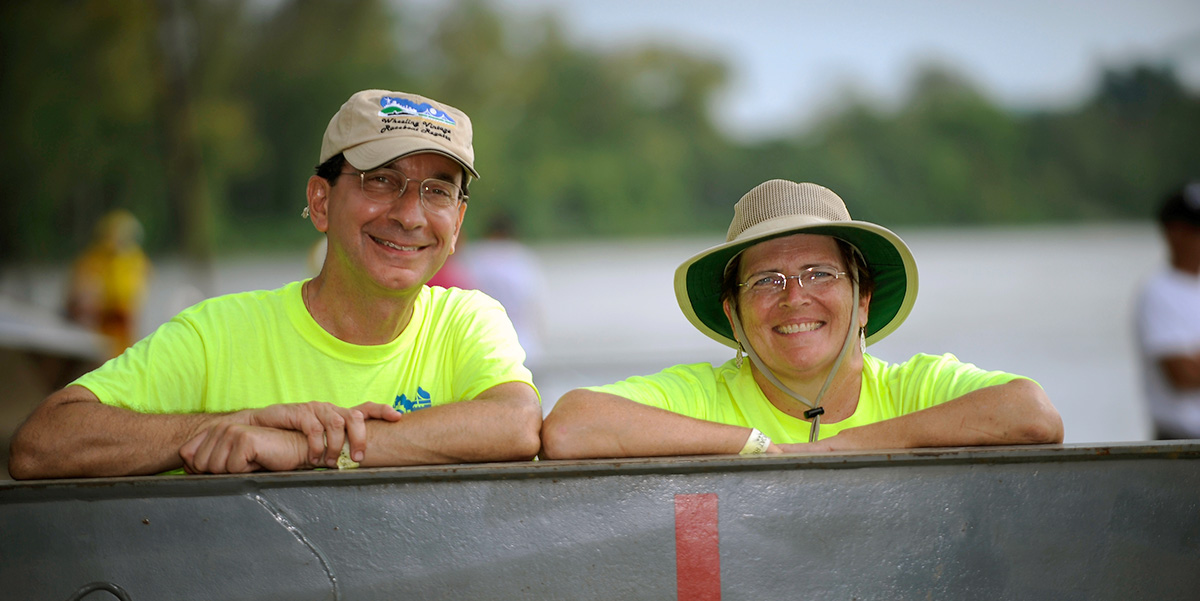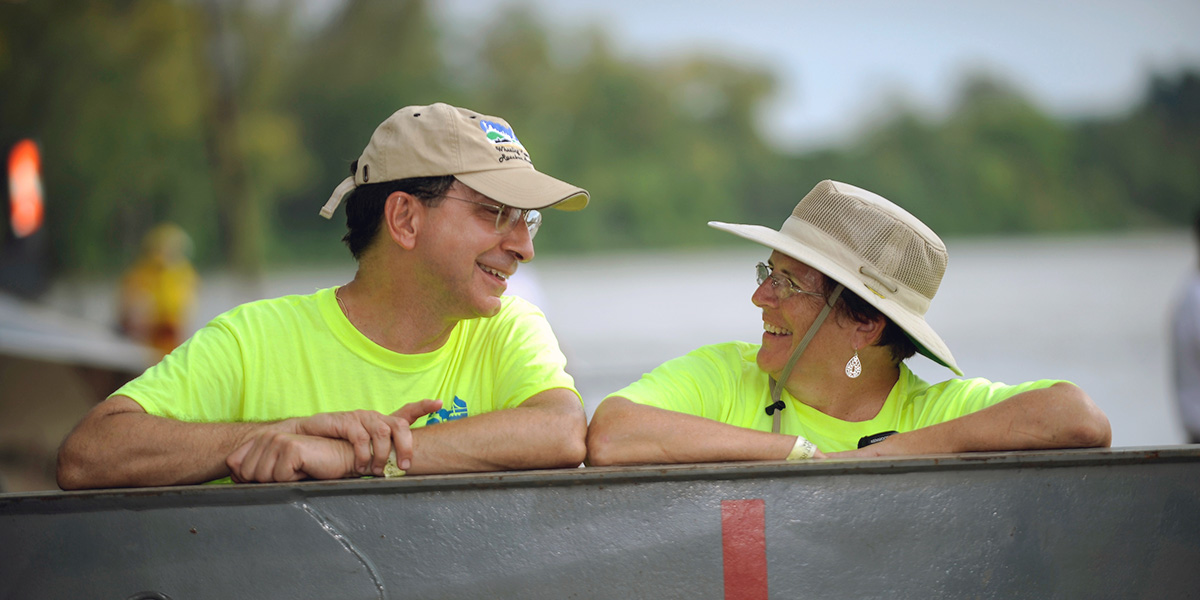 Dan and Debbie Joseph at the 8th Wheeling Vintage Raceboat Regatta in Wheeling, West Virginia USA, Labor Day Weekend 2013. © F. Peirce Williams 2013
Dan and Debbie Joseph
The Energy Behind the Wheeling Vintage Regatta
By Craig Fjarlie
Every Labor Day weekend, a vintage regatta is held on the Ohio River in Wheeling, West Virginia. Dan and Debbie Joseph, residents of Wheeling, are the force behind the event. Their enthusiasm and commitment have turned it into the top vintage event in the eastern United States. Last year, there were 54 vintage hydroplanes on hand for the regatta. The Josephs are hoping for an even bigger turnout this year.
Wheeling offers spectators a spectacular view of the action. "We have three cranes and they sit right in front of the people, so they can watch," Dan Joseph explains. "The pits are right in front of the crowd." People driving on Interstate 70 come around a curve and are able to see the course. Boats on the water go under a suspension bridge. "An 1849 suspension bridge," Dan says. "In the day it was the longest suspension bridge in the country." Debbie Joseph calls the bridge a draw for photographers. "We offer a really unique perspective for photography. A lot of photographers like coming to Wheeling because they get some great shots."
The Josephs have been involved with APBA for many years, yet neither raced competitively. Dan was born in Pittsburgh, but grew up in Wheeling. "When I was a preschooler, my parents would come back from the New Martinsville Regatta and talk about the boats. I knew the names of race boats and boat racers before I was able to go to a boat race," he remembers. "When I was about seven years old I was able to go to my first boat race. My parents took us down to New Martinsville. My dad was an orthodontist and friends with a dentist who lived on the first turn. They would go every year. A whole bunch of people would go to that. My mother was really into the boats; my dad, not so much. My mother and I would watch it every year. It didn't matter what the weather was like." Dan joined APBA when he was 11 years old. "Dad died when I was a teenager. I continued to be involved; helped in the pits and so forth. Then when my wife and I got together, we traveled to a number of events, Unlimited races, limited races."
Debbie was born in Washington, D.C. "I had absolutely no idea what a hydroplane was until I was 19 years old," she says. "I had likely seen them on ABC's Wide World of Sports, because I watched that religiously every weekend. It wasn't until Dan and I started dating that the hydroplanes came onto my radar. We used to go to mostly inboard events around our region, Dayton, Sistersville, New Martinsville, up toward Pittsburgh, and then branched out as we got more and more into this. We would end up at Unlimited races at Evansville, Madison, Detroit, the typical places where the Unlimiteds ran. We followed the hydroplanes as spectators for many years." Dan adds a remark about their increasing involvement, "I helped in the pits, she did scoring for the Unlimiteds."
The Josephs' knowledge of boat racing gave them a unique opportunity. "I did a residency in St. Louis," Dan remembers. "We went to the St. Louis boat show one day. Some folks were there representing the Chamber of Commerce from the event that was going to be in Evansville (Indiana). The ladies there didn't know how to answer certain questions. I was answering questions for them. They ended up asking us to come back the next day, so we did. The following year we were contacted by them and the Atlas Van Lines Corporation to say, 'Would you come and help take care of Bill Muncey? He's going to be coming in and would you folks take care of Bill for two days and help him promote the Evansville event?' So, we had two days one-on-one with Bill, day and night. That was some of the stuff that happened before we got involved with our own race."
One year the Josephs were driving home from a race in Detroit. Dan recalls their conversation as they were arriving in Wheeling. "As we crossed the bridge over the river she said, 'I think we ought to have an event here.' I said, 'I don't have time. If you want to do it, I'll help you.' That was the beginning."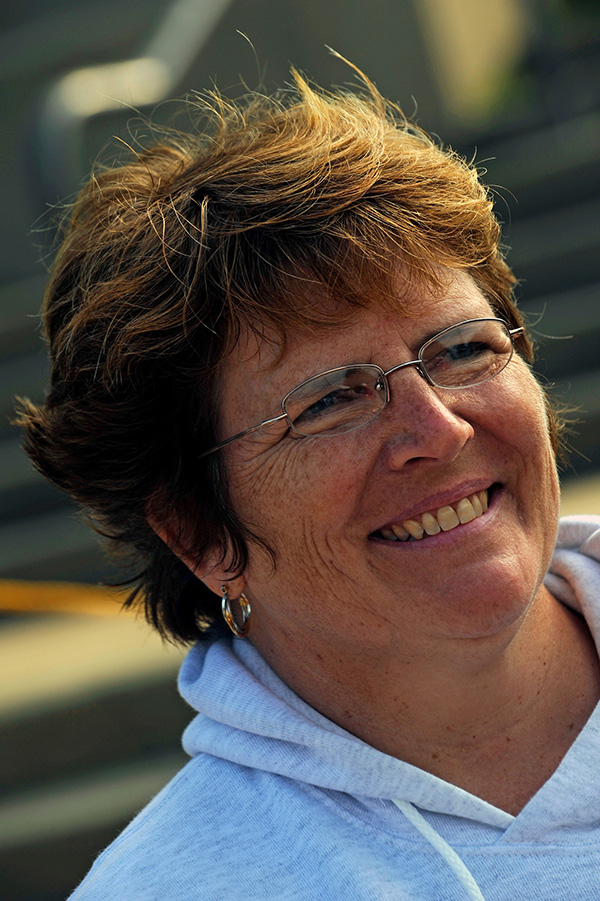 Debbie Joseph doing what she loves- putting a great big regatta together. © F. Peirce Williams 2009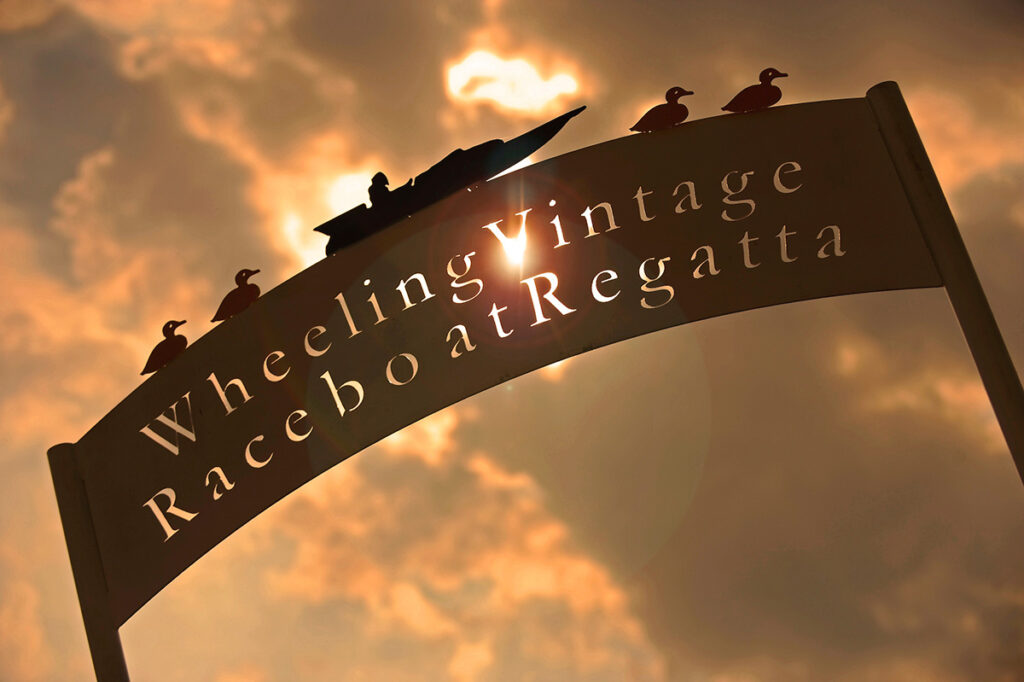 Gateway to the 2009 Wheeling Vintage Race Boat Regatta, Wheeling, West Virginia USA. © F. Peirce Williams 2013
Once the Josephs had agreed to try to have a vintage event in Wheeling, they needed to secure approval from the proper authorities.   They approached city officials. "First of all, they had no idea what we were talking about," Debbie says. "They'd never seen a race boat before. They had no idea what it was. We sat with them and explained what we thought we could present to the city, how many people we could bring into the city, how many race boats we could bring in, and where they'd be from. They all sat there and very kindly nodded their heads. So, we said, 'Do you have any questions?' They said, 'Well, how much money do you want from us?' I said, 'We don't want any money from you, we think we can raise the money. We think we can find sponsors and participation fees and all that. We think we can pay for it.' Well, now they were real excited." Dan told the city officials, "We will run the event, we just need your support. We didn't realize we were the only event like that to ever come to the city and say, 'We're not asking for anything other than give us a total so we can make it work.'"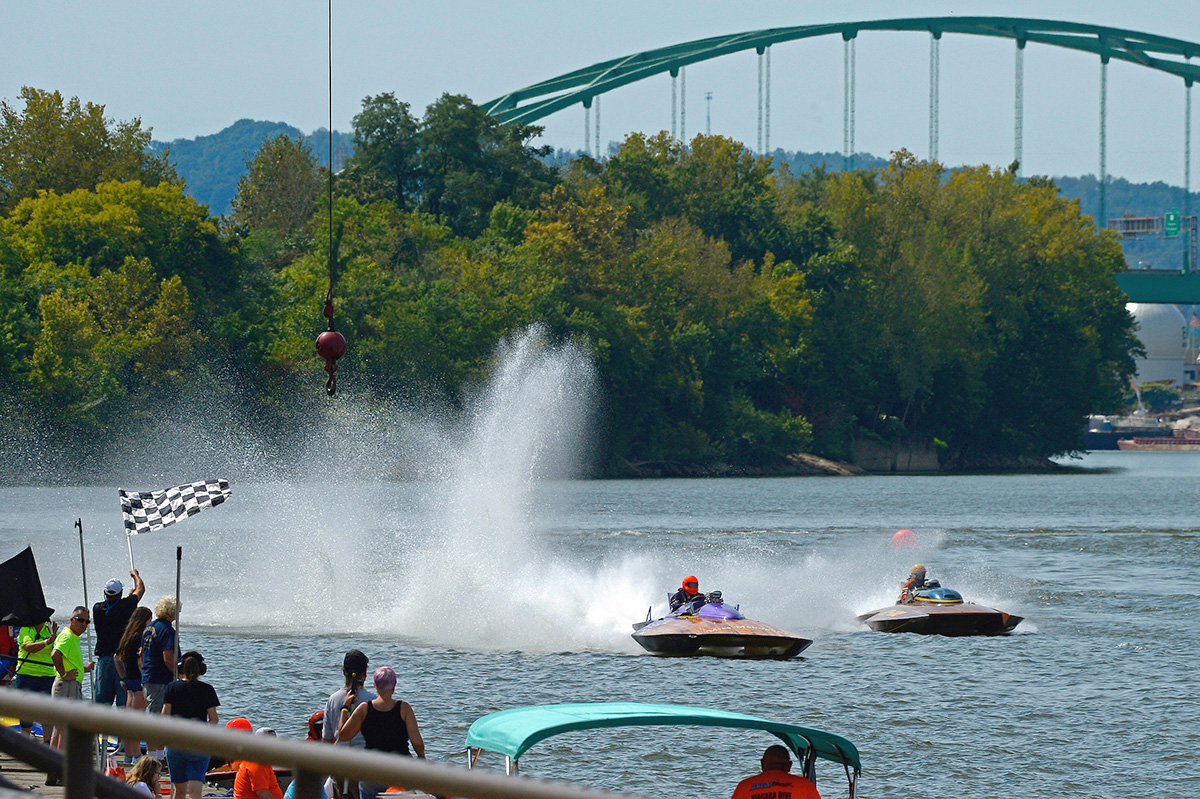 Dean Berry, H-88 Miss Mahogany (built by owner from Ron Jones plans), Bob Hampton, GP-182, Xanadu, (1982 Grand Prix class picklefork Lauterbach hydroplane. © F. Peirce Williams 2019
Debbie praises city officials for their support. "The city has been a great proponent for us. As a matter of fact, they do donate money to us because they've seen what we bring." Dan is grateful for support provided by the wider community. "The editor of our newspaper, Mike Myer, used to help put boats in the water in New Martinsville. He was from New Martinsville. He got very involved, very interested and actually ran our boats for a number of years. Unfortunately, he passed away of Covid a couple of years ago. He was a major proponent and wrote about the boats and he just loved them. He would travel with us at times. We also got WesBanco, a pretty large regional bank, as our major sponsor. Their Chairman of the Board is a local lawyer who got involved. He and his son both ran our boats, and they own a 266 hydroplane. So, we're very blessed. We've had a number of boats in the area that are locally owned."
Putting on the Wheeling vintage event requires a great deal of advance work. Debbie makes a list of everything she does. "I have a document that I put together years ago. It is 75 lines single spaced of all the things that have to be done. You start with asking for a sanction from the American Power Boat Association. We have to file an application to use Heritage Port with the city. You have to collect insurance certificates from all the vendors, Port-a-Johns, all of that. You have to prepare the information that is sent out to participants, get the registration forms set up, get the web site set up, then accept the registration forms back. We have a big dinner on Friday night. That is the single biggest expense for our budget. It's a kick-off dinner, the VIP and sponsor dinner. We honor our sponsors. All of our boaters are there. Usually, a couple hundred people are at that event." Dan adds to the list. "There's a program that we put together. We honor Boat Builder of the Year."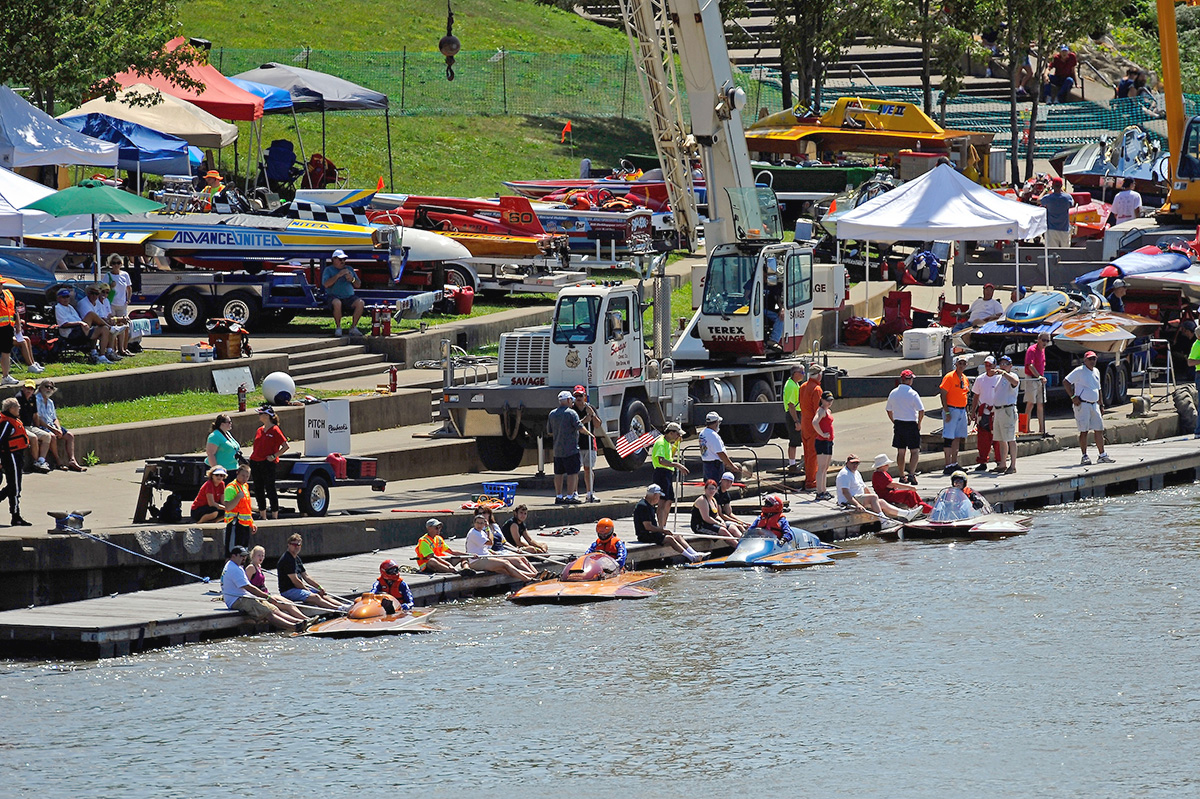 Little hydros lined up at the dock. © F. Peirce Williams 2013
One factor that helps make Wheeling a successful event is the number of vintage boats in the area. "Right now, I believe it's 18 boats in Wheeling and our surrounding cities," Debbie notes. "So, we have a really great critical mass." Dan, who serves as Vice-Chair of the APBA Historical Society, is pleased to have a famous boat in his collection. "One of the very first names I ever knew was George 'Buddy' Byers, Jr. and the Miss DeSoto hydroplane. Before I ever saw a boat, I knew that. Now, among our boats, we own the Miss DeSoto, along with a friend from Wheeling, Dave Kappel, who is a physician. That boat set a world record in New Martinsville at 151 miles an hour in 1958. We stay in contact with Buddy. We're very blessed."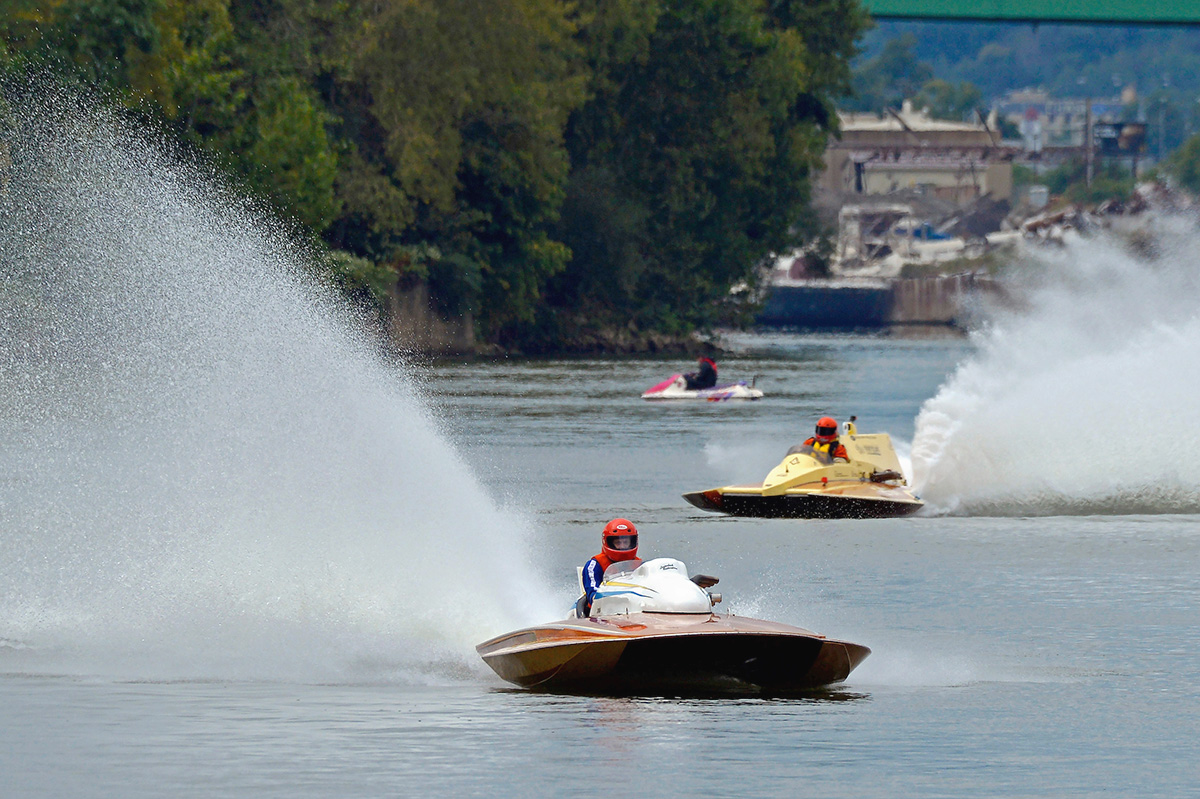 A-41 Brian Joseph, "Something Special", (1986 Lauterbach 2.5 Mod class hydroplane. © F. Peirce Williams 2017
The 2023 Wheeling event will be Saturday and Sunday of Labor Day weekend. Dan and Debbie Joseph are already preparing for another successful vintage program.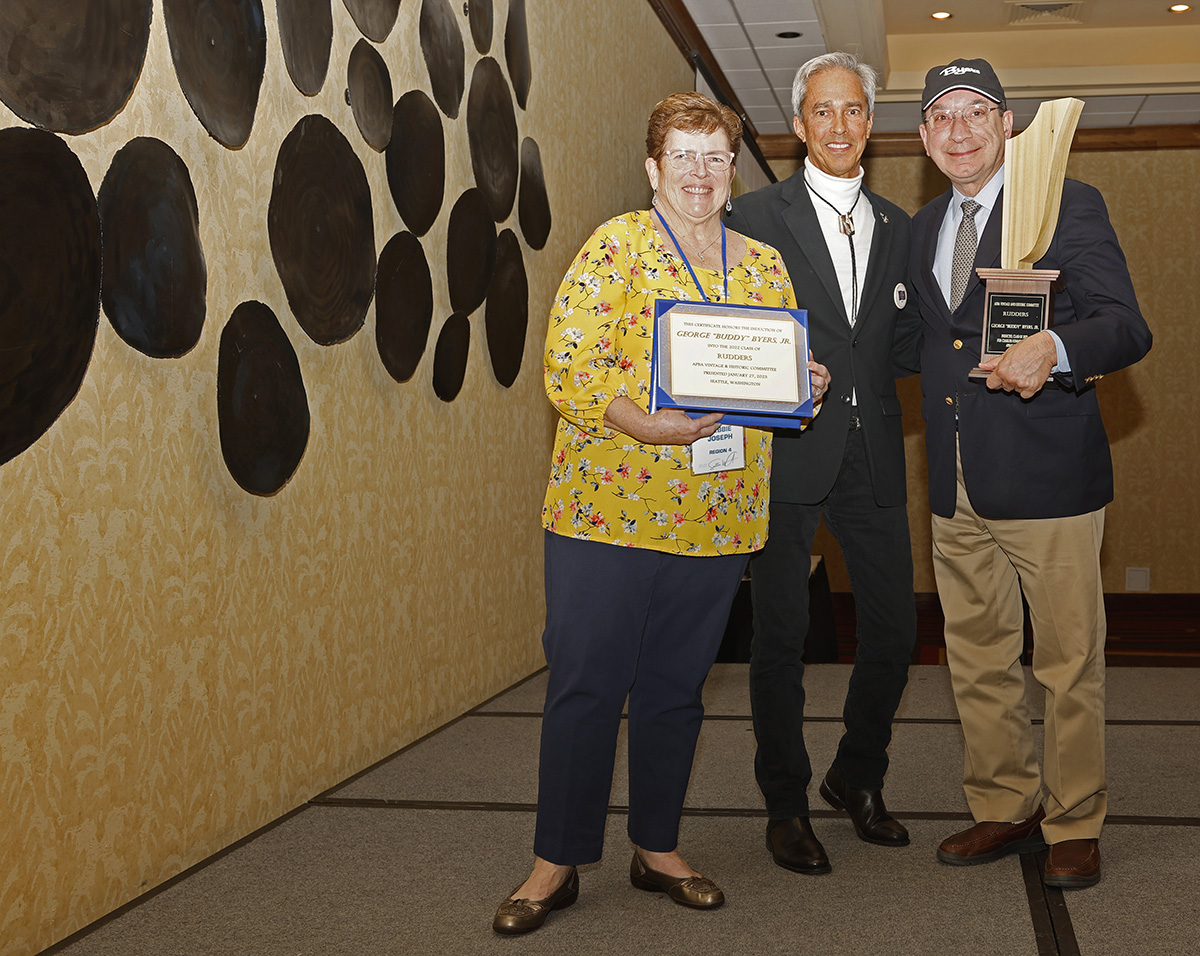 Dan and Debbie Joseph at the 2023 National Meeting when they accepted Buddy Byers' Vintage & Historic "Rudder Award."  Jeff Buckley is in the center. Photo by Gleason Racing Photography.
Featured Articles