The Cowboy and the Crackerbox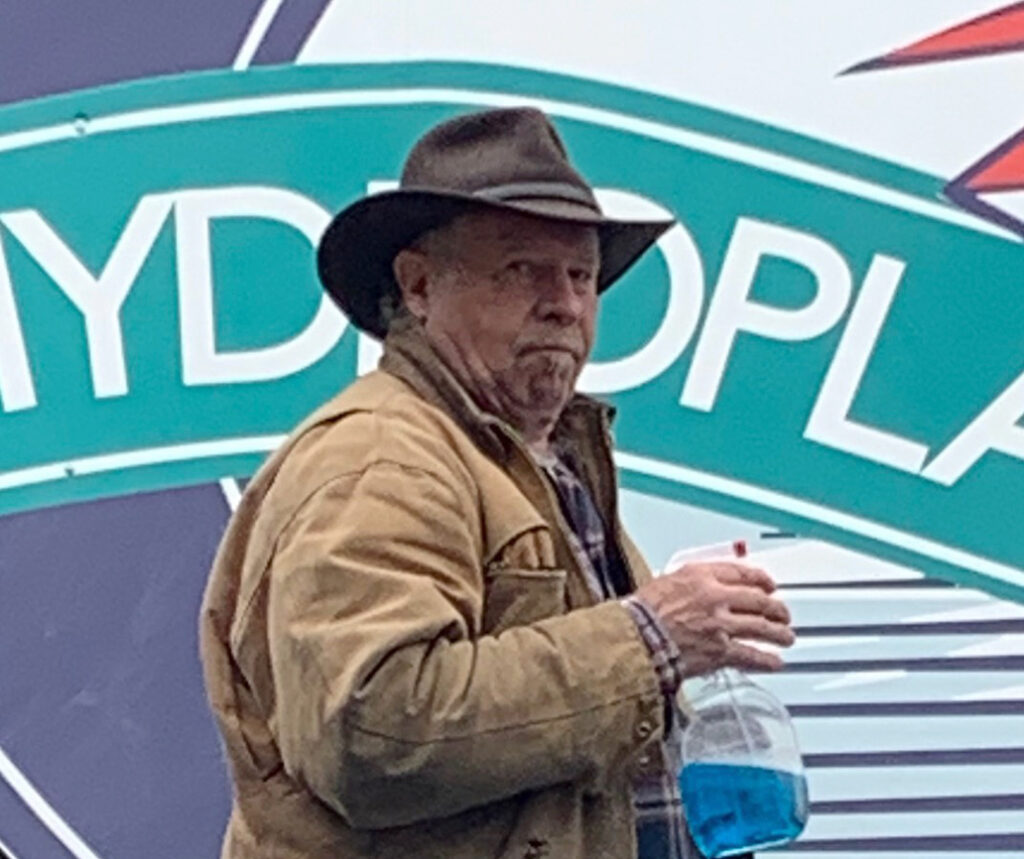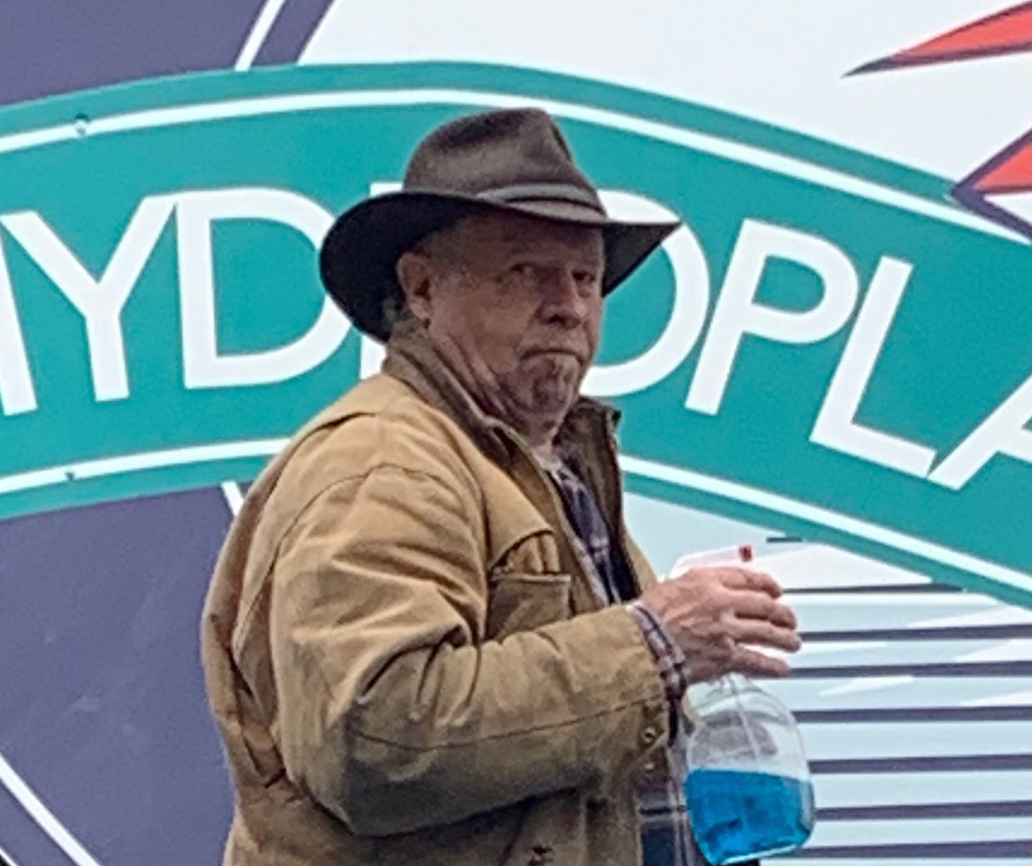 Cowboy Bob Jensen hard at work at the Hydroplane and Raceboat Museum.
Photo courtesy of Museum Executive Director David D. Williams.
By Craig Fjarlie
Bob Jensen, "Cowboy Bob" to his friends, has spent a lifetime around race boats. In the late 1980s he raced in the Crackerbox class. He also has worked as a crew member on Unlimited hydroplanes, helped restore boats for the Hydroplane and Raceboat Museum, and was a technical inspector for H1 Unlimited. Jensen grew up near the Unlimited hydroplane racecourse on Lake Washington. He was captivated by the boats, and the excitement he experienced as a child has remained to this day.
In about 1988, Jensen and Buddy Green purchased a Crackerbox. Jensen is uncertain of the exact year. "I believe it's a Bob Patterson hull, built in 1973 or '74," Jensen says. "Patterson said he'd have to look at it to see it it's one he built. He never saw it." Patterson has since died. "It was wood with a glass deck. We bought it from a guy who never raced it. He sold it to buy a ring for his fiancé. It didn't have a name on it." When Jensen registered the boat with APBA, he was assigned the number P-22. In keeping with the number, he named the boat Two Too Crazy.
The boat required some work to prepare it for racing. "We had to outfit it," Jensen remembers. "The first engine was a 265 Chev. Later we had a 327 Chev." Ken Dryden was frequently the riding mechanic with Jensen. "At drivers' meetings, they'd ask for volunteers to ride in Crackerboxes. Ken's hand would go up."
Jensen only raced the boat a few times for a couple of seasons. Then other obligations began to fill his time. "It was about 1990 when I worked for Jim Harvey on his Unlimited. Then I worked for Billy and Jane Schumacher on their boat." Jensen also helped Ken Muscatel restore the vintage Unlimited Hurricane IV.
Jensen is now devoting more of his time to restoring Two Too Crazy. "My plan is to put my Crackerbox back on the water and run it in Vintage events. I have yet to get it out of my yard," he says. "The boat has been following me around for 40 years," he adds with a laugh. Jensen would like to have the boat ready to run at Mahogany and Merlot on Lake Chelan, October 1-2, 2022.
A few years ago, Jensen began buying parts for restoration of the boat when he suffered a setback. "Someone broke into my shop and stole things," he says with obvious disgust. Undeterred, he is buying more parts to replace those that were taken. "I'm still looking for a dry sump oil delivery system. They're used in all kinds of racing." They are ideal for engines in Crackerbox boats because of the draft of the propeller. "I want it to live," Jensen insists. "We'll get the engine in the boat and do what we can. It takes hopes and dreams—and money, too."
Because there are two seats in Crackerbox boats, Jensen would like to use the second seat to give rides to people at Vintage events. "It's not like riding in an Unlimited," he cautions. "A Crackerbox is more like riding a bicycle." It's possible someone who goes for a ride in a Crackerbox at a Vintage event will be encouraged to put together a team and go racing.
Cowboy Bob Jensen has an obvious long-term love for boat racing on many levels. He has talent as a mechanic and skill in hull maintenance. When Two Too Crazy is ready to run again, he will be an ideal representative of the sport that has been a significant part of his life.
Below, old-school Crackerbox rules from the October 1951 Hop Up magazine.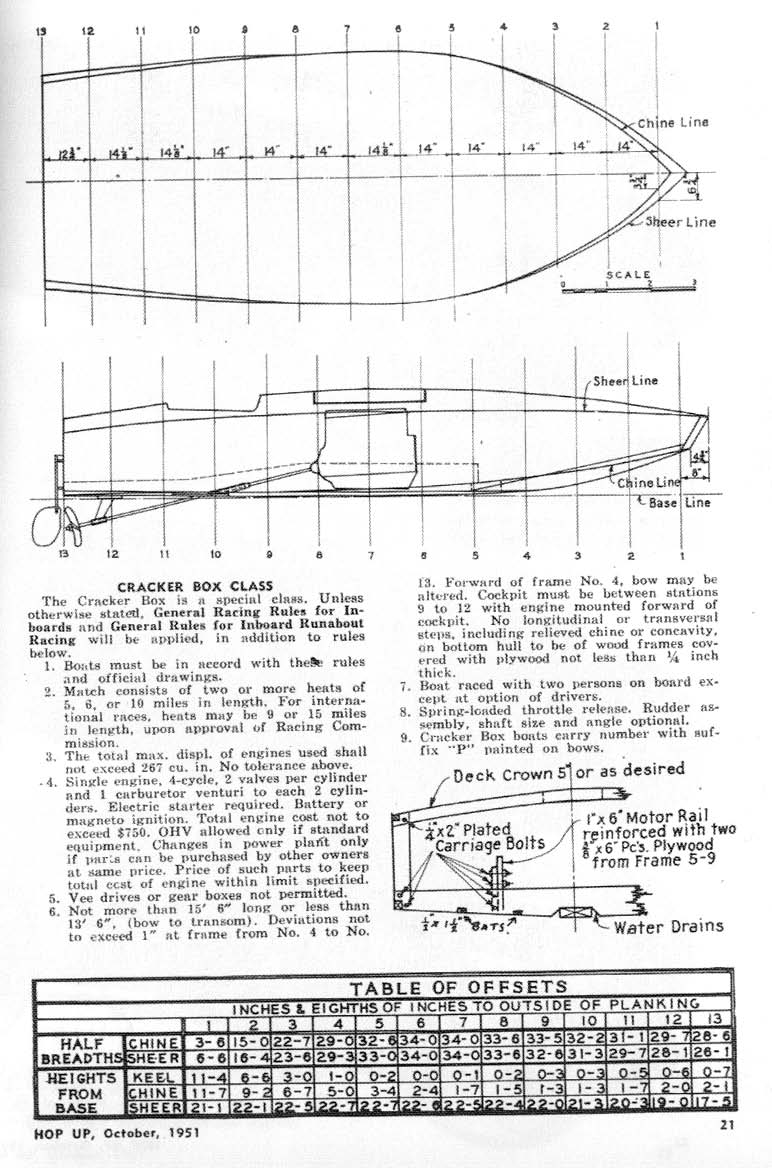 Featured Articles