Taming of the Slough
February 2, 2023 - 1:50pm
Jim Benson driving his A-Stock Runabout "Ill-Eagle" in the 1960 Sammamish Slough Race.
Photo by Bob Carver.
Winter may be the best time to dive into Jim Benson's big, entertaining book, Taming of the Slough: The Intriguing Story of the Sammamish Slough Race "The Crookedest Race in the World." Right now, when it's cold and quiet out there and the world news makes you want to hibernate, let Benson take you into the wild world of daredevil boat racers in the heyday of the sport. The book is full of amazing photos, race programs, vintage ads, maps, race schedules, and lists of winners. It's both a comprehensive history and a delightful read.
Jim Benson has deep roots in the sport. His dad Al Benson ran the Sammamish Slough race for years and got a number of youngsters (including Jim and brother Don) started in racing. Al Benson led Seattle Outboard Association and won its coveted SOA Sportsmanship Award two years in a row. He and his wife Dot taught their sons well. They raced hard, won their share, and took winning and losing equally well. Jim Benson is also deeply rooted in his Pacific Northwest neighborhood. He has known the area perfectly throughout all its changes, from his childhood to the present day.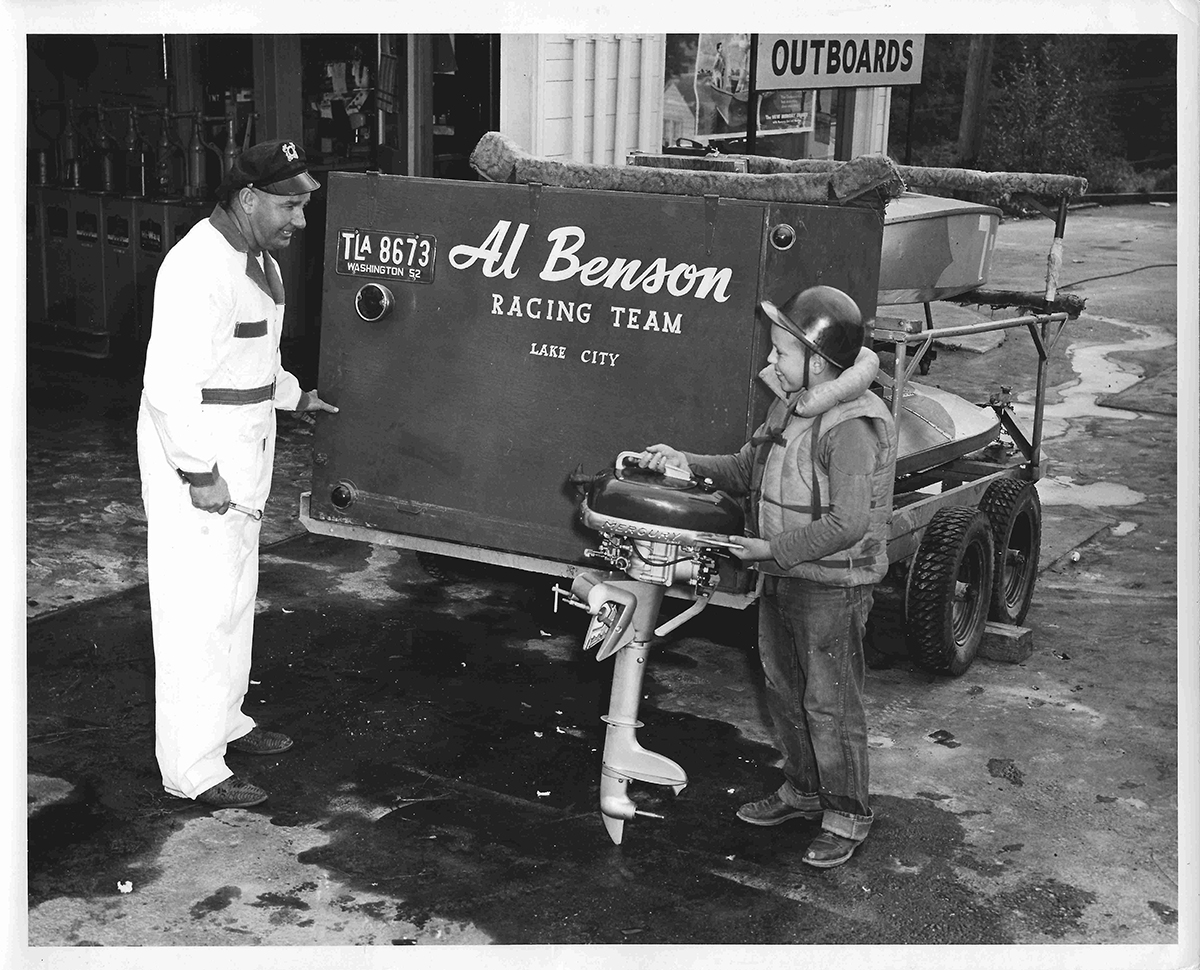 Al and Jimmy Benson at Al's first gas station/boat & motor shop in Lake City, Washington (North Seattle area). The photo appears on page 2 of the book's Table of Contents. It was taken by Bob Carver and his business partner Russ Swanson for the April 1953 Boat Sport article "Racing Family Style."
Benson starts out with a history of the Slough area, with its sawmills, salmon runs, marinas, lakes, and farms. There is a pioneer mentality in the Northwest, and many famous drivers and boatbuilders caught that spirit. They innovated and tinkered. They built fast boats and made outboard motors sing. They drove the sport from its infancy in the 1920s into the present.
The Seattle Outboard Club (renamed Seattle Outboard Association in 1930) has been a powerhouse. During the early years of the Great Depression, SOA sponsored over 20 regattas a year! Even in 1942, just before gas rationing kicked in, SOA scheduled 14 races. As many as 40,000 fans regularly turned out for races across the region. Newspapers like the Seattle Times, Seattle Post-Intelligencer, and Bothell Citizen ran terrific feature stories. Boat Sport, Speed Age, Life magazine, and Sports Illustrated sent writers and photographers too. Paramount Pictures made a promotional film for the Slough race. The club grew its membership and fan base, and sent its champions to the Nationals year after year. SOA also hosted its share of National Championships.
Boat racing was a major sport in those days, especially in the Pacific Northwest.
Benson wrote, "The Sammamish Slough Race was the public's favorite race to watch in the Pacific Northwest at a time before major-league sports were drawing the crowds in Seattle."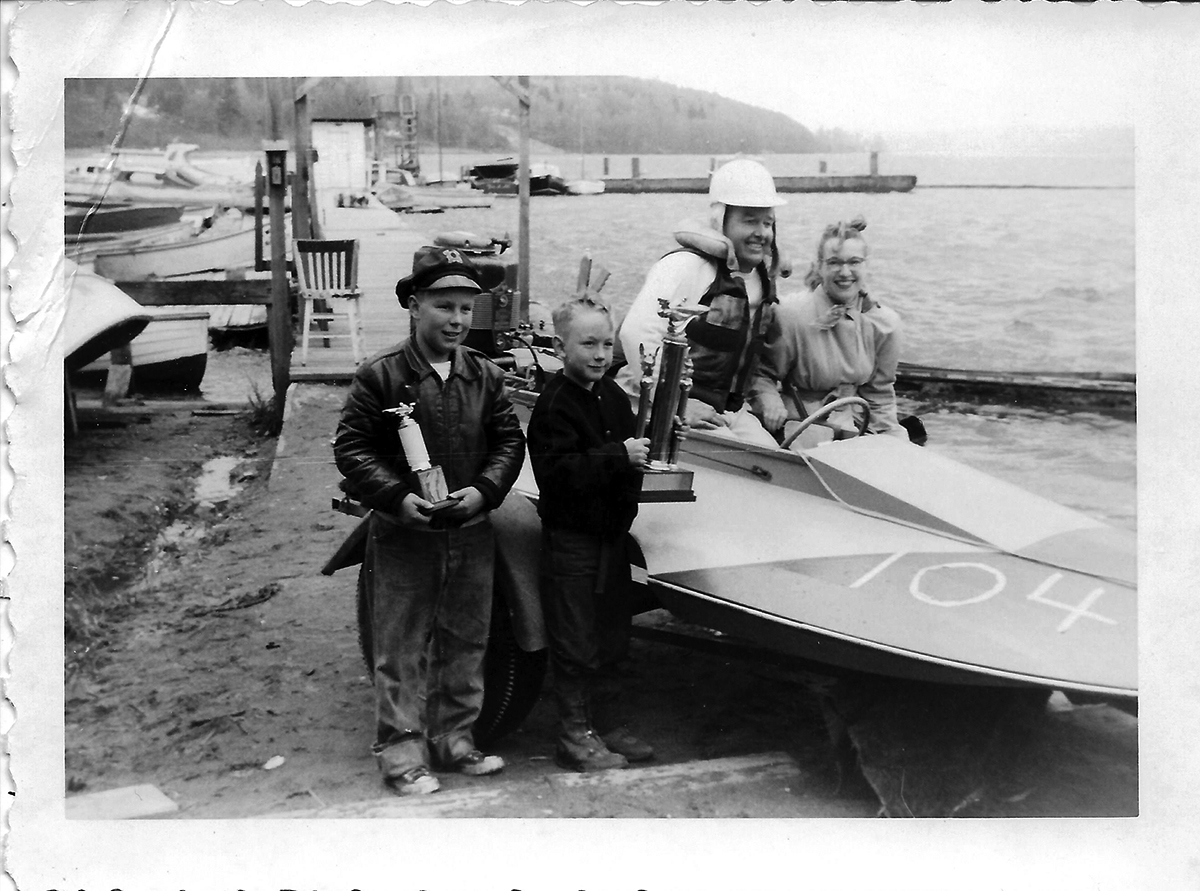 Donnie, Jimmy, Al, and Dorothy Benson in 1953 just after Al Benson's 3rd overall win of the Sammamish Slough Race, from page 238 of the book.
The 26-mile Sammamish Slough race was very popular—and very tough. Held in April, it guaranteed a stiff current, but did not guarantee nice weather. The Slough was 60 feet wide in some stretches; only 12 feet wide in others. Racers had to speed around 63 turns, and zip under 22 bridges. Some bridges were so low that drivers had to crouch down and squint to see if they were on track. It was easy to miss a turn and hit a bridge piling, a gravel bar, or floating logs; or slide up a bank where spectators were sitting.
Engines quit. Boats flipped and crashed and collided. Props got bent. Many drivers just pulled their boats back up and got going again. But usually, only half of the racers made it all the way to the finish line. As at the Top O' Michigan or other marathons, just to finish is an accomplishment. The Slough racecourse was much more punishing, however. That's what made it exciting.
Spectators came in their thousands to cheer on the racers. They often helped fish drivers and boats out of the water, or even loaned tools to repair engines. But some were not so nice. Kids threw beer cans and rocks at raceboats; one cast a fishing line that hooked a driver and unraveled far behind his boat. Pleasure boats sometimes floated carelessly onto the racecourse.
Sadly, in the 1970s the Slough race was discontinued for safety reasons. But the legend lives on. A revival in 2014 reminded us of how much fun a race can be.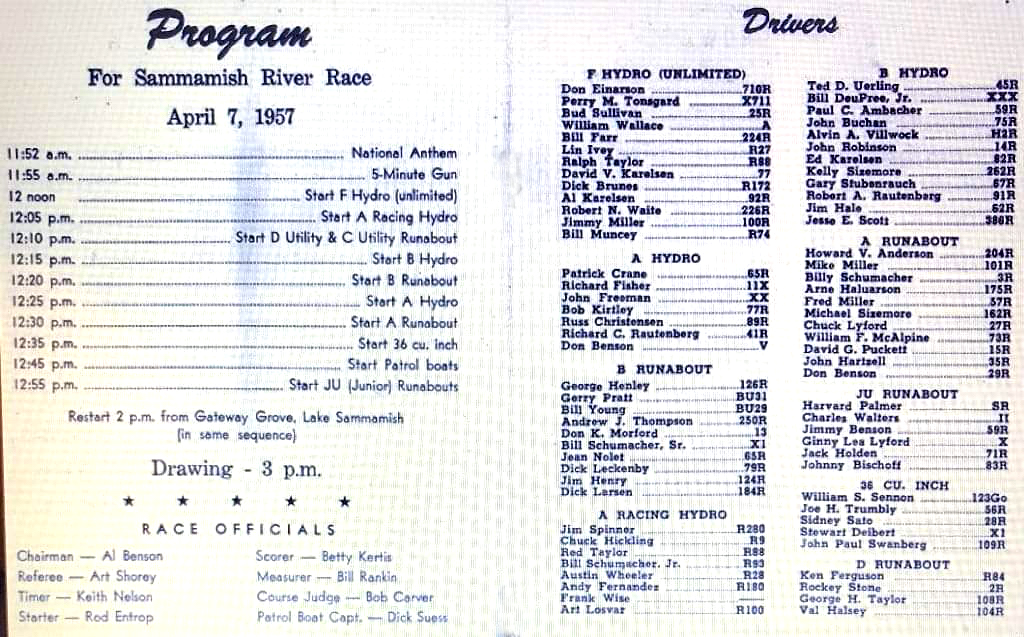 Above, the entry list in the race program for the 1957 Sammamish Slough race.
Benson also covers the legendary photographer Bob Carver. Thanks to Carver's son Bill, many of Bob's magnificent photos light up the book.
Chapter 11: A Driver's View: 1960 is particularly good, because Jim Benson simply describes his race day from setup to finish line. It was not easy, but he loved it.
Benson concludes, "For me and most of my friends and competitors, the Slough Race was their favorite boat race, even for the most successful of the Unlimited hydroplane drivers such as Chip Hanauer and Billy Schumacher. None of us will ever forget the fun we had learning to drive and compete in the 'Crookedest Race in the World.' "
For anyone who loves outboard racing, Jim Benson's Taming of the Slough is a must-have book.
And at 544 pages, it just might see you through to spring and the start of the 2023 racing season.
Taming of the Slough is available online from Amazon Books and at the Hydroplane and Raceboat Museum in Kent, Washington.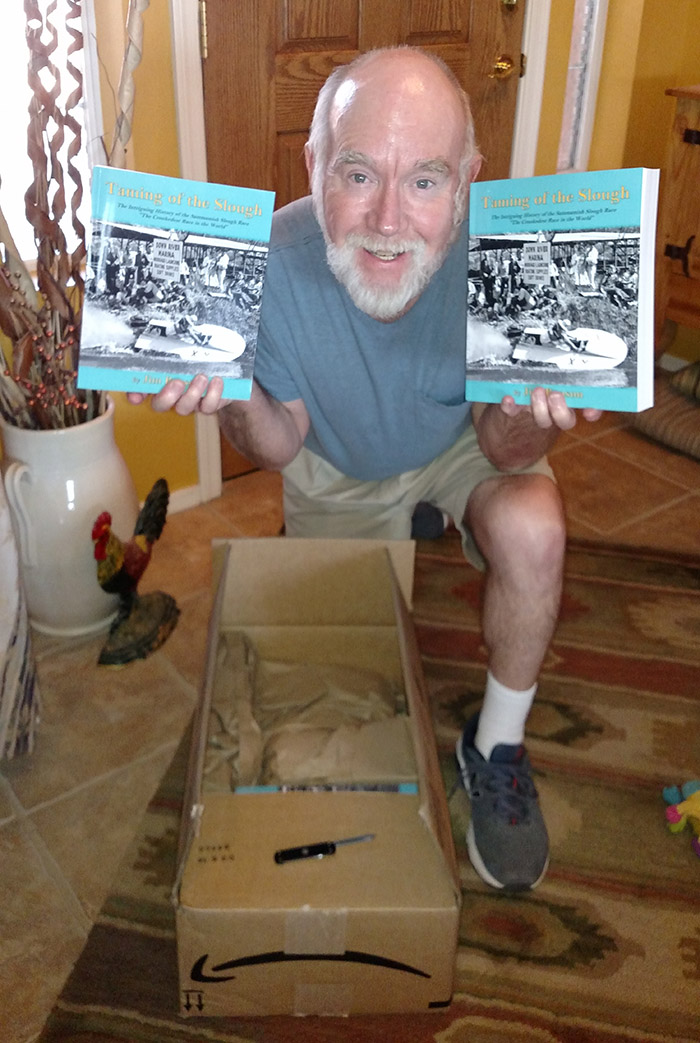 A happy Jim Benson, just after receiving his first author copies (self-published) in early 2018 from Amazon Books. Photo taken by his wife Carolyn.
Featured Articles