RON HILL HERE! An excerpt from a racing life story
The following is an excerpt from Ron Hill's book, "RON HILL HERE!"
Copyright © 2020 by Ron Hill. All rights reserved. Published in the United States of America by Lulu.com
The book is available in print and e-book format. Take a look at https://www.lulu.com/en/us/shop/ron-hill/ron-hill-here/paperback/product-vq22k8.html?page=1&pageSize=4
1955
I was supposed to compete in my first race on May 9, 1955 at Long Beach Marine Stadium, but the race was rained out. That day was Sandy Goodman's birthday. She was my 5th grade sweetheart. So my first race was at Hart Park in Bakersfield. We raced around an island.
Ellis Terrill and I were good friends. We usually fished together at the races before we started racing. He ran A Hydro. On the Saturday before the race, Ellis and I raced. My A Runabout was slower than his A Hydro, at first. Wade Terrill had made a pitch block off an "A" Kamic. Ellis and I would make a couple of laps, then my dad and Wade would beat on the prop. Pretty soon, I was running faster than Ellis. So, my dad and Wade started beating on Ellis's prop. That whole season, I had one prop. On a short course, my dad pounded on it to make it quicker. On a long course, he pounded on it to make it faster. However, I never trophied in the 1955 season. My brother Russ Jr. came home from the Army in June 1955. Boat racing had changed, and so had the world. He started college at Long Beach State and wanted to study computers, but they were unheard of there. So, he dropped out and went to work for Rheem Manufacturing. Later, after eventually becoming the head computer person at Rheem, Russ Jr. went to Northrop to work on the Kennedy Space Program. He also ran the computer system at Mattel for a time. He told the owners that Barbie was the only toy making them money, so why not expand her line? Barbie then got her boyfriend Ken, clothes, cars, houses, etc. He decided to buy a new 1955 Chevy convertible. Because Dad was invited back to serve as inspector at the Winnebagoland Marathon in Wisconsin, Russ Jr. ordered his new car to be picked up in Flint, Michigan. My mom, dad, brother and I flew to Detroit, and took the bus to Flint. While on the bus, I noticed some very good-looking young college girls. I thought, you know, I could do this. We picked up my brother's new red and white, stick shift V-8 Chevy convertible, took the ferry across Lake Michigan, and drove to Oshkosh for the races. (I still have our American Airlines tickets to Detroit.)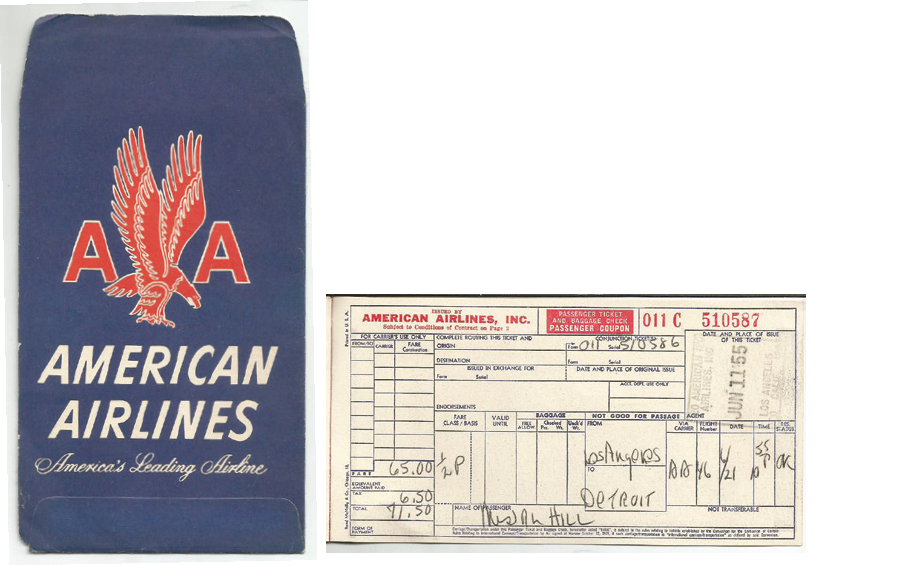 When we got home, we went to Bixby Slough to test my brother's Swift. My dad had a new Mark 40 powerhead and a complete KG-9 race motor. My brother went out and burned the KG-9 up—no water. So, we put the Mark 40 on. Dad said, "Make sure it is getting water." Well, my brother burned the Mark 40 up, too. So, we decided to put the Racing C on the boat. My brother made one lap and fell out of the boat, wetting down the motor. My dad said, "We busted enough stuff for one day. Let's go home." I could hardly wait for him to run a Mercury on the new Swift Hydro. He immediately went to Friant Dam to race. As I recall, he didn't do well.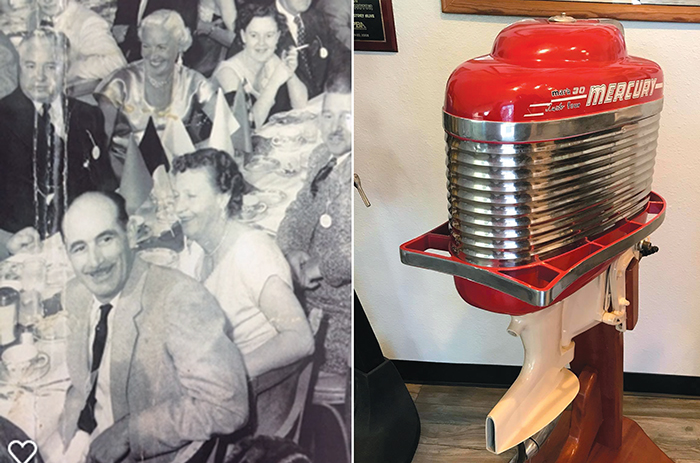 Above left: My parents at the USA club banquet, 1955. There are not many pictures of my mom, Laura. She came to every race, and made almost everyone's life jackets. She sunburned easily, so she usually stayed out of the sun and wore Sea and Ski. At right, one of those "damn Mercury" motors that Dad loved. Sam Blackwood photo
When C.W. "Doc" Jones II first came to the California/Arizona area, my brother had broken a prop shaft and Doc loaned him one. When Russ Jr. returned the shaft at Parker, Doc told him that he had loaned him an 11/16 prop nut and this was an old-style 9/16. My brother assured him that this was his shaft. Dad and Russ Jr. felt bad, as Doc seemed to think they had screwed him. Had Doc continued to race his Evinrude on a Mercury gearcase (same as my brother had), I pretty sure Dad would have bought a new shaft and given it to him. I raced Morehouse boats in those days. Lee Morehouse was quite a story in himself. He had graduated from USC and gone into business with three guys named Hanna, Barbera, and Disney. Lee was an artist and had a mind like a Donald Duck cartoon. Lee's first job with the new company was drawing Mickey Mouse. Many of Disney's early cartoons had to have been written by Lee, as Lee was like a real-life cartoon. Lee left Disney about the time Hanna and Barbera started their own business. Lee's money had come from the family; they were part of Bank of America. Also, Lee's wife Ibby had a brother who was starting a construction business. Called John D. Lusk, it became one of the larger and more prestigious construction companies in Southern California. Lee had built a couple of boats for himself and for his son Danny. My dad had done their engine work and they usually won. Danny raced an Evinrude in C Runabout; and in 1955, Ronnie Loomis had won the C Runabout Nationals. When he came home from the Nationals, Danny beat him straight heats. Sometime around August 1955, Lee built me a new boat and we went to the North South Race at Friant Dam. Lee had arranged for me to be on the Mickey Mouse Club Newsreel. Lee also painted my boat up with a Rebel flag on the deck and stars on the numbers. I heard that Fred Miller fell in love with boat racing after seeing me on the Mickey Mouse Club Newsreel in 1956. Fred was a racer's racer.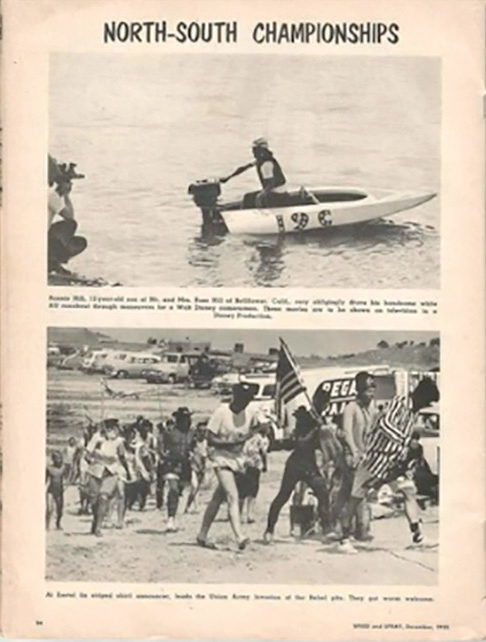 This was the North-South Race in September 1955, where I was filmed for the Mickey Mouse Club Newsreel.
Also in the summer of 1955, Buck Parrish came to my dad and asked for help to win the Nationals in AU at Devils Lake, Oregon. I was a little put out when my dad loaned Bobby Parrish my "A" block. With my block, their new DeSilva went 42 1/2 MPH and they felt they could win. As it turned out, Bobby ran two seconds for a third place. But when we got to the North South Race, Buck Parrish said, "I want you to try some props." I made three laps with three different props. My prop ran 41 1/2 MPH, and all three of Buck's props ran 42 1/2. After I came in, Buck said, "Well, which one is the best?" I said, "They all ran 42 1/2." He said, "Well, keep the one that is on your boat, for the use of your block."
I did my photo shoot with the Mickey Mouse newsreel crew, then got ready to race. I finished 4th in my qualifier, which put me in for the South on Sunday, but I felt I could have done better. On Sunday, I was running 3rd, with the Northern drivers on the course, when the boat started to take on water. Lee had built the boat very light in the bow and fiberglassed over the wood, but the rough water had busted the bottom out.
I was pretty disappointed, as I thought I had a chance for a podium finish. However, my brother had placed third in D Stock Hydro, which made us very happy.
Lee Morehouse had given me the boat, so it was hard to bitch about the fact that it fell apart. Wade Terrill said he'd build me a boat in a week; and DeSilva said they'd move us to the top of the list. My dad just said, "Let Lee fix it." Well, there was a race scheduled at Lake Mead, Nevada, sponsored by that new hotel, the Sahara Inn. I had two aunts that lived in Vegas, so we figured we should make the trip.
Ed Karakowa was from Selma, California. He had met his wife, Chio, in the Japanese internment camps. He was a grape farmer. Ed and Chio lived behind my parents' house. My dad and Ed got along great. If Ed bought anything from my dad, he always wrote his checks in pencil. He bought my brother a DeSilva runabout, but Ed never liked the square sides, unlike the older DeSilvas. So, he bought Russ Jr. a Morehouse. Then, he ordered a McDonald Shirley Runabout. Russ managed to blow the Morehouse over in 1955, and kind of hurt himself. He quit driving runabouts after that. I had driven that C Racing Runabout the day before, and it was clear that I was the future of Hill runabout racers—even though I had also won A Hydro that weekend. My dad sold my "A" motor to Ed for $35 that weekend. For the next 50 years, whenever we went up north to race, I camped in Ed's front yard—in my car, station wagon, or later, my Winnebago. 50 years later he gave me the "A" motor back—the
motor my brother had won the 1949 William Randolph Hearst Regatta with. Ed always fed us breakfast, gave us grapes, peaches, and pistachios; and sent us on our way!
Featured Articles