Ron Hill Family
Ron Hill Family: Hill Marine and Signature Propellers
By Ron Hill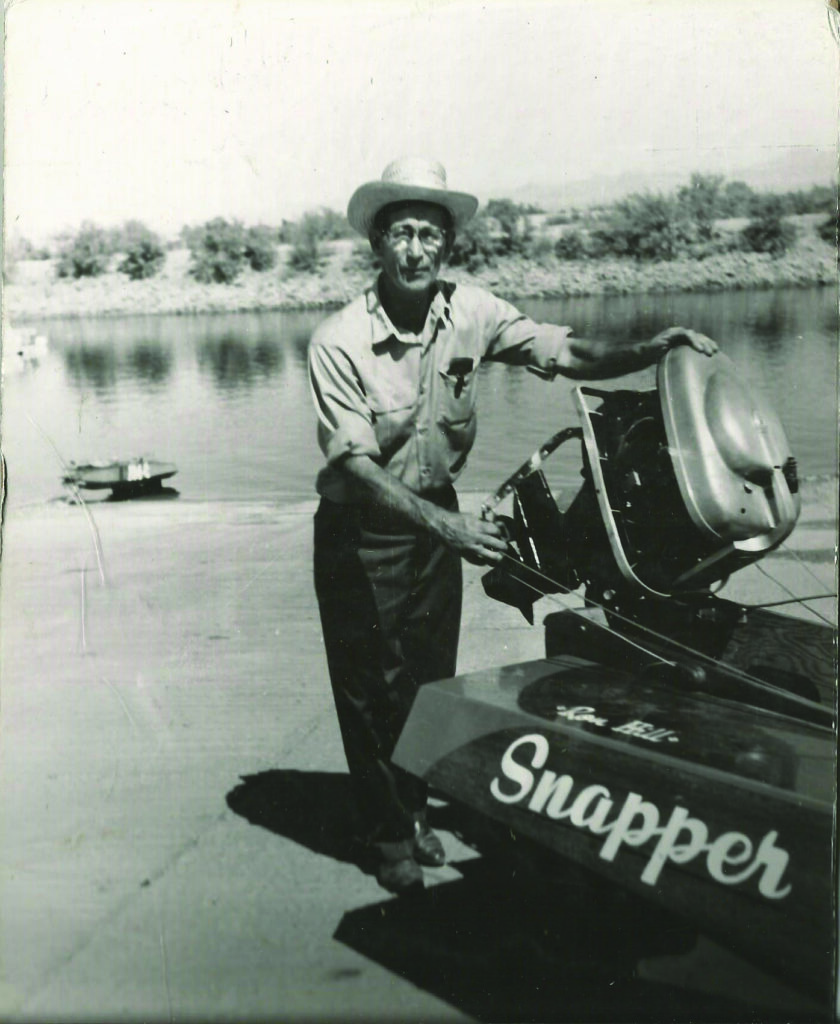 Here is my dad, Russ Hill Sr., in 1945. I was a year old. He is shown with his Rockholt, Evinrude Six Stud motor, called a 60-42, serial number 0041. They only made 50 of these six studs. The cylinders were made of mostly nickel, which helped them stay straight, and that was one reason they were fast.
My dad was going to sell this engine for $250 about the time I was born. He was supposed to go into the Army. He'd also sold his car, boarded up the cabin at Lake Elsinore, and quit his job… All night before the guy was to pick up the motor, my dad couldn't sleep. Next morning, he told my mom he wasn't selling the motor. She said, "I never asked you to sell it." I was born a week later.
On the Sunday before he was to report, my dad was listening to the radio in his '37 Plymouth, coming home from Elsinore, when he heard President Roosevelt speak. Roosevelt announced that the war was changing, and that married men over 40 with children would not need to report, effective immediately.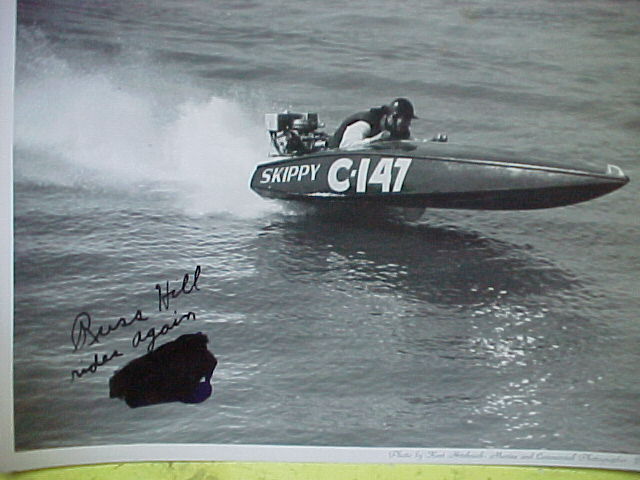 This picture hung in my grandmother's house until she died. The blacked-out part had said, "Love, Your Son".
My dad got the boat racing bug in 1935 and never lost it. He died in 1997. He had the "BUG" for 62 years!
The Old Man never listened to Johnny Cash music, except when he rode in the car with me… But he was a "MAN IN BLACK" for many of the same reasons Johnny wore black.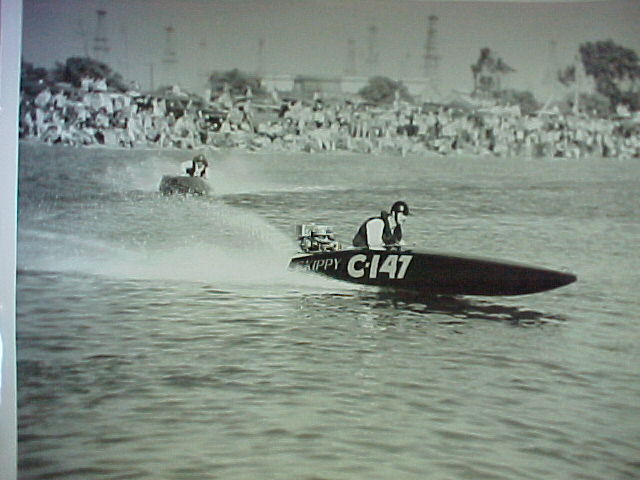 This is the Hearst Regatta, 1948. A crowd of 35,000 lined the shores.
The Old Man's Rockholt had silver leaf numbers. Skippy was the boat's name, because when he bought it, it had a big rocker in the bottom and all she'd do was skip. My dad flattened the bottom and she ran like an ARROW. After that, my dad was a BUG about flatbottoms.
Any of you guys that used to watch us run at the Nationals, you know that my dad would never put the motor on the boat until about 15 minutes before the race. Last thing he'd do was sand the bottom lightly, making sure it was "flat as a NUN'S CHEST," and he always said that was pretty flat. The Hill family got that line from Lee Morehouse, who built many of our boats. Lee loved saying he'd gotten the boat's bottom slicker than S on a BH, which translated means, "slicker than snot on a broom handle." Lee also loved to say that the bottoms of his boats were so smooth that a fly couldn't land on them without breaking a leg…
The other last thing my dad would do before a finals would be to sharpen my prop and square up the trailing edges with his jackknife he carried til he died…..
My father never won a Hearst Regatta; seems Rockey Stone from Willamina, Oregon won almost all of them…
1949 Hearst Regatta
My dad had a new DeSilva in 1949…from the kids, you know; Billy and Ralph DeSilva were considered the "KIDS" in 1949.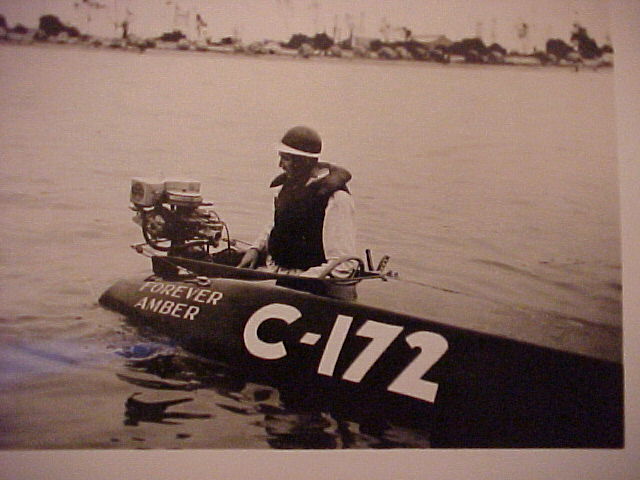 My dad got the name Forever Amber about the time the book of that name came out. It seems when he played poker with the boys at Lake Elsinore, he could get "AMBER" and still play pretty well. The boat club guys would go down to our cabin and raise hell for a few days at a time…
My dad was leading this race when a guy named Lee Cockren got a lap late start (it was legal in those days). Lee pulled out in front of my dad, who hit his swell and blew over backward, knocking his two front teeth out. My dad never raced after the 1949 Hearst. My brother won A Hydro that day. There were 32 hydros, and they ran them in two heats…
You can see the six studs on the head and the Perfect Circle Piston Ring decal on the tank. This engine ran alcohol, and if any alcohol was spilled on the motor, it would take a decal off. This decal stayed on, until we changed to a different fuel tank…
Featured Articles