Remembering Cap'n Zee
by Ron Hill with Leslie Desrosiers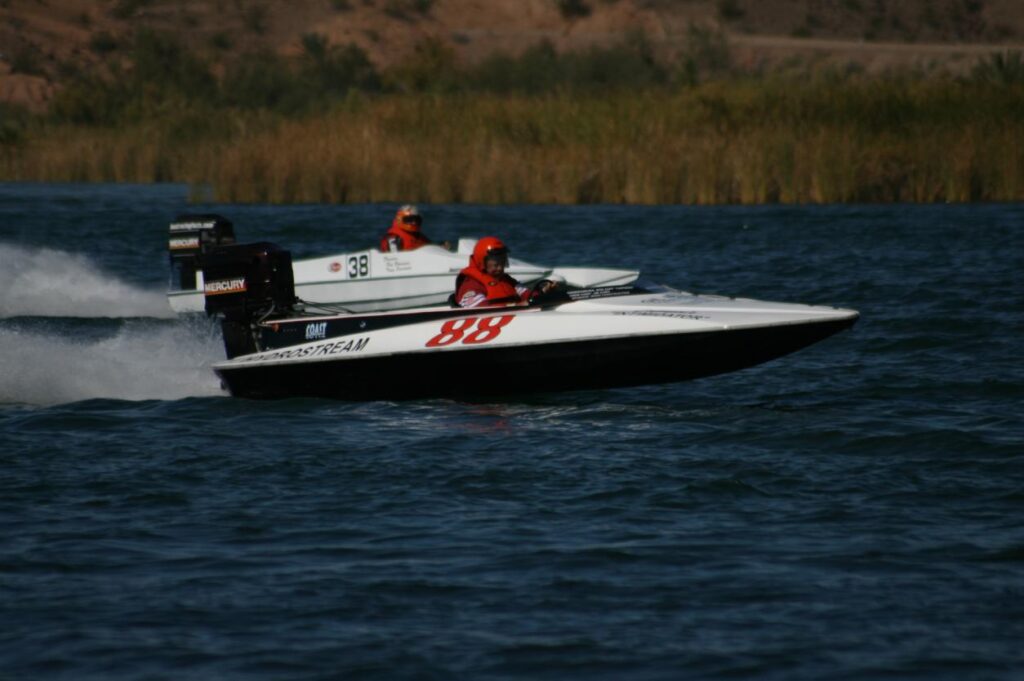 Above, Rod's STV that he and Eric drove to the win in the COR Class at Parker,  courtesy of Ron Hill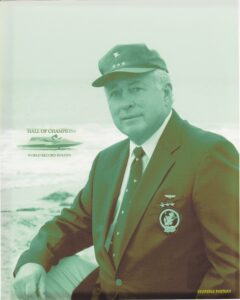 Above, Rod Zapf in his record-setting days.
Photo courtesy of Leslie Desrosiers
The boat racing world lost a great man May 7th, 2022 when Rod Zapf (Cap'n Zee) passed away peacefully in Manhattan Beach, California. He was 84.
Rod grew up in Guttenburg, Iowa. When he was 13, his grandfather built him a boat which he and a friend drove on a 150-mile trip up the Mississippi River. Rod built model airplanes as a kid, and later built a KitFox seaplane and a 1946 Aeronca Chief. Boats and planes were to be a big part of his life.
I met Rod in September of 1968 at Long Beach Marine Stadium. He had just left the Navy, where he served as a fighter pilot, and gone to work as a commercial pilot for TWA, a career he loved for 30 years. He earned his CFI, and especially enjoyed teaching others to fly.
Rod jumped into boat racing with equal enthusiasm. He had raced boats on the Mississippi River and in Key West, Florida, but nothing like SoCal. He showed up at Long Beach with an old hydro and KG-9 "D" motor that fellow TWA pilot Joe Schulte had given him. Rod's boat was a "dog," but the nine young women on his crew were winners!
I helped Rod buy a trailer full of boats and a few engines.
He immediately got a roommate into racing— Bill Boyes, who had worked for DeSilva Boats. Bill was one of many people that Rod got started in the sport. His other roommate, Mo, started racing 36.
Rod had Bill build him a D Runabout, then later a 280 Hydro. The first 280 ended in a huge accident at Long Beach. Bill built him a second 280, and Rod may have won National High Points with that boat.
In 1969, Rod worked for almost a month with my dad on my Parker boat—the first outboard ever to lead Parker. My dad (Russ Hill Sr.) and Rod got along like brothers.
During this time Rod got into APBA politics; he was Commodore of SCSC (Southern California Speedboat Club) and on the Inboard Racing Commission. A can-do guy, he later became Commodore of the King Harbor Yacht Club.
Rod Zapf in the Flying Tiger, 1985, courtesy of Leslie Desrosiers
His racing career spanned 60 years. He raced the 5 Litre "Flying Tiger" successfully for many years. He took many firsts, set some records, including a World record, and earned a Hall of Champions induction. His finest APBA racing moment was when he won the APBA Nationals in 5 Litre in Florida.
He also drove the Unlimited hydroplane "Miss Ginger Honey."
During these years he married Mary and they had three children: Eric, Evan, and Leslie. Eric Von Zapf became a Top Gun in the Navy like his father. He also was a good Stock Outboard racer.
Over the years Rod drove my Mod VP several time at the Parker 9 Nine Hour. He also drove the Styles Unlimited Hydro.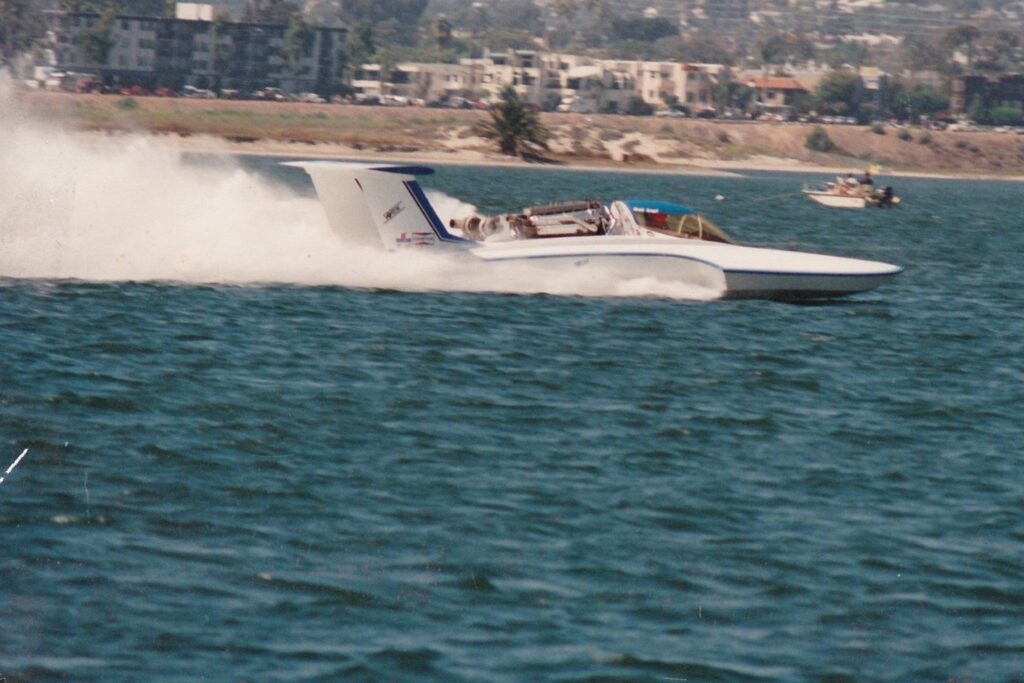 Rod Zapf driving in Unlimited competition, courtesy of Leslie Desrosiers
The "NEW" Parker Enduro is now 16 years old. Rod was one of the people who got it going again.
Rod also named the COR Class, which was wildly popular in California for a few years.
I don't think Rod had a mean bone in his body. He had no enemies but he had lots of friends. He and I had our ups and downs, but we were friends until the end.
Rod was laid to rest Friday, June 10, 2022.
Here's a great article about Rod from last year: https://www.telegraphherald.com/news/tri-state/article_1ed070be-4df9-5a68-9d3d-eb35674e7364.html
Rod is survived by his wife Mary; children Stacey Waldroup, Eric (Elizabeth) Zapf, Evan Zapf, Leslie (Patrick) Desrosiers; grandchildren Dylan, Cora, Sophie, Lola, Hudson, Jordan and Riley; and many friends including Vicki and Mickey Schwarzenbach.
Race in Peace, my friend.
The one and only Cap'n Zee.
Photo courtesy of Leslie Desrosiers
Featured Articles