Racer profile: Stu Shane
August 27, 2023 - 12:02pm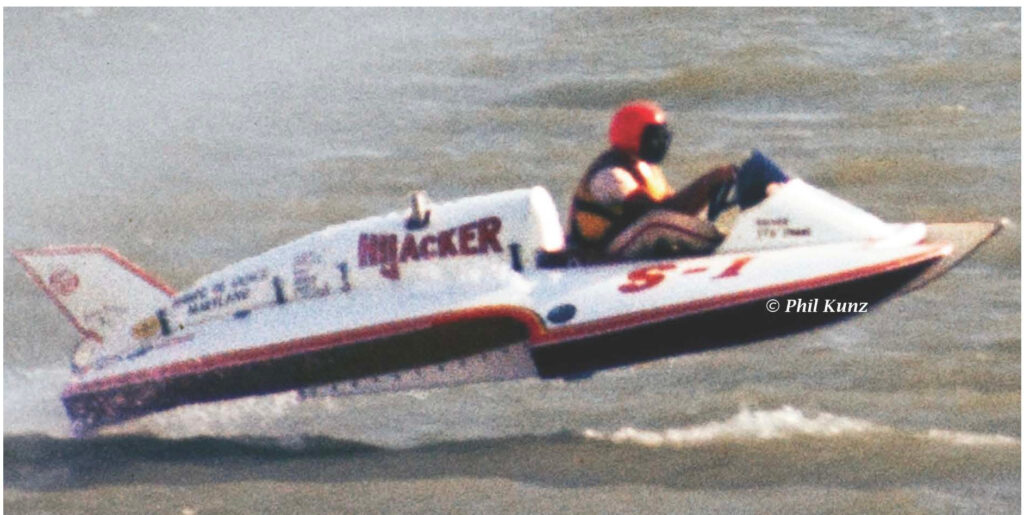 Stu Shane S-1 HIJACKER Dayton 1980 from Vintage Hydroplanes & Phil Kunz Photography's S class album on Facebook. See more here.
By Craig Fjarlie
Stuart "Stu" Shane was born in Havre de Grace, Maryland, and has lived there his entire life. At an early age, he was captivated by boat racing. The local Lions Club sponsored an inboard regatta in town, and Stu always watched the races. One year, the inboards had a race in Guntersville, Alabama, so the race in Havre de Grace featured Stock Outboards instead. Stu and his cousin, Richard Walker, watched the outboard races. "We thought, this is something we could do," he remembers. "We ended up building boats. We actually built two or three boats before we started racing. We started racing in APBA in 1969, a boat we built ourselves from Hal Kelly plans." 
Stu had a Mercury Mark 20H engine. "Actually, we started as an A," he says. "The boat was a little too heavy so we moved to B Stock pretty quickly." Stu competed in outboards for about 2-½ years but found there were few outboard races in his area. He made the switch to inboards, which had a much fuller schedule of regattas. "The first inboard was built in Pennsylvania—a 48 Hydro with a Crosley engine." He liked the change. "We just thought it was pretty neat to get off our knees and sit in a seat." The hull had a unique feature. "It had a sliding seat. We could adjust it going into the turns. You'd slide up, then slide back. Change the balance of the boat by sliding the seat."
The Crosley engine was another matter. "Quite a few people around Regions 3 and 4 helped us with the Crosley," Stu recalls. "We actually had it for quite a time and could not get it on plane. It had to do with timing of the cam. We had people saying, 'You have to lean forward, you have to turn right, lean over the bow.' It wasn't that. We had a little cam timing problem. Eventually, with help, we got it going. It was fun." 
Stu became acquainted with Bill Roberts, a resident of Havre de Grace who was an engineer. "His hobby was designing hydroplanes. His brother-in-law, Steve Sharp, retired around '71. I got with Bill, helped build boats, and then got hired as a driver. Eventually, I bought his last boat that he had campaigned as Bonanza. Named it Hijacker and that was a 145 hydro."
Stu and Bill Roberts developed a successful partnership. "Bill was designing boats. My hobby was woodworking, and I did metal working for a living. I got in there with Bill and helped build the boats. I guess we built six or seven Hijackers. Then we built Roberts kits. We probably sold a dozen Roberts hydroplane kits, which were all 2.5 Stock. I built the kits at Bill's shop. I worked for Bill, and he was manufacturing Roberts Propellers and Roberts Hydroplanes. He did quite well in the propeller business. It was very interesting. Bill was quite a designer. He would design a new boat just about every winter. He'd build a scale model, do a couple tests in his shop, then we'd build a boat. Of course, they were all wooden."
Stu's first 145 was a cabover. "I just could not believe it, going from the conventional with the Crosley to this 145 sitting up front; it was just like a Cadillac. Bill Roberts was an early designer with the S bottoms. The boat just got up and floated. Really didn't rock. Just got up like on four strings. It was really pretty amazing. I think my second race in it was the Southland Sweepstakes Regatta, St. Petersburg, Florida. I was pretty nervous, but that was a great ride. I think I got second place that year to Willard Wilson. He was pretty well the top one in 145 across the country with the Lil' Lectron hulls. He was the man to beat. To run second was pretty good. So, I really liked the cabover."
When he moved into 145, Stu initially received help with mechanical work from local speed shops. "They came to the boat races. They got a kick out of everything that was going on. We'd take the rules and say, 'Here are the rules, and this is what we can do with it.' Then we would test a lot. Bill was, as I say, an engineer. He would study the carburetor diagrams and he had lots of things to tinker and try. We lived right on the Susquehanna River and we'd just drop the boat in at the marina and test, probably several times a week. Bill was manufacturing propellers, so it was great. I could test his props too. Actually, I won the Nationals in 1980 in Dayton. Mercury came around and they said, 'We give all the winners a new Mercury propeller.' They came up to me and said, 'You're pretty well tied in with Bill Roberts, so you really don't need a Mercury propeller.' Should've taken a new propeller anyway."
Stu spent most of his evenings in the garage, working on his boat. His devotion to racing produced an unusual incident when he was dating his future wife, Robin. "First date, I showed her pictures of the boat. She says, 'It's nice, but what is it?' 'Well, it's a hydroplane.' Second date, went to the garage to see this hydroplane. 'I have to sand the deck, want to help?' 'Sure, I'll help you.' I was on the other side working, and forgot to tell her you have to move the sander. 'Oh, my God, you sanded through three plies of plywood!' We had our first argument on our second date," Stu remembers. Now, he can laugh about it. "But it was all good. She's been around the racing ever since."
"Now he can laugh about it…" Kelly, Robin, Stu, and Jimmy Shane. 
The 145 class was Stu's favorite and he enjoyed success for many years. He won High Point titles seven years in a row—"From '76 though '82," he recounts. Although he was a top contender, he avoids boasting. "We had lots of races in Regions 3 and 4. I went to Dayton, I went to St. Pete, but we had races within two, three, or four hours of home; Region 3 in Pennsylvania, and plenty in Maryland and Virginia. We had, like, 32 races a year."
The 1978 APBA Hall of Champions honored Jim Kropfeld, John Prevost, Stuart Shane, and George Woods in the Inboard Category.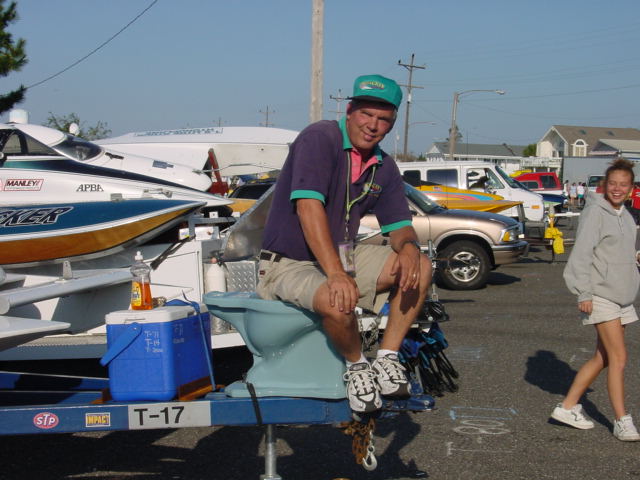 Stu redefines cool at the races.
Stu attributes his success to his strategy on the course. "It was just being consistent, having a pretty good combination, and not being penalized." Stu drove in other classes briefly. "I did drive a 280 a couple times. I drove a 2.5 Mod once or twice. But I was happy with the 145. I just liked to work on my own boats. I was happy with the speed of the 145, and just pretty well stayed with that."
The Shane family are hard workers, and their labor of love brought the 1973-74 Hijacker back to life.
Stu took a break from racing in the late 1980s but made a return in 1990. "I had sold all my boats, and actually bought back two of the last Hijackers,—one from Tommy Weaver in North Carolina, and the other was found on a used car lot in Dover, Delaware. A fellow from New Jersey called and said, 'I think there's one of your old boats on this car lot.' He said, 'I might buy it.' I drove to Dover with him and took a look. I said, 'Yeah, that's one of the old Hijackers.' They wanted, I think, $3,500 for boat, motor, and trailer. He said, 'I'm not paying that.' I said, 'I might.' So, I bought two Hijackers back in a matter of a year and decided to get back in it." 
Watch "The Hijacker Returns!"
Rules for the class had changed while Stu was away, and his return to racing failed to produce the success he had previously enjoyed. "I actually had the 2000 Pinto engines, and they'd gone to the 2300 OMC Cobra. I got in the boat and drove some, but I'd put on weight, the engine was heavier—it just wasn't like the old Hijacker," he admits. Another racer offered a suggestion. "We were at a race. Steve Webster had the Unlimited, and his son, Steve, was running T boats. He said, 'Why don't you try this (as a) T boat? Let Robin drive.' I said, 'That's an idea.'" The Shanes bought an engine for the T class. "We put the thing in the boat and Robin got in it," Stu says. "She was over 100 pounds lighter than me, and the engine was 200 pounds lighter than the 2300, so we took over 300 pounds off the hull. The thing ran pretty well. So, she got into racing. As the kids (Kelly and Jimmy) got a little older, next thing I knew, they're running Ts. We actually all raced each other for several years—all four of us in the same heat. Brought them out to Yelm, Washington, one year (to the record course on Lake Lawrence – Ed.). It was fun."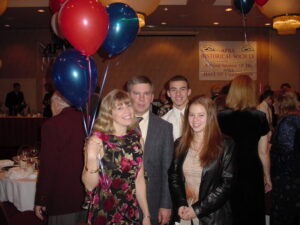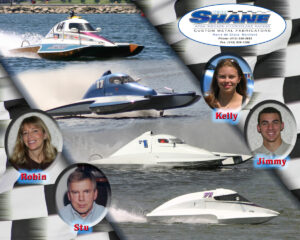 The Shanes—Robin, Stuart, Jimmy, and Kelly—epitomize the term "family sport."
Stu Shane is now retired from driving, but still enjoys sharing memories and keeping history alive. "We had a fellow who rode with us. He didn't race, but he had followed the races since the '50s. There are so many stories, like taking a B Stock Outboard to Hinton, West Virginia, for the Nationals and going through a hurricane. Highway was closed; they were moving trees; it took 12 hours to do a five-hour trip. I'm sure every racer has lots of stories like that. Could be a book!" With memories such as the ones Stu shares, there could be several books.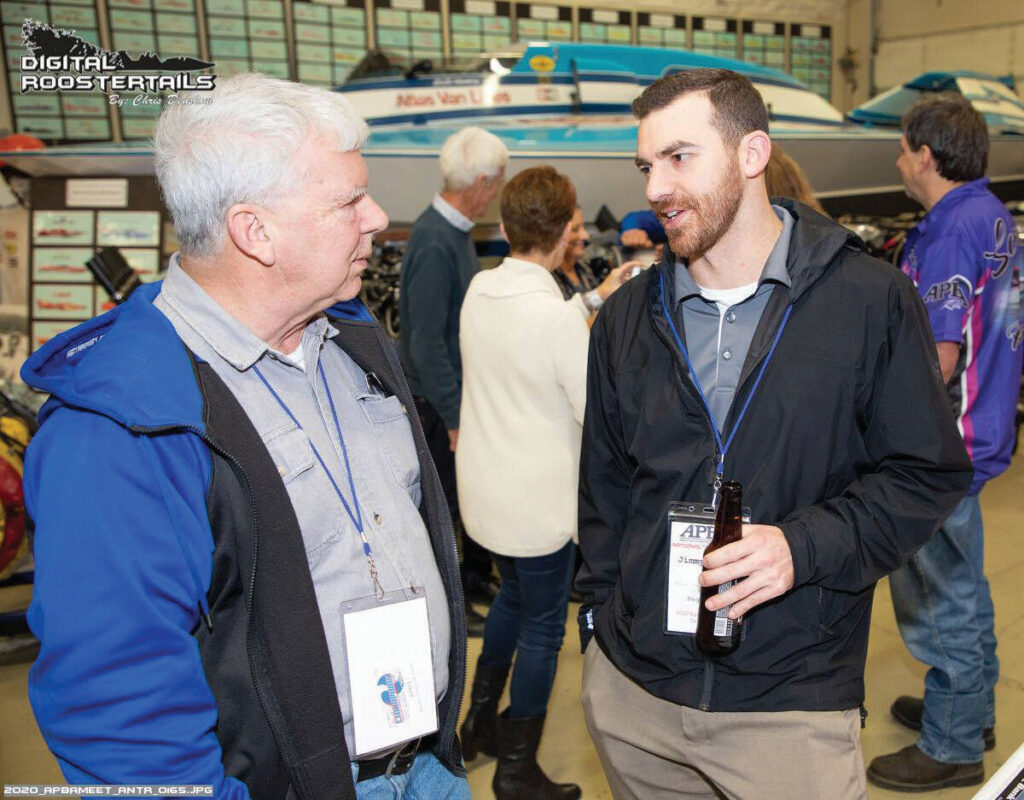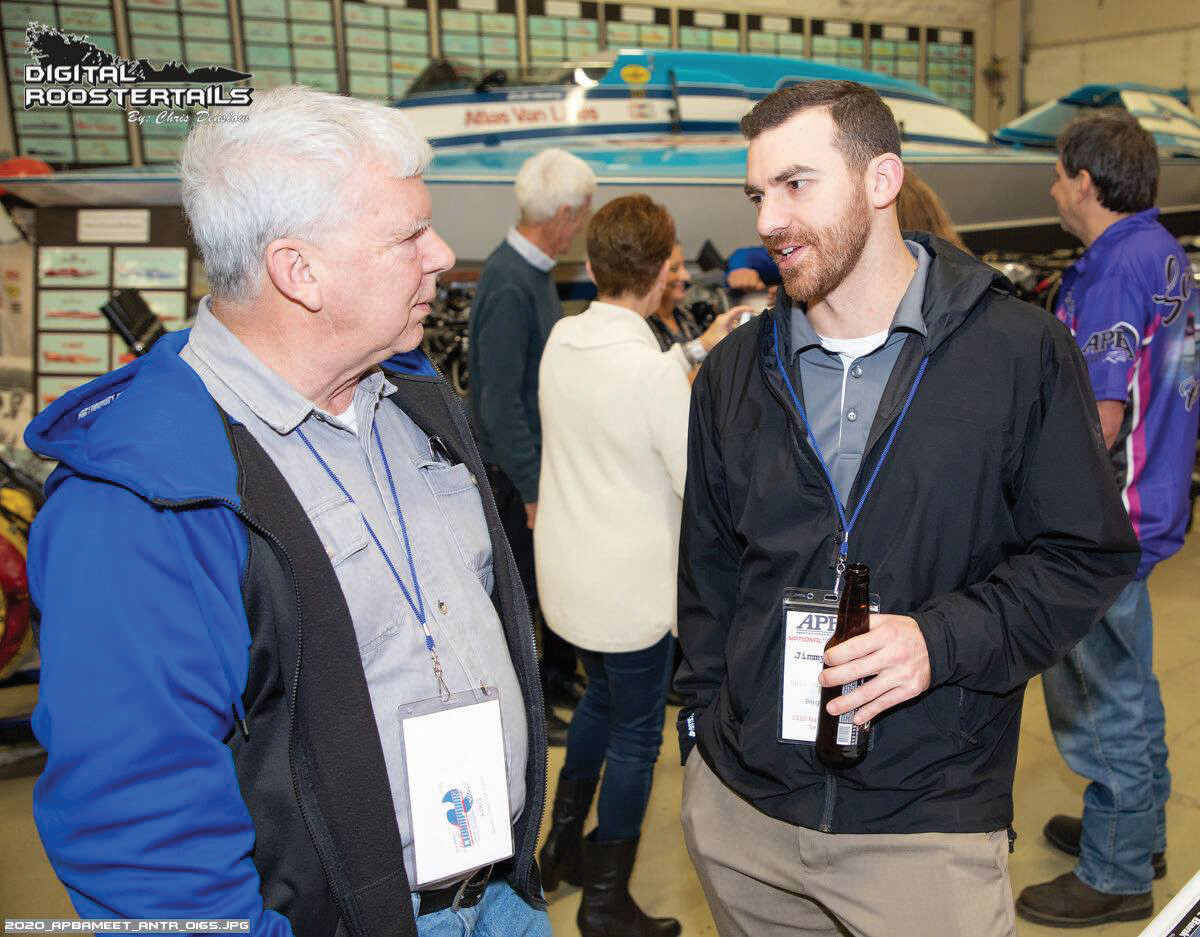 Stu and Jimmy at an APBA gathering at the Hydroplane and Raceboat Museum in Seattle. Digital Roostertails photo.
Robin Shane remains involved in APBA administrative duties. We hope to profile her contributions in the future.
Watch Stu Shane racing his favorite class, 145, at the 1978 APBA Nationals in St. Petersburg, Florida. This is an artful mix of live action and stills. Film from the Phil Kunz Collection. Narration by Phil Kunz. Video presentation by VintageHydroplanes.com
See more on Stu's heyday in Inboard racing here: The 1980 Inboard Nationals
Featured Articles