Mitch Evans Keeps Blue Chip Running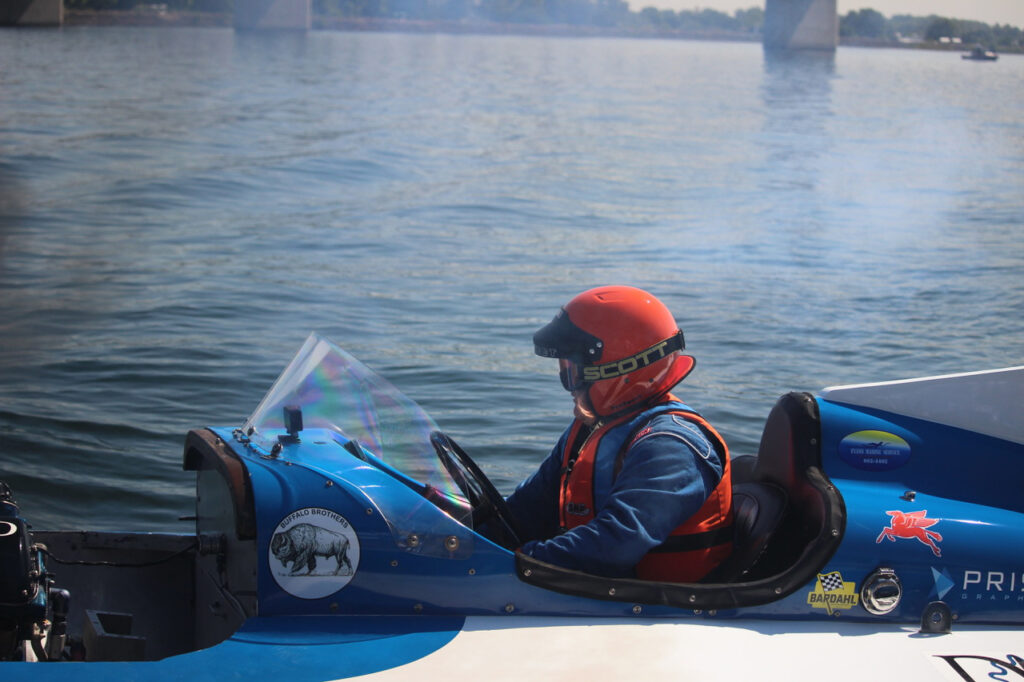 Mitch Evans driving Blue Chip at Tri-Cities on July 23, 2021 by Craig Fjarlie.
By Craig Fjarlie
Mitch and Mark Evans were raised in a racing family. Their father, Norm Evans, raced hydroplanes and occupied the cockpit of Unlimiteds such as Miss Seattle, Miss Bardahl, Miss Spokane, and Miss Eagle Electric. He won the 1958 Apple Cup on his hometown water, Lake Chelan, in north-central Washington State. Mark Evans drove American Spirit, Pico American Dream, and Miss Budweiser. He won at San Diego in 1996 with the Bud. Mitch Evans competed in Coors Dry, Appian Jeronimo, and Miss Fox Hills Chrysler-Jeep. The Fox Hills boat is owned by Ed Cooper, of Evansville, Indiana, and is the last Unlimited to win with an Allison piston engine. Mitch Evans drove it to victory in the APBA Gold Cup on the Detroit River in 2003.
Following his retirement from racing, Mitch Evans has been busy working at a marina on Lake Chelan, and running the vintage Blue Chip. His involvement with the boat was unplanned, but it has turned out to be a positive association.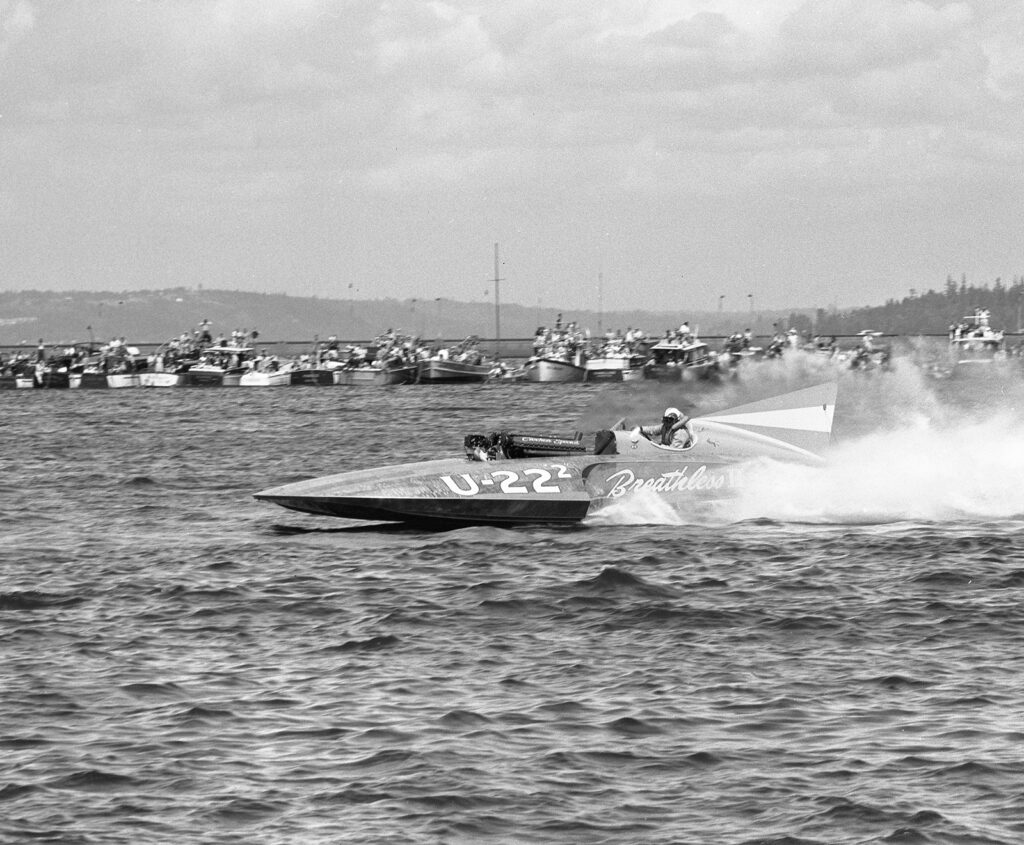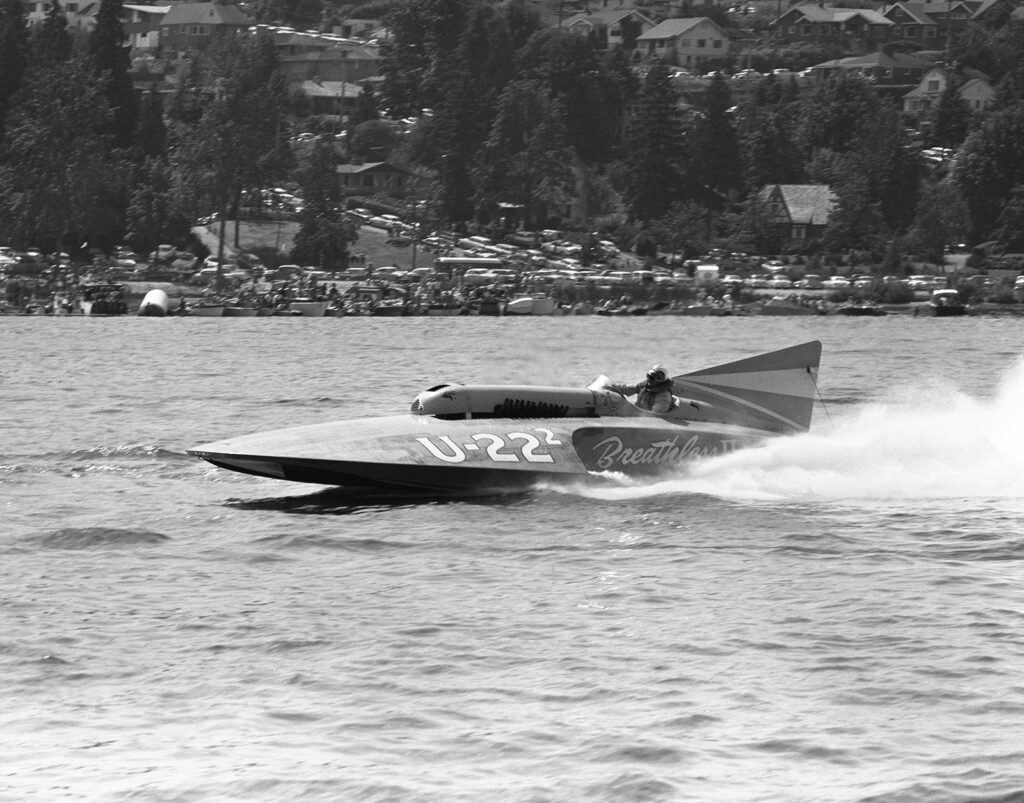 Above, two photos by Bob Carver of Breathless II in its original configuration; one with the engine hood, one without it. Sent by Bill Carver.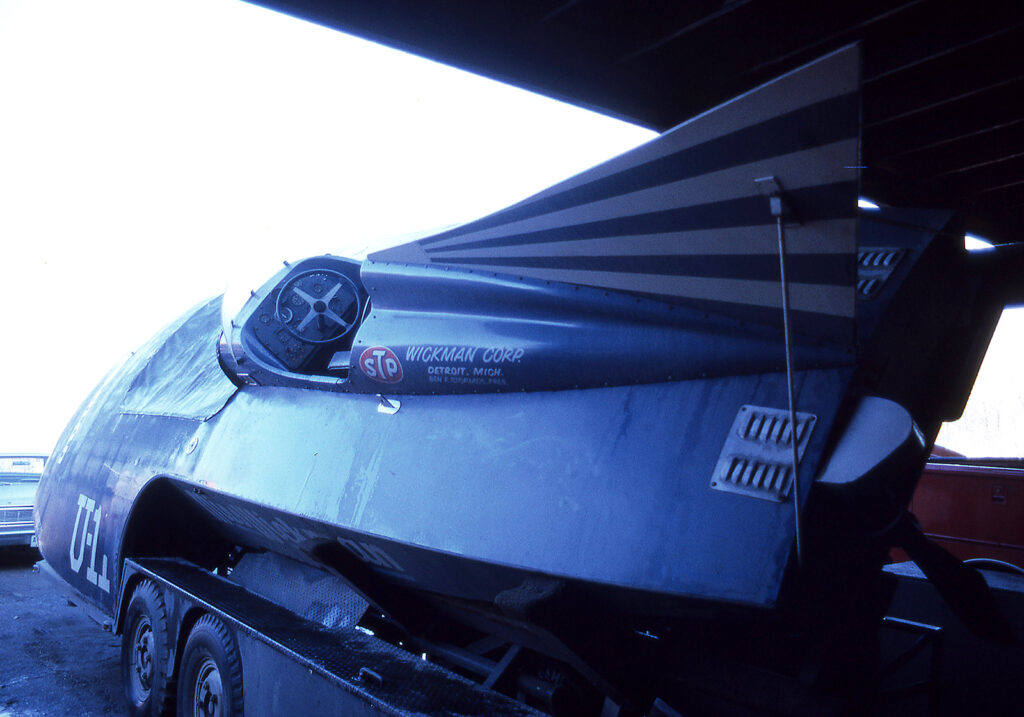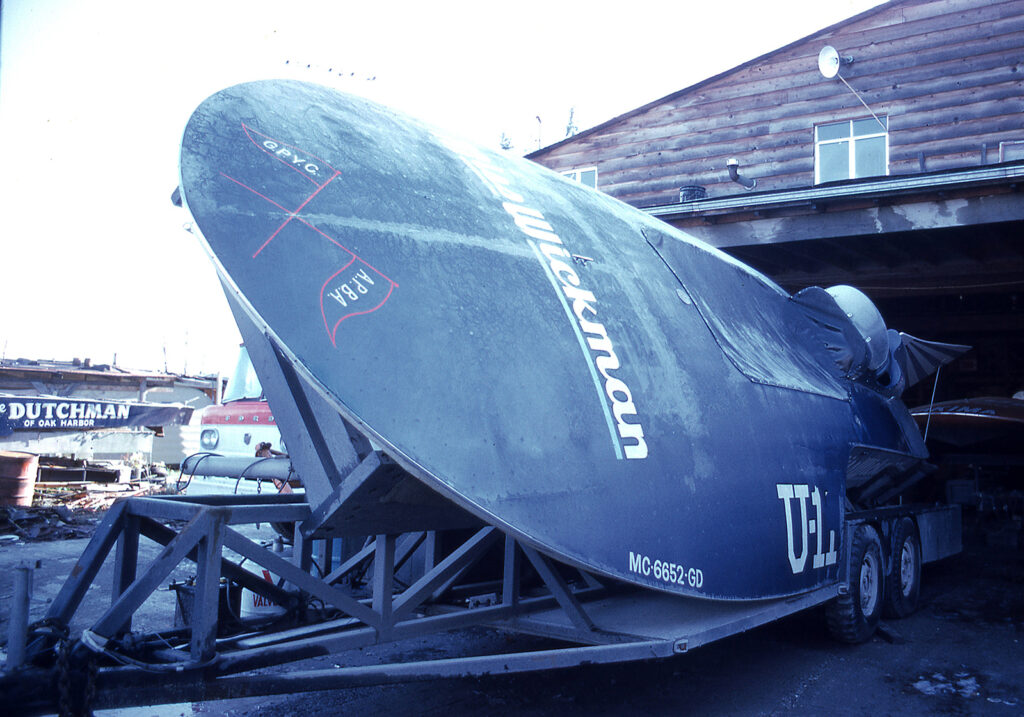 The former Breathless II ran as Miss Wickman in 1967. It then spent a couple of years in Bob Gilliam's shop in Bothell, Washington, before Pete LaRock bought it from Gilliam and returned it to competition. (The lower photo shows a piece of The Dutchman in the background. It was a boat that never amounted to anything, and was stored at Gilliam's yard.) Photos by Randy Hall.
Blue Chip was built in 1957 and ran through 1960 as Breathless II. It was owned by J. Phillip Murphy of California and driven by his sons Jay and Roger. Its best finish was second place in the 1958 President's Cup on the Potomac River in Washington, D.C. Murphy sold the boat to Dick and Paul Gordon of Detroit, who raced it in 1963 and '64 as Blue Chip. Its drivers included Walt Kade and Fred Alter.
The Gordons replaced the boat with a new Blue Chip in 1965, and the original boat was sold to Bob Fendler, who named it The Loaner. From there, the boat passed through a number of hands. Bob Gilliam used it as a display boat, and later it was campaigned by Pete LaRock, Tad Dean, and Tim Donery. In 1976, Dean's sponsor was the rock band Barney Armstrong's Machine, and he hired Unlimited rookie Chip Hanauer to drive.
After the boat's racing days were over, it was owned by Dr. Ken Muscatel. The Hydroplane and Race Boat Museum painted it as a replica of the famous Hawaii Ka'i III. The hull was in poor condition and needed work. That's when Mitch and Mark Evans became involved. "Originally my brother and Johnny Walcker brought the boat over from Dr. Ken to start a restoration project on it," Mitch explains. "They're actually the ones who took it apart at Johnny's place. Then the project kind of got stopped, so I ended up helping them store it. We had it in my shop for a while, and then it was outside. It was upside-down on a jig, but pretty well torn apart. They started getting the bottom apart and the sponsons."
Mitch took a close look at the work that would be needed to completely restore the boat. "It needed an entire bottom, all the battens," he recalls. "The sponsons were in OK shape, but I decided to revamp those and skin them. Made a few small clean-up changes on it. The main frames were good and the deck was amazingly in good shape. The shaft log—all that stuff—needed to come out. Luckily, most all the parts were there."
As work progressed, Mitch made an agreement to buy the boat from Muscatel. "I personally made a deal with Ken and bought it myself," he explains. "We had some people who wanted to go in as partners, but I decided that really, to do it right, I took the project on myself. I had a ton of people helping me out, donating parts and time and material and all kinds of things. It's been a great project, but I decided I wanted to do it myself."
When the boat raced as Breathless II, it had a beautiful birch deck. Restoring the boat with a birch deck would have been a budget-buster for Mitch. "It had been glassed and painted over," he says. "The majority of it was in pretty good shape. Quite a bit in the front wasn't, so I fixed that, but to take it all off and bring it all back original was just out of my budget. I tried to retain as much as I could and make it safe so I could run it."
While Mitch was refurbishing the boat, he received a chance phone call from Jay Murphy. "Tim Donery had met the family early on and gave me a phone number," Mitch explains. "I just started calling and sure enough, I got ahold of him and he called back. We had some conversations. I really just wanted him to know that I was doing the restoration and hoped he could get a chance to come up to Chelan." One of the calls came while Mitch was sipping a beer at a Chelan tavern. "I literally had to go out. It was too noisy so I had to go outside and sit on a bench. We had a great conversation." Jay Murphy had raced against Norm Evans. "They all raced at the same time," Mitch notes with a big grin. "That was a great little connection."
One of the details Mitch learned from Jay Murphy was his disappointment that the boat had been painted as a replica of Hawaii Ka'i III. The real Ka'i was owned by Edgar Kaiser and at the end of its career, it was given a Viking funeral at Kaiser's summer place on Orcas island, in the San Juan Island chain in Washington State. Murphy was invited to watch the Ka'i go up in flames. "That was pretty ironic, obviously," Mitch says. "I was anxious to get Breathless II rebuilt and actually get some of the history back, to take it back to where it started."
Ed Cooper has provided a considerable amount of assistance with engines. "Ed's been a great help," Mitch confirms. "There are so many little parts and things that as you go through this, you're always trying to improve and make it run better. I've been really fortunate to have that relationship (with Ed) and be able to fall back on it to make this thing run today."
Following more than two years of work, Mitch finally put the boat in the water. He called it Breathless III. "The Murphy family had built it and ran it as the II, but I thought this was another reincarnation so I just called it the III."
In 2018, members of the Gordon family in Detroit made contact with Mitch and asked if he would bring the boat to Detroit for the Gold Cup, and run it in its Blue Chip configuration. "That was a whole other connection," Mitch remembers. "Paul Gordon has Detroit Machinery in Detroit." The Gordon family had operated Fairlane Tool. "They built so many parts for these things that it was great to meet the other half of the family," Mitch says. "I got to meet the grandkids and the great-grandkids, which really kind of made me feel old, but it was a great trip, a lot of fun. I was able to meet a ton of those folks I'd never met before. I hadn't been back to the Gold Cup since 2003 when I won there and my brother crashed and all that. But to go back and get out on the course again and enjoy it, not being under the pressure of racing but just taking a ride and looking around, it was a great thing, for sure."
Mitch Evans has kept the Blue Chip name on the boat, and ran it in a vintage exhibition during the 2021 HAPO Columbia Cup event on the Columbia River in Tri-Cities, Washington. He expects to run it again during Mahogany & Merlot at Chelan, Washington, the first weekend in October. The boat has a long and colorful history, and given its age, we are all fortunate that it is still in running condition. Truly, it is now a testament to the Evans family's love for boat racing.
Featured Articles