Jeff "Nemo" Buckley, V&H Chair
February 16, 2023 - 10:43pm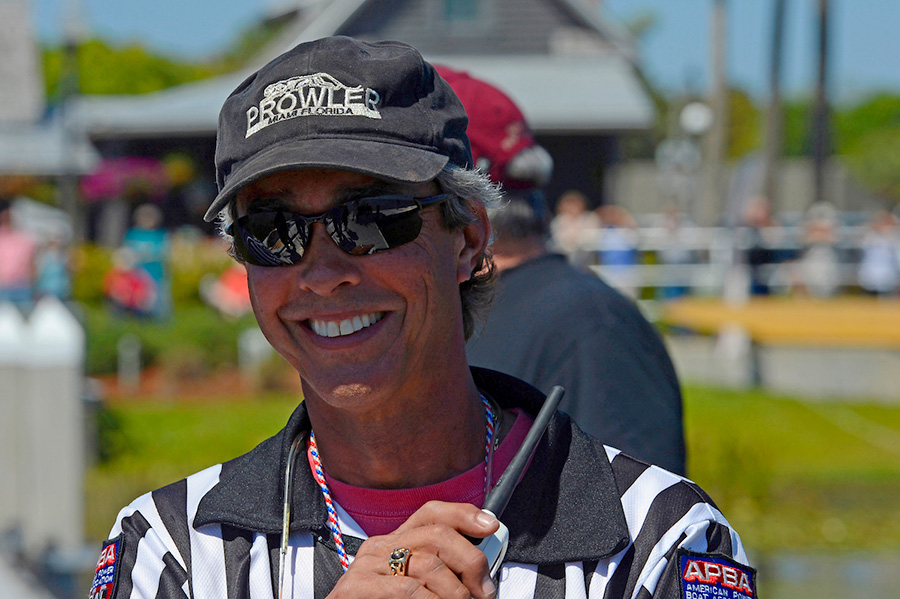 Jeff Buckley at CRA Spring Thunder in Tavares, Florida, March, 2017. © F. Peirce Williams 2017
Jeff "Nemo" Buckley, Chairman of Vintage and Historic Division
By Craig Fjarlie
At the recent APBA annual meeting in Seattle, Jeff Buckley closed the Vintage and Historic Division meeting with a reminder to everyone in attendance. "Safety is paramount," he said, then reiterated his point. Although the meeting had been filled with intense discussion about a variety of subjects, there was no disagreement with Buckley's closing remark.
Buckley grew up in southern Georgia. "We had airplanes in the family and my dad's company," he remembers. "My dad was a pilot in the Air Force so I had that background with his military career. I had a huge interest in aviation and eventually made a career of it in the military. Alongside that, I had a pretty significant interest in boat racing. I didn't really know what hydroplanes were back then. I made a deal with my dad. He said, 'You build that boat that you want to build and I'll buy a little motor to put on the back of it.' So, at 14 years old, I built one of those Popular Mechanics Mini-Maxes, or whatever it was. He maintained his side of the deal and bought me a little 20-horse Hurricane. That was my first little race boat."
Unfortunately, Buckley had no opportunity to enter the boat in organized racing. "Here I am in southern Georgia, not too far from Jesup," he explains. "We didn't know what the racing was, nor did I have the resources. I wasn't even driving a car yet. I started building and restoring boats for my friends."
As an adult, Buckley began racing offshore boats in 2010. His first boat was a Swedish-built Armada that he named Just Pray. "I had a blast with that," he recalls with enthusiasm. "Another team hired me to run sticks (throttles) on their boats. I guess I raced offshore for almost five years." The races were sanctioned by OPA (Offshore Powerboat Racing) and SBI (Superboat Incorporated) at the time.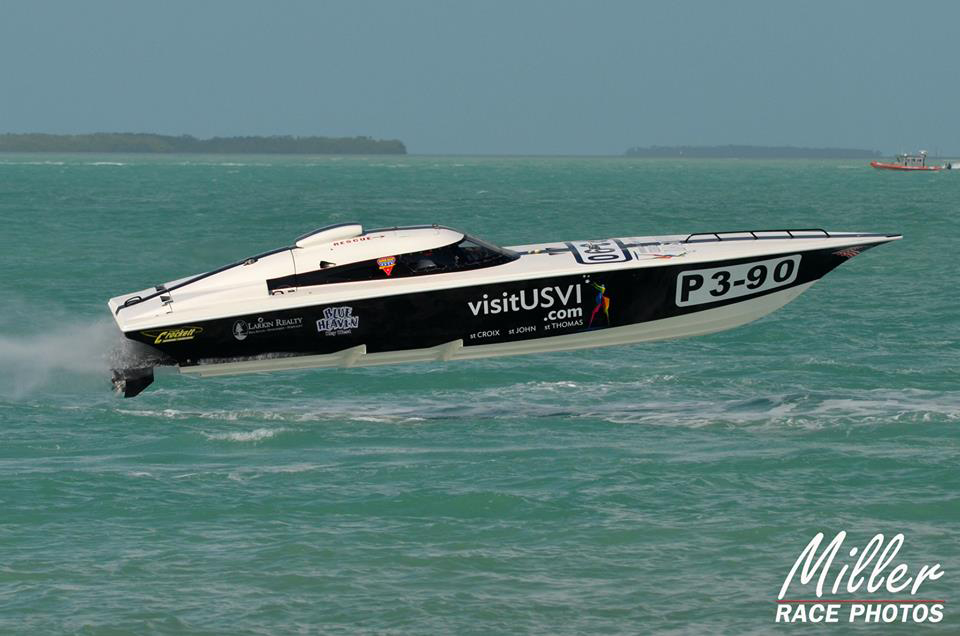 "Visit USVI" at the Key West Worlds. Photo by Ken Miller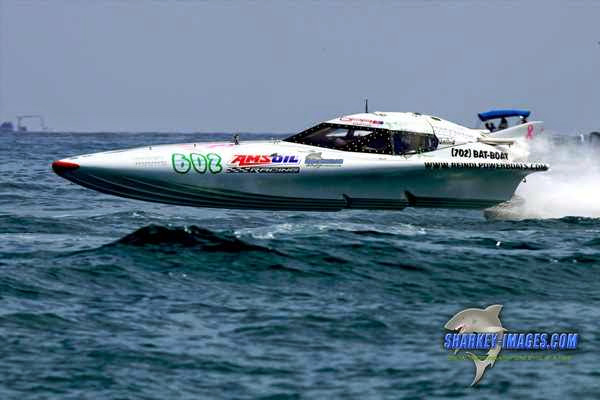 Buckley's V-24, at the 2012 OPA Worlds, just before his famous, televised barrel-roll. Photo by Tim Sharkey
Buckley had to juggle his racing with his military career. "I did it by taking leave," he laughs. "I was stationed in the Caribbean. I had to fly back for the races. My race boats were in Charlotte or Florida. I'd jump in the truck, grab the boat, and proceed to the race site. I did that from Michigan to Key West and all the races in between." Although Buckley competed against some of the top names in offshore racing at the time, his military obligations made it difficult to form close friendships. "I lived in the Caribbean so I was isolated and didn't have the opportunity to get to know them in depth."

Two of Jeff Buckley's first skiffs. Photo provided by Nemo
As Buckley's military career was nearing its end, he became involved with vintage race boats. "Specifically, I started with Jersey Speed Skiffs," he notes. "I started buying and selling, because I had a boat yard. We'd buy them, fix them up, buff them up, turn and sell them. I went through quite a number of boats that came in. As my vintage racing took off, I was loving the Skiffs, but I saw all the fun the hydroplane guys were having. You'll laugh at this, but my first hydroplane was a Grand Prix. So, I didn't waste any time."
Almost immediately, Buckley realized he was in a fast boat. "There are all kinds of stories floating around about when I took my first Grand Prix rides, the mistakes and learning curve. I had a steep learning curve," he admits. His initial involvement with vintage boats was soon put on hold. "When I went back on active duty following 9/11, I had to set all that aside," he says. "My boats went into storage. Then when I retired, I got right back into it, basically full-time."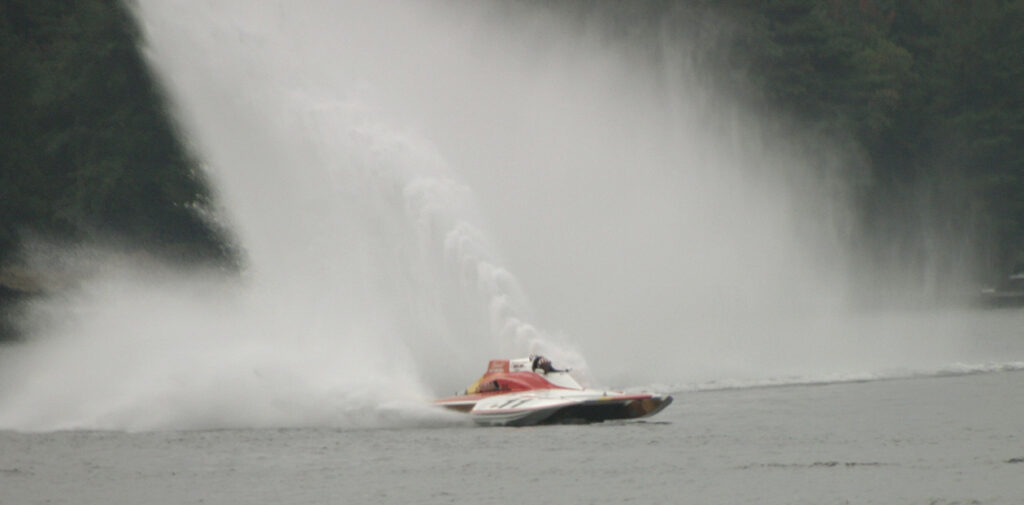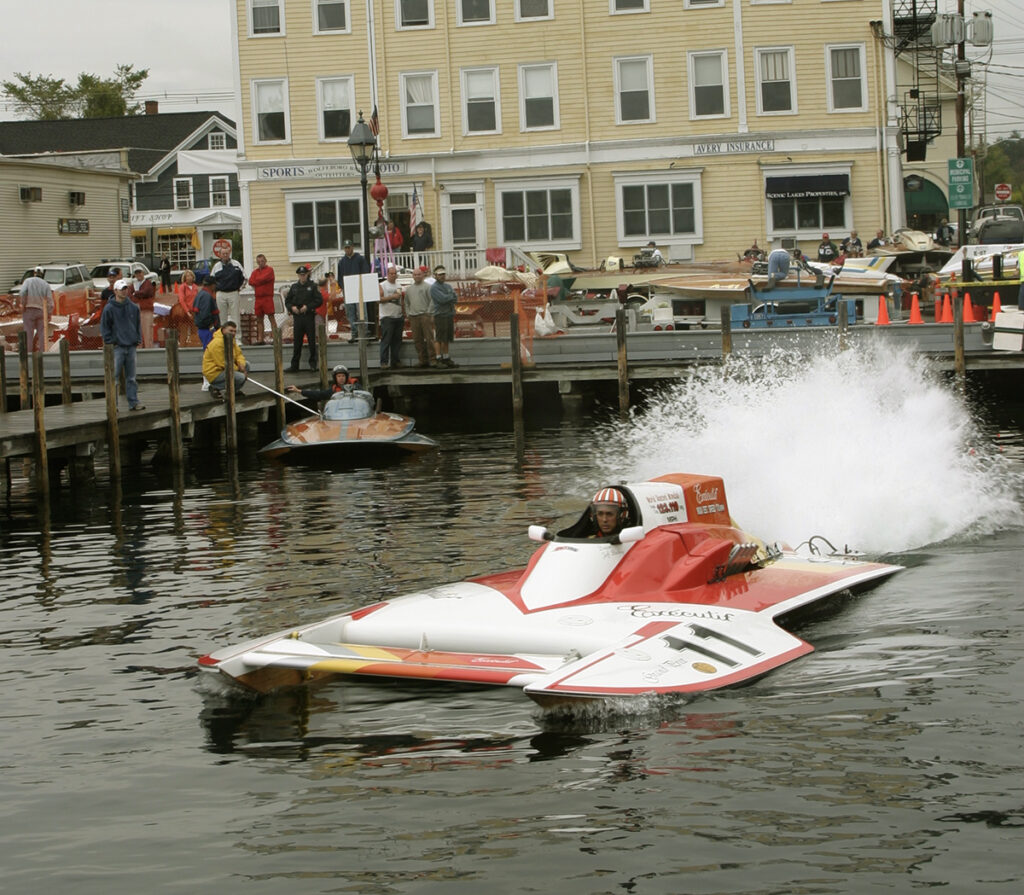 Executif III, GP-11. Photos provided by Nemo
Buckley's first Grand Prix boat was the third Executif. "It was a two-time world champion, multi-year high point champion," he points out. Here's how Buckley obtained the boat: "The late Bill Morsheimer, of the Morsheimer family and Morsheimer Racing in upstate New York, had Executif, and he really wanted my Speed Skiff. We did a trade, and a little cash changed hands. That's how I acquired the Grand Prix. But I've never shed my Speed Skiffs. I've got one in the shop right now." Although Buckley likes the Grand Prix boat, he still retains a fondness for the vintage Jersey Speed Skiffs. "There are so many things you can do with a Jersey Speed Skiff," he says. "Today, you can take your wife and your niece and nephew out for a picnic lunch, tomorrow you can race the same boat on the circuit. There are just so many opportunities to have fun with it."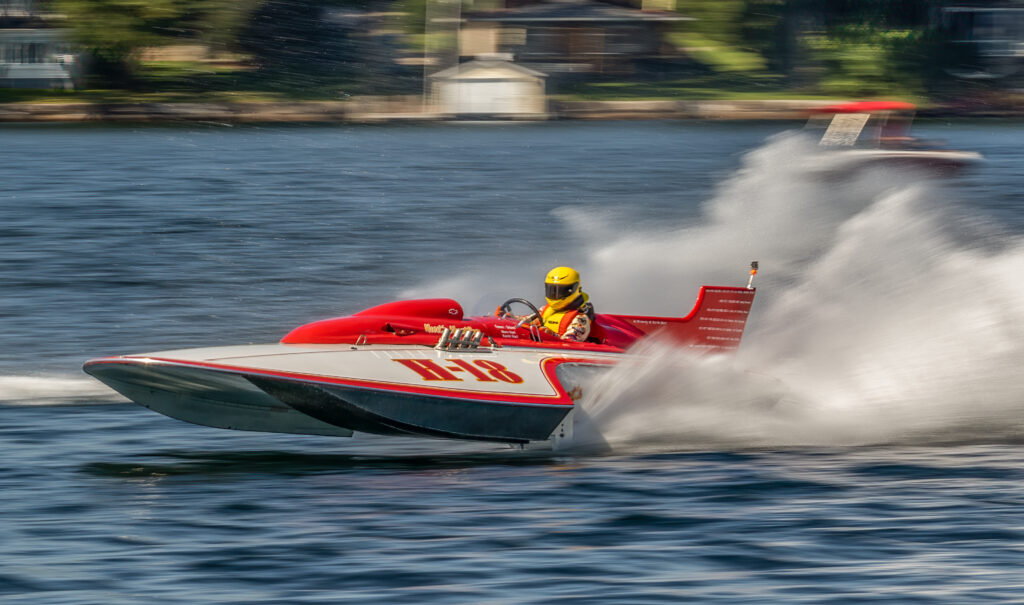 Flying "Hart's Hustler" at Wolfeboro, New Hampshire. Photo by Kent Smith
Nemo and his wife, Judi, now reside in Taylors, South Carolina, in the Blue Ridge foothills. Having moved back from the Caribbean, proximity to grandbabies and family was a priority, and they love the water and mountains of the Upstate. Over the years, Buckley's collection of vintage boats has grown there. "I've acquired a number of categories of boats. I love the big ones, I love the Grand Prix, but I was missing the easier to handle mid-hydro. I've acquired two or three mid-hydros. I let my friends – the guys who work with me at the shop – drive them. I'm not the only driver. We call ourselves Team Nuisance, so I share this journey with them. If you're working on it and turning wrenches on it, well, you've earned the right to drive it, too. It's only fair."
As the head of APBA's Vintage and Historic Division, Buckley takes his responsibilities seriously. "Vintage and Historic is growing right now," he emphasizes. "It has always been cyclical—highs and lows. After the bubble burst (caused by the Covid pandemic) we went into a really deep low. We're coming out of that. If you equate it to a bell curve, we're on the rise; we're coming back. A number of drivers that chose not to compete any more are still looking for that opportunity to run their boats. They're not interested in being competitive, but they would like to run their boats. We offer that opportunity. Through that tangent, we're growing in leaps and bounds. We just have to educate people about what we're doing. It's exhibition racing. It's fun, and we have to maintain that fun factor."
Buckley knows that growth may result in some changes to the Vintage and Historic Division . "As we grow, we have to improve our rules to compensate for that growth pattern," he states. "We're doing it—we're really doing it. We're exposing the sport, we're promoting the sport, and we have to stay up with the times as we do so."
Vintage boats can have stand-alone events, such as the Wheeling, West Virginia regatta, and Mahogany and Merlot at Chelan, Washington. They also can be added to sanctioned competition regattas, often with Unlimited hydroplanes. "We partner with competitive racing, so you get a dual-sanction event," Buckley says. "Our primary focus, as expected, would be the stand-alone events. We're seeing again and again increased participation, and increased awareness by the spectators of those stand-alone events. The more we can promote this, the greater attendance will be, and the more new members APBA will acquire."
Effective marketing is a key ingredient in Buckley's vision for the future of the Vintage and Historic Division. "We're making a very dedicated focus on marketing through our marketing representative, David Williams, of the Hydroplane and Raceboat Museum." Buckley especially wants to reach out to young people. "We're not getting any younger. You have to ask yourself, who's going to carry the banner, who's going to carry the flag in the future? We want to reach out to the younger crowds, the shop classes, vocational schools, show what math, science, and woodworking skills all bring to the equation that is related to us." Buckley's enthusiasm becomes apparent as he continues. "Who doesn't just go be-zonkers when you roll up with a little vintage hydro and crank that engine up? A middle school student or a high school student, they'll want to get involved. We're trying to offer that conduit so they can get involved. It is a focal item for us." He adds a note of caution. "If we don't make it so, we'll die on the vine."
Buckley is doing more than just rallying the troops. "I personally am encouraging these younger, prospective people in classrooms. I'm looking for these younger people in classes—engineers and motorheads. Not only can you enjoy your craft, but you can make a difference, because the folks who have all the knowledge are knocking on Heaven's door or are going away. You have an opportunity to make a vocation of it and do something nobody else does. Be your own boss and have fun doing it."
Buckley's promotional goals are firmly set. As Chairman of the Vintage and Historic Division, he is using his position to see that the goals are understood and supported by all members. "We've got to do that across the entire division," he urges. "I harp on 'share the history.' It's one of my mantras. If you read my articles you'll see: Share the history, share the history; and my team is doing it."
Featured Articles