Ghost from Unlimited Racing's Past Is Present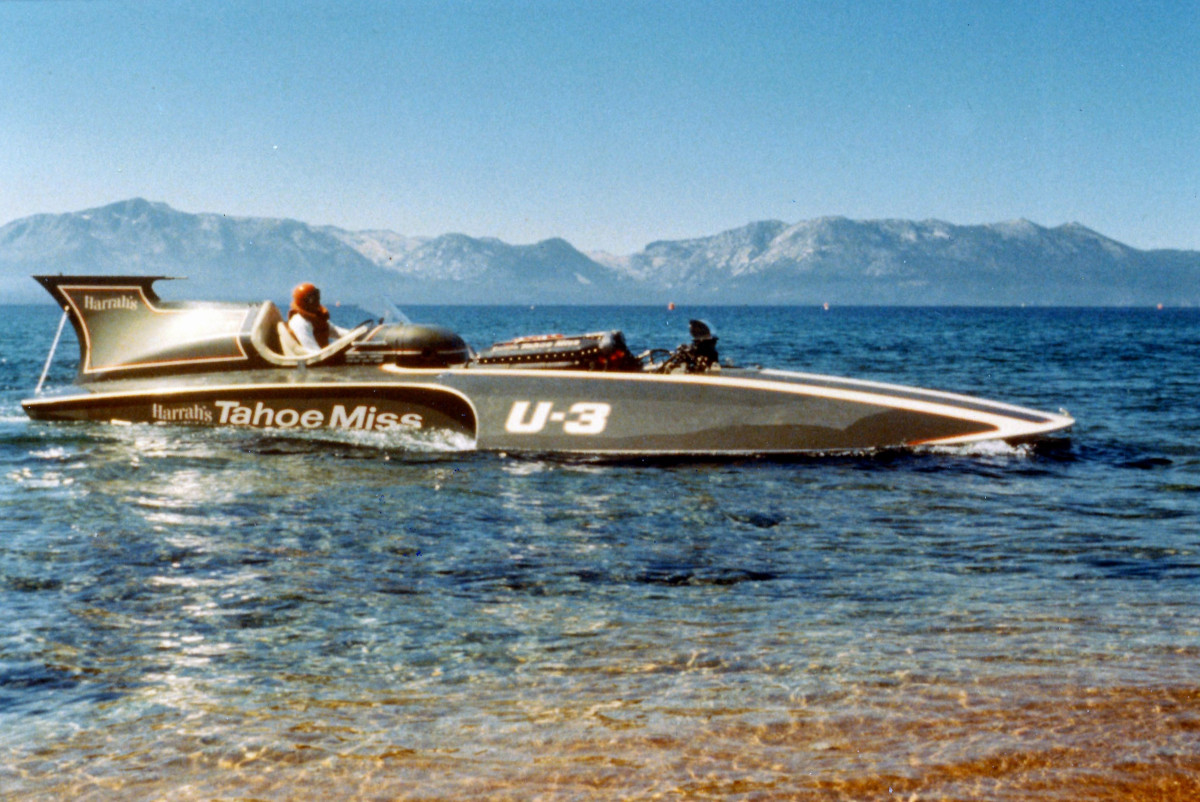 U-3 Tahoe Miss in 1965, with its original "gray ghost" paint scheme and powered by the G-6 Allison engine. Photo by E. Rubino courtesy of the Hydroplane and Raceboat Museum collection. 
By Craig Fjarlie
Casino owner William Harrah entered Unlimited hydroplane racing in 1962. He started with a used boat, the former U-00 Maverick that had won the 1959 APBA Gold Cup. The first Tahoe Miss was past its prime so Harrah had a new boat in 1963. The second Tahoe Miss, designed by Ted Jones, was a heavy boat, but driver Chuck Thompson was able to garner a victory at the Seattle Seafair race. Harrah wanted a lighter, more competitive hull and ordered a new boat for 1964 from Les Staudacher. The boat was faster, and had a gray paint job, which earned it a nickname, "The Gray Ghost." Thompson drove it to victory in one race in its first season, and claimed two wins in 1965. The hull was damaged by an engine fire at San Diego, the final race of 1965.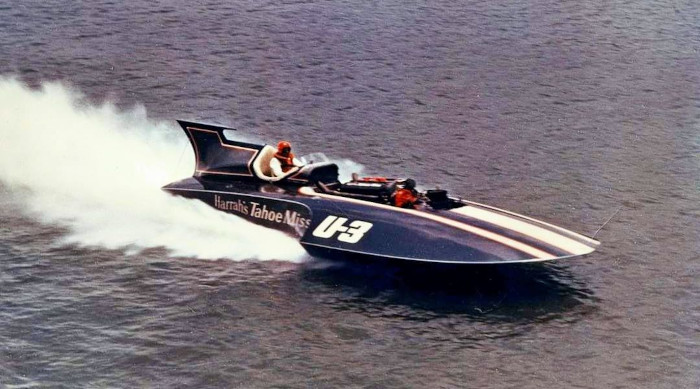 Tahoee Miss in 1965 again at Lake Tahoe, Sandy Ross collection. 
The boat was repaired and in 1966, it sported a new paint scheme and new driver, Mira Slovak. Although 1966 was a tragic season for Unlimited racing, it was a championship year for Tahoe Miss. Slovak won the APBA Gold Cup and the season high point title. "Tahoe was a very heavy boat and very comfortable in rough water," Slovak recalled in a 2011 interview. He had a close call at the Diamond Cup in Coeur d'Alene, Idaho, that year. He had won the race and was returning to the pits following the final heat, but the engine failed to shut off. "I turned the (fuel) mixture off, but the engine was running," he explained. "I had a choice: hitting a boat, hitting a hydroplane, and there was a ramp. I waved and screamed, 'People go away so there's enough room!' I was only going 10 or 15 miles an hour, just kind of plowing, but still could do lots of damage. It was a miracle, there was ramp. I could park it up there." The rudder and skid fin were damaged, but no one was hurt.

Slovak had a new career as a pilot for Continental Airlines in 1967 and temporarily stepped aside from racing. He was replaced in the cockpit by Chuck Hickling. The name of the boat was changed to Harrah's Club. Victory proved elusive, and at Seattle the boat was involved in a frightening accident. At the start of a heat, Notre Dame, driven by Jack Regas, crashed. Harrah's Club went over the top of the wreckage, sending Hickling sailing through the air. Both drivers survived to race again, but both boats were heavily damaged.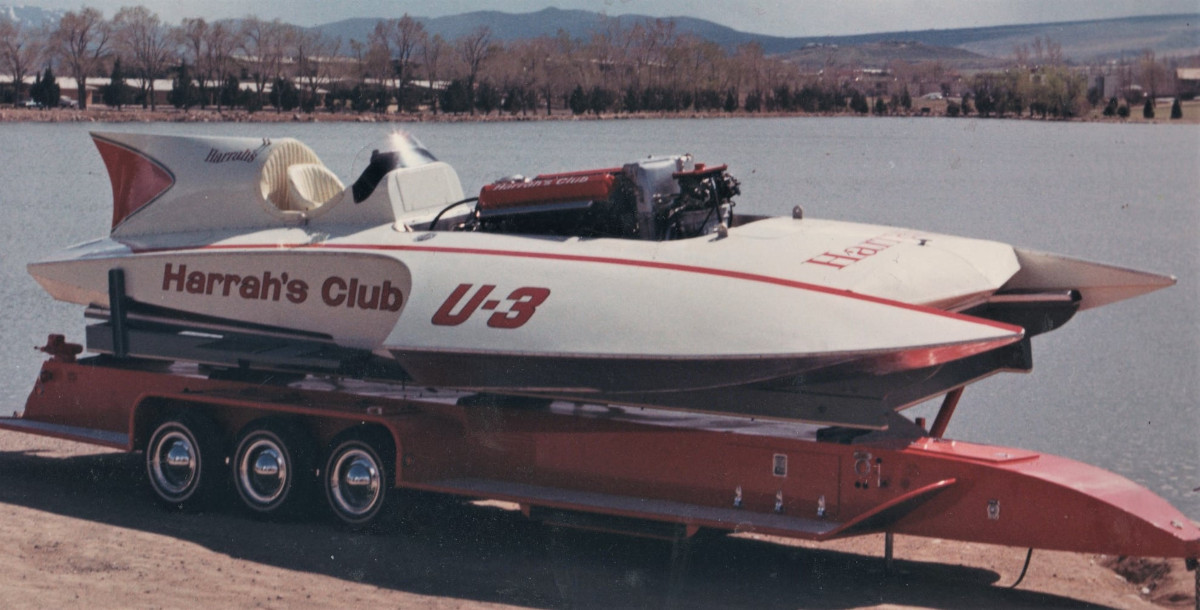 The former Tahoe Miss in 1968, when it carried the name Harrah's Club. The bow was deeply cut back, then later partially filled in. It was powered by a Rolls-Royce Griffon engine.  Photo courtesy of the Hydroplane and Raceboat Museum.
Harrah's Club had a new look, a new engine, and a new driver in 1968. A lighter paint scheme helped the boat stand out. The G6 Allison engine, which had an auxiliary stage supercharger, was replaced by a larger, more powerful Rolls-Royce Griffon. The bow of the boat was cut back, a change some crew members hoped would reduce the chance that the tip of the bow would stuff if the boat were to pitch forward in competition water. Taking over the cockpit duties was Burnett Bartley, Jr. Before the season, the team tested the boat at Lake Mead. Slovak happened to stop by and drove it one time. "They had a problem with the quill shaft," he said. "They realigned it later on and got it going." Partway through the season, Bartley was replaced in the cockpit by Jim McCormick. He won the consolation race at Tri-Cities, Washington, but otherwise the 1968 season was a disappointment.
Harrah abruptly quit racing, and the boat sat idle until Bernie Little purchased it in 1971. He took it to the final race at Dallas, Texas, where Terry Sterett drove it with the name Budweiser Malt Liquor. Little wanted the Griffon engines that came with the boat. In 1979 he began using them in Miss Budweiser. Little had no intention of running Harrah's former boat, and in 1973 he sold it to Tom Kaufman, who raced it as Mister Fabricator with Allison power, from 1973-75.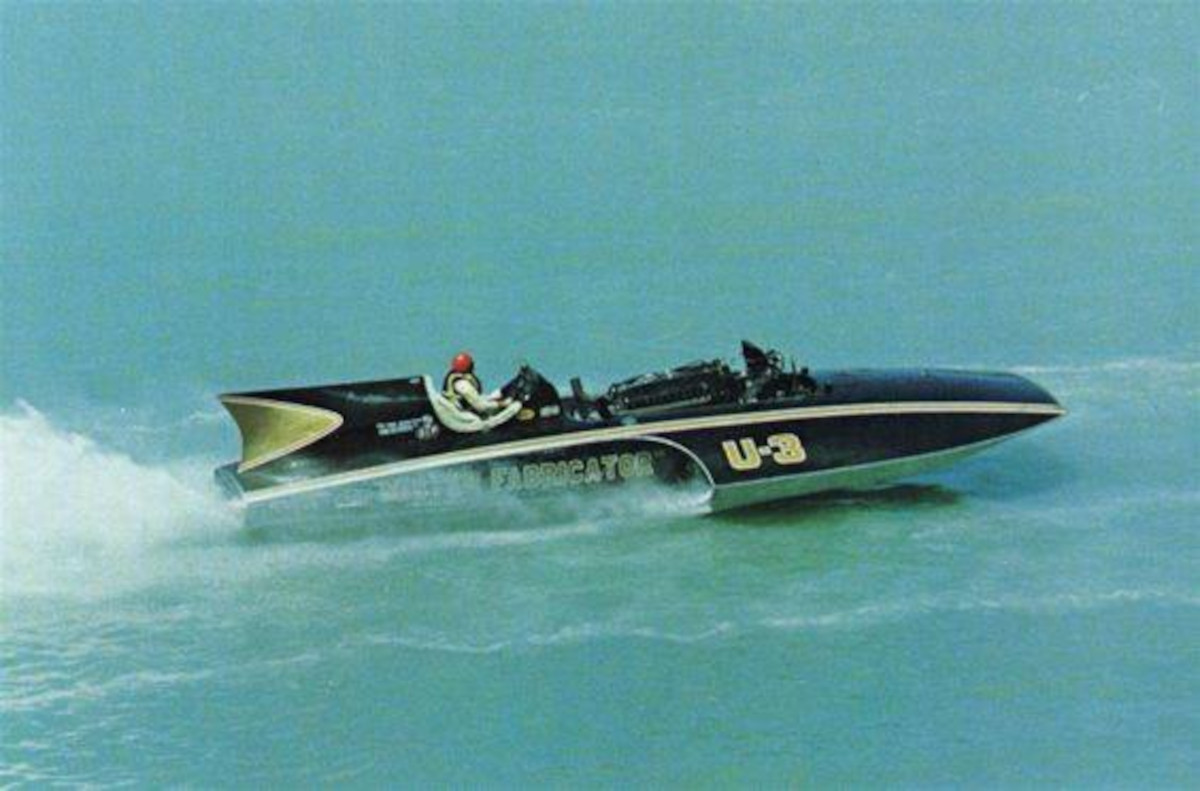 Here is the boat when Tom Kaufman owned and campaigned it from 1973-75 as Mister Fabricator with an Allison engine.
The former Tahoe Miss sat in various warehouses for years, slowly deteriorating. In 2018, Steve Hayden, of Ellensburg, Washington, bought the boat from Dave Bartush, who had been storing it in Detroit. Hayden's interest in vintage Unlimiteds goes back to his childhood. He would sit on his father's shoulders and watch the hydroplanes on Lake Washington. "I remember more the Rolls-Merlin and Allison boats than I do the turbines," he admits. "It's just the sound. I like it."
Hayden had the boat brought to his home. The first order of business was to restore the trailer. The work was done in Spokane. "I had it sandblasted inside and out," he says. "Put new axles on it, and brakes. I had custom wheels made trying to match the Gray Ghost era. Mr. Harrah loved everything with big whitewalls, so we got that. The hinges, everything on it, is all original. I was able to get a 1966 never-been-used license plate because that is the year it represents; 1966 Gold Cup champion and national high point champion."
Returning the boat to running condition took more than three years of work. The restoration was done at Hayden's shop in Kent, Washington. "For the first two years, it was five or six days a week, three or four people, sometimes working 10-hour days," Hayden recounts. "The last year and a half, Larry Hanson, Dixon Smith, and Paul Floyd have been more involved. Trevor Hanson worked on it almost continually, too, but he left and is working at Boeing now. His dad (Mike Hanson) has been busy working on the Miss Madison team's two turbine boats, but occasionally he can help out."
Mike Hanson describes the process needed to restore the hull. "Basically, we took it completely apart. There wasn't a single nut and bolt left together." Some parts of the boat could be saved. "All the engine stringers are original, and most of the frames between the two air traps are original," Hanson continues. "We had to do some repair work. There were a lot of cracks in some of the frames. All the skin is new, the sponsons are new. There was too much corrosion in the sponsons, couldn't do anything with them. Other than that, a lot of the hardware, rudder, rudder bracket, strut—all that is original."
Matching the paint presented a unique challenge. "When Steve (Hayden) restored the trailer, they got inside where it was still orange. That's how they matched the orange, or whatever you want to call this color. The rest of us weren't around in 1966 to really tell, so I'm assuming it's pretty close."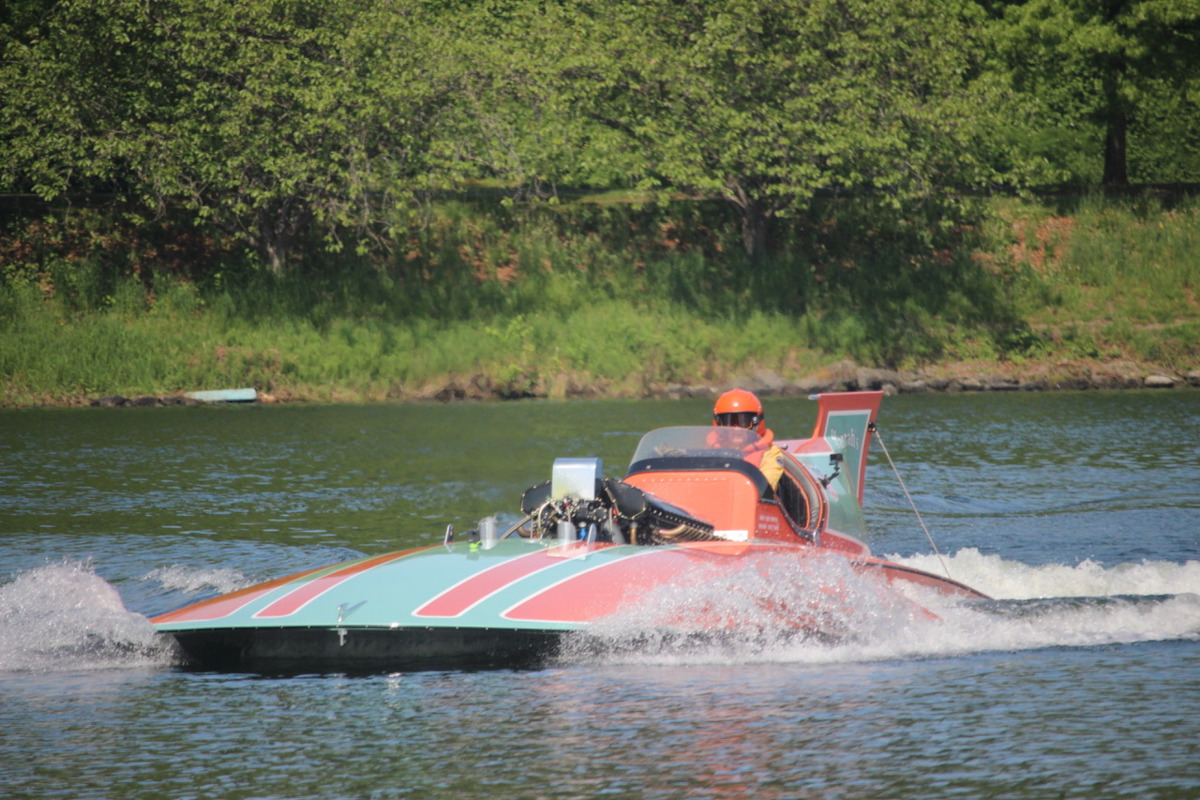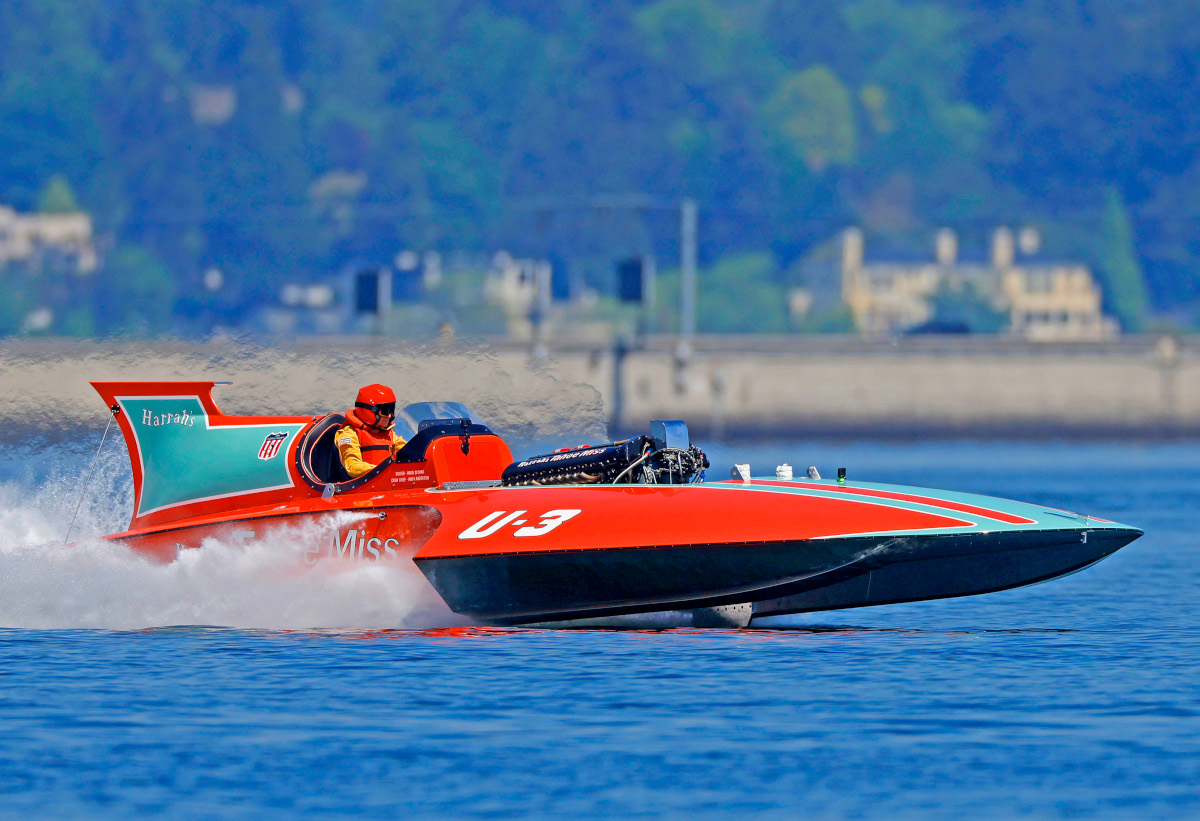 The refurbished Tahoe Miss when it ran on Lake Washington on May 16, 2023. Dixon Smith was driving. Craig Fjarle photos
Hayden has five Allison engines. Jose Flores, who owns Vintage V-12, assisted with procuring them. "Peter Orton helped; he built the three stock engines. I got a lot of parts from Wichita. Two of the engines are G-6 Allisons and that will lead to stronger engines for the aux-stage when we run it."
The reconditioned Tahoe Miss went back in the water for its first test run on May 16th, with a stock Allison engine. Dixon Smith, who was a crew member on the boat in 1966, was in the cockpit. "We're just testing and, we hope, finding out what the bugs are," Hayden explained. "Dixon's plan was to run it easy for a few laps and get it figured out. I'm sure he's watching all the gauges. He's an absolute perfectionist. Nobody's smarter than Dixon, as far as I'm concerned."
Following several test runs, Smith was pleased with the boat. "For the power that's in it, it's doing really well," he said. "The boat handles well. We had a little issue with our water speed indicator, so we disabled that. My guess is I was probably doing maybe 130 or 135. All in all, for the first run out of the box after restoration, I think it went incredibly well. Mike and Larry Hanson have worked their butts off on this thing for several years, and it shows. Right now, there's nothing I could think of changing. We tried three different propellers. Two worked really well; the third one was kind of marginal. One of the things we have to do with these old boats is start trying propellers. If there is anything to do right now, it would be, try more props."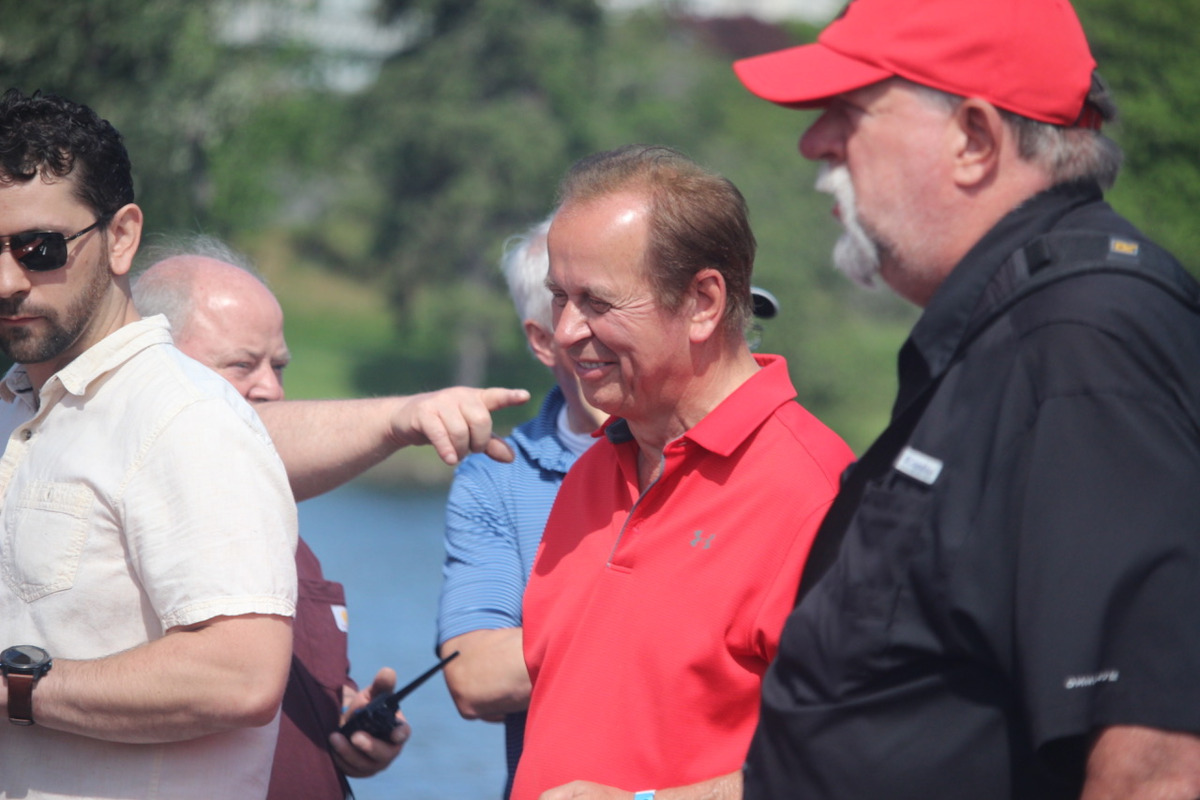 Steve Hayden (above) is retired from the business he founded in 1976, North American Machine Products. "I had a 48-year career building aircraft parts for Boeing." He now has the resources to make Tahoe Miss a regular at vintage events. Plus, he owns two more vintage Unlimiteds. "I have been a member of the Hydroplane and Raceboat Museum for at least 20 years. I support it and support the history of it, and do whatever I can to help." At the end of the test day, his joy was there for everyone to see.
Driver Dixon Smith in driving suit and life jacket. Craig Fjarle photo
Featured Articles