An Early Effort to Improve Safety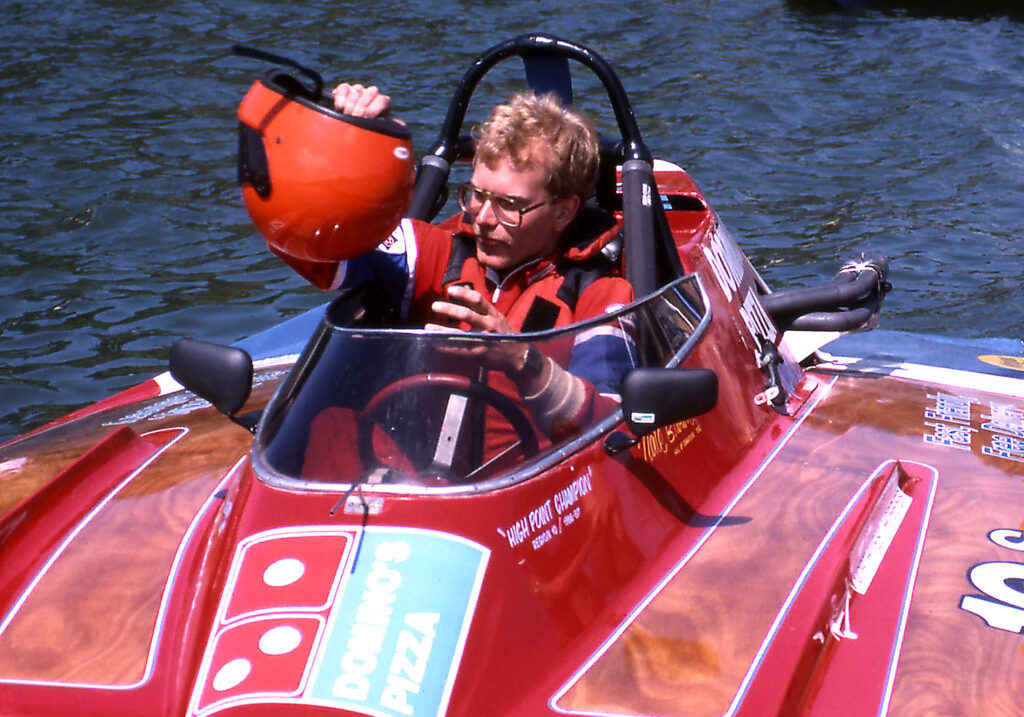 By Craig Fjarlie
During the 1980s, the need for improved safety was all too apparent. Several prominent drivers had lost their lives in inboard and unlimited hydroplanes. Rudimentary work was being done to introduce enclosed cockpits, but development involved trial and error.
Nate Brown, who went on to a successful career in unlimited hydroplanes, was competing in the 145 class in 1982. "I started with a Campbell hull that we built," he explains. "Jeff Campbell, John Watkins, Mike Hanson, and I all helped build this thing. I set some records. Right before I sold it, I crashed it and broke my neck. During the off time, I started building another boat. It was a 145. It was one of Mike Hanson's first boats, based on a Kelson design. I built it myself. It was a composite boat with wood decks. Domino's Pizza sponsored it." Initially, the boat was powered with a 2,000 cc Pinto engine. Later, it used a 2,300 cc Pinto. "That was an old Cobra engine," Brown says. "That's why you see the big sticker on the side of the sponsons that says OMC Cobra. They gave those engines to us boat racers for $500 apiece, in the crate, ready to go."
Safety was on everyone's mind at that time. "I was racing in 1986, I think, at Entiat, Washington," Brown remembers. "Vern Haworth was driving a boat and it got run over. Vern was killed. Vern was one of my buddies. You have to remember, leading up to this time, there were a lot of people who got killed in boat racing. We were going so fast, there were so many people getting killed at the time that it was really unfortunate."
Brown realized something had to change. "I decided to put a roll bar in my boat. I knew it wasn't legal, but I thought to myself, if I had some kind of protection over my head…"
Others also were working on safer cockpits. "Ron Jones at that time already had thought it out," Brown recalls. "They were putting seat belts in unlimiteds by that time. I thought, 'Why not in little boats?'" My brother, being a race car driver, built the roll bar for it. Then we put it in. It was strong, made of 4130 chromoly steel. I had bicycle b-max pads on my shoulders and on the roll bar. I used the harness mechanism from an old car. It was the kind when you would stop, it would catch and it would grab. I could lean forward and look around. It was all visibility, a big concern. You always rubber-necked to see where you were. Whenever I hit a wave, it would tighten up. I never crashed it, fortunately, but I felt more confident and it didn't slow me down a bit."
There's more to the arrangement of the roll bar. "It was behind the cockpit but over my head," Brown explains. "I had a pocket set up so my head would fit back in it. The roll bar was actually over the side of my head, the verticals. Then the 45s went forward. It looked like a Funny Car capsule. It had diagonal bars go down along side of my head and a hoop overhead. A steel plate behind my head in case somebody hit me from behind."
Brown competed successfully with the boat for several years. "I won Region 10 high points with it five or six years in a row." His career eventually took him to the unlimited class. Among his accomplishments was winning the Gold Cup in 2004 in Miss DYC, a boat owned by Kim and Debbie Gregory.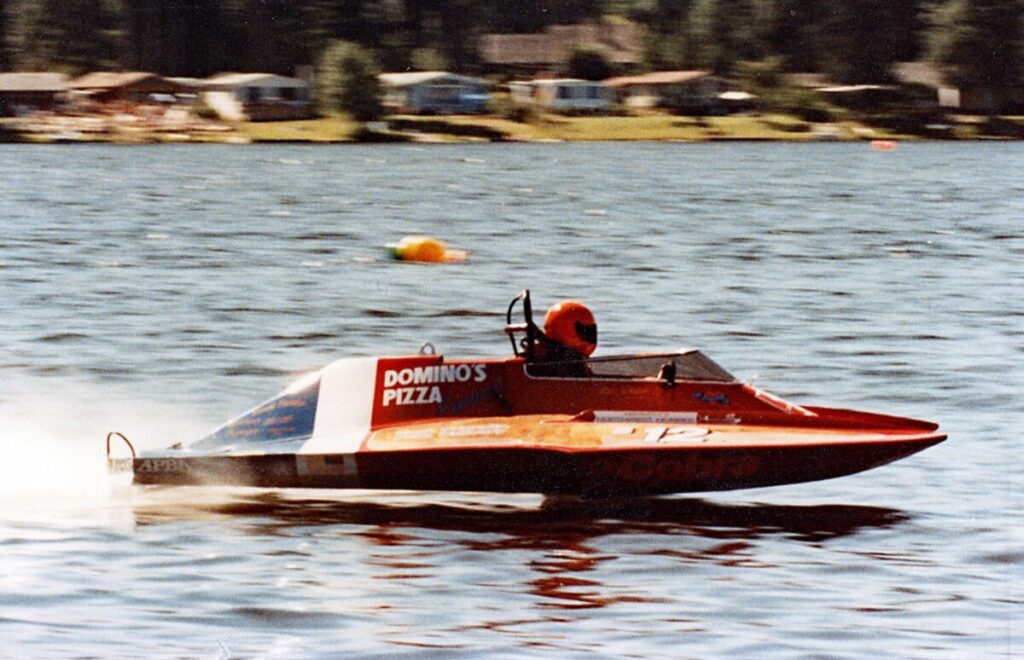 Although Brown sold his 145 before moving into the unlimited hydroplane ranks, the boat is now back in his neighborhood. "It's at Kip's house," he says. "Kip Brown is my nephew. He lives right next to me. He got it back from the guy who bought it. It's in really good shape. It has an enclosed cockpit on it now. I see it every morning when I leave for work. Kip wants to turn it into a 1-litre or a kids' class, a T boat." Brown feels that would be a fitting final hurrah for the boat. "It's only 14 feet, 10 inches long, so that isn't big boat. It has a 53 inch tunnel. Now, I think the 2.5 Stocks are 18 feet long with a six foot, five inch tunnel, with floaters. That's how they built them back then. Today it'd be small."
In 1988, some people were skeptical of the roll bar in Brown's 145. Safety was an important issue, and innovation was needed to help keep racers alive so they could enjoy their summer fun. Although development eventually moved beyond roll bars to fully enclosed cockpits, Brown was willing to try something; and his contribution helped make inboard racing what it is today.
Featured Articles