A Father's Day Thank-you
Story and photos by John Woodward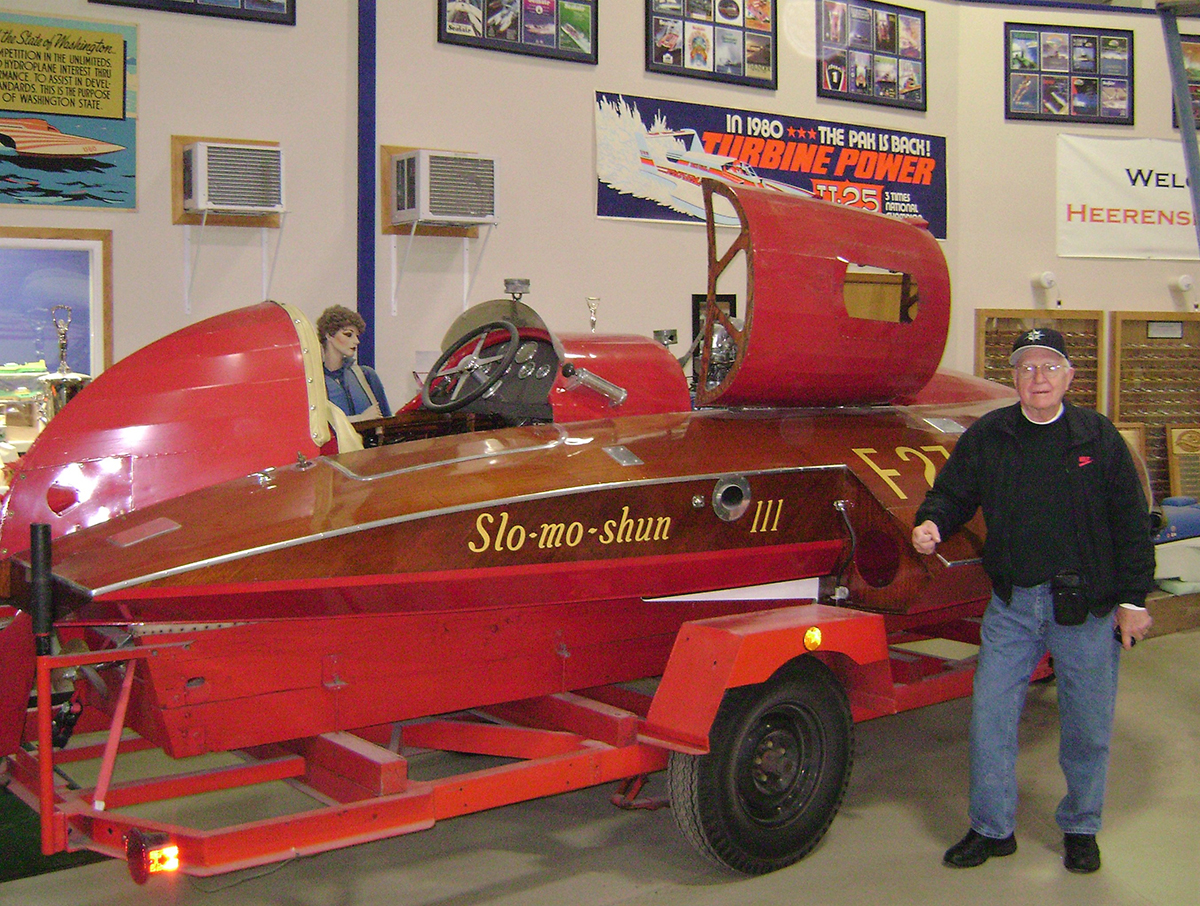 My father Ray Woodward at the HARM Museum in 2009
My 8-year-old eyes witnessed the crash of Jack Regas's Notre Dame (6) as he came down the front straightaway at the 1967 Seafair Trophy race on Lake Washington. As horrifying as it was to my parents and the entire crowd, it was the awakening moment when I first realized what I wanted to be—a boat racer! As I look back now, it is hard to imagine how my life would have turned out had I never seen a hydroplane. Fortunately, that would not be the case, and here is why. In the early '50s, while on a weekend pass from the Fort Lewis Army base, my father and a few of his Army buddies headed north to check out the sights of the big city. As they sat in a little café by the University Bridge in N. Seattle, they overheard some people talking about the boat races on Lake Washington, so the curious trio headed over to see what the commotion was all about. My father recalled the first time he laid eyes on the Slo-Mo-Shun IV's massive roostertail. It was a sight that captivated his very soul. So, for the next 20 years (1954-1974), without fail, he would pack up the station wagon and take our growing family down to the lake to watch the thunderboats race at Seafair, which quickly became my favorite weekend of the entire year.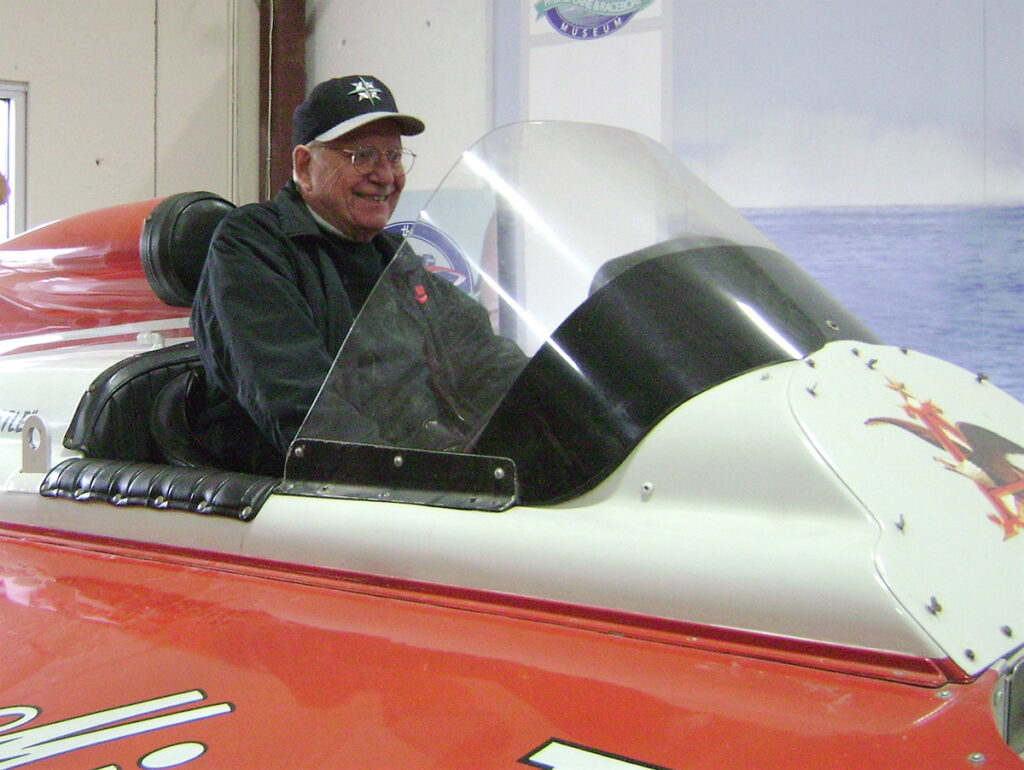 Dad in the '68 Bud, February 2009.
And that is how it pretty much all started for me. I remember telling my mother that I wanted to become a boat racer and she fervently said, "over my dead body!" Later that evening, Dad quietly pulled me aside and said, "If that is what you really want to be, then follow your dream." From that day forward, it was my main goal. It would take 18 years before I would taste the thrill of competition in a 280-class Inboard but once I did, there was no turning back! Even after a crash in 1987 that could have easily taken my life, my passion for the sport never swayed. In early 2009, I took my father down to the Hydroplane and Raceboat Museum during the construction of the U-77 Miss Wahoo so he could watch the famous name come back to life again. I was then present at the 2009 Chevrolet Cup in Seattle shortly after her christening. There was not a dry eye in the house as David Williams, director of the Hydroplane Museum, took the original driver Mira Slovak for a ride in the beautiful U-77 Miss Wahoo replica.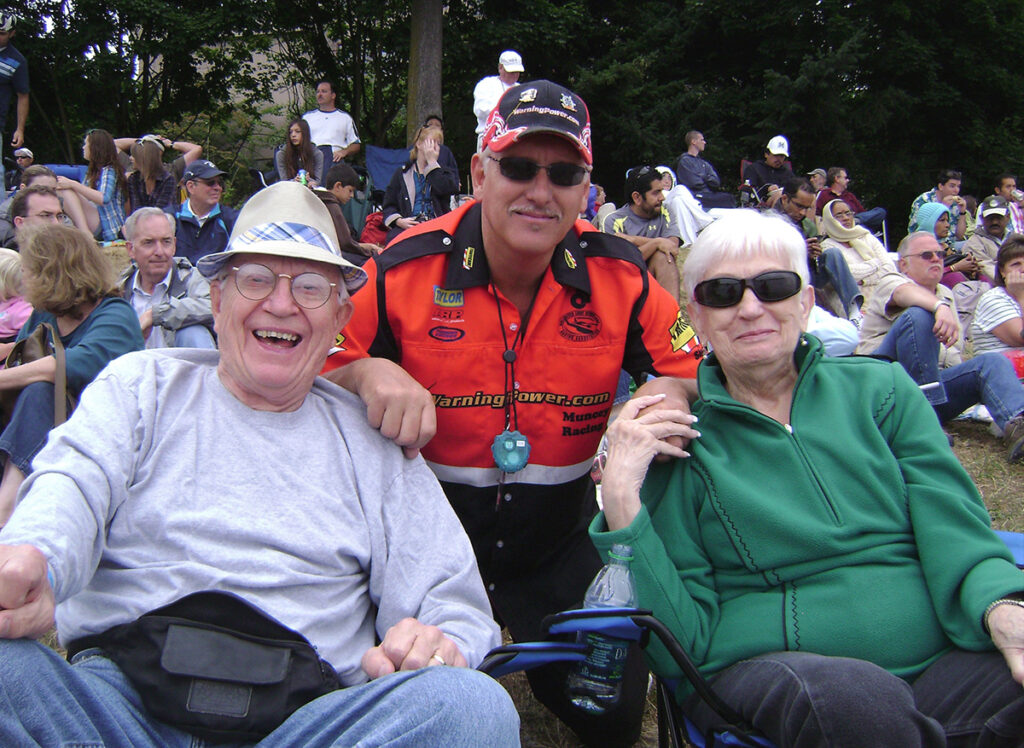 Mom and Dad at Seafair, 2010.
Between 2009 and 2011, my parents would make several appearances at the events we were participating in. I was always extremely proud to tell people that it was Dad's fault for my boat racing addiction. Once he reached the age where he was less mobile and could not attend, I would call or visit my father and tell him all about my adventures as he intently listened with bended ear. It was in 2017 when his health took a turn and we almost lost him to a severe case of pneumonia. Before my parents moved to their new assisted living facility in Utah, I was able to share my experience of taking the wheel of an Unlimited hydroplane, the 1956 U-77 Miss Wahoo replica, at Mahogany Merlot in 2019. He was beyond overjoyed that the dream he encouraged me to follow was all coming true. It was a proud moment for me to show him one of the many photographs taken of my experience in the Miss Wahoo. On September 20th, 2020, my father peacefully passed away at the age of 94, surrounded by his wife and their three daughters. Most of my heroes growing up were boat racers, but in reality, my number one hero has always been my father, who encouraged me and sometimes pushed me to follow my dream.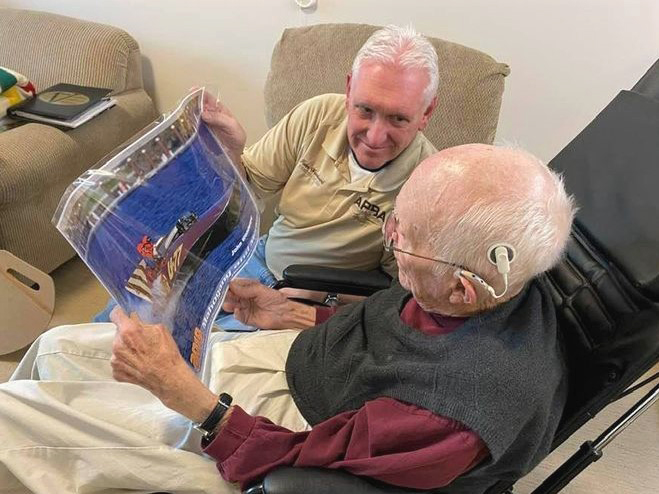 November 2019, showing Dad a picture of me in the Miss Wahoo.
Thanks, Dad, for leaving me your legacy and passion for the hydroplanes that is now deeply ingrained in my heart and soul.
I love you, Dad. Happy Father's Day.
Featured Articles