A Conversation with Ginny Lea Lyford-Asp
Ginny Lea Lyford was born in Seattle in 1943. She had a place in a family that would be known for success in boat racing and numerous other activities. She competed in outboards, was a downhill ski racer, and taught firearms safety. The following interview was conducted on April 6, 2016, at her home in Oregon, by Craig Fjarlie.
What were some of your earliest experiences with boat racing?
In maybe 1953, we lived fairly close to Lake Washington, in the Denny-Blaine district. My older brother Chuck and I would hear the Unlimited boats start up – at that point they were down in the Mount Baker beach with cranes – and we would get on our bikes and go like mad so we could see anything that was going on with the boats.
We towed wooden hand-made boats behind our bikes—we were just enamored with the boat racing. At some point my brother expressed a real desire to race boats. I think it was my mother who looked into it and found Al Benson's Marine out on Bothell Way. Al had some used boats for sale there. Chuck and my mom put together a JU. He named it CAL-1, for Charles Albert Lyford number 1. I was surprised with Chuck's original boat, which was kind of a tank. I don't know who built it. Kind of a big old tugboat, but as soon as he got it I wanted one, too.
Once they heard about Jacobsen boats, which were faster and lighter and all that, then they got Chuck the Jacobsen boats and gave me CAL-1. My dad renamed my boat the First Miss Take.
Our first race was on Green Lake (in Seattle) in 1954. That was with Billy Schumacher, Donnie Benson, and Jimmy Benson. I think you've seen that picture with all of us there. (Looking at photos.) Here's Chuck in his newer boat, the Jacobsen, built in Ballard. This was quite thrilling. I had my dad's old football helmet on. That was the beginning.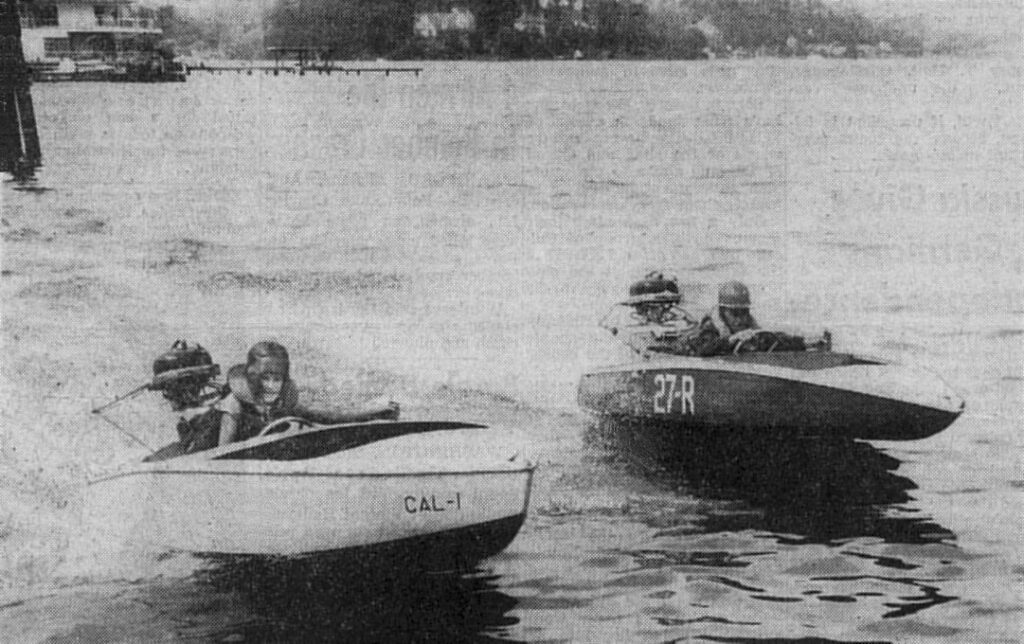 Ginny Lea (left) and Chuck in their JU runabouts in 1954
Seattle Times photo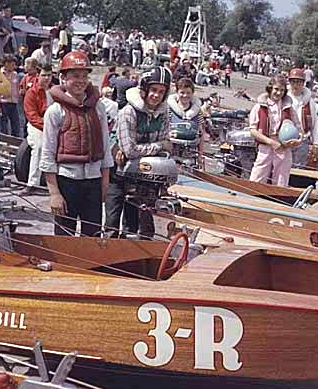 JU runabout drivers at Green Lake: Billy Schumacher and Chuck Lyford on the left and Ginny Lea on the right. Lyford Family Collection
The photo is in color, too.
Yeah, that came out of an archive. My niece is keeping a pretty substantial archive of Chuck, and I happen to show up in there once in awhile.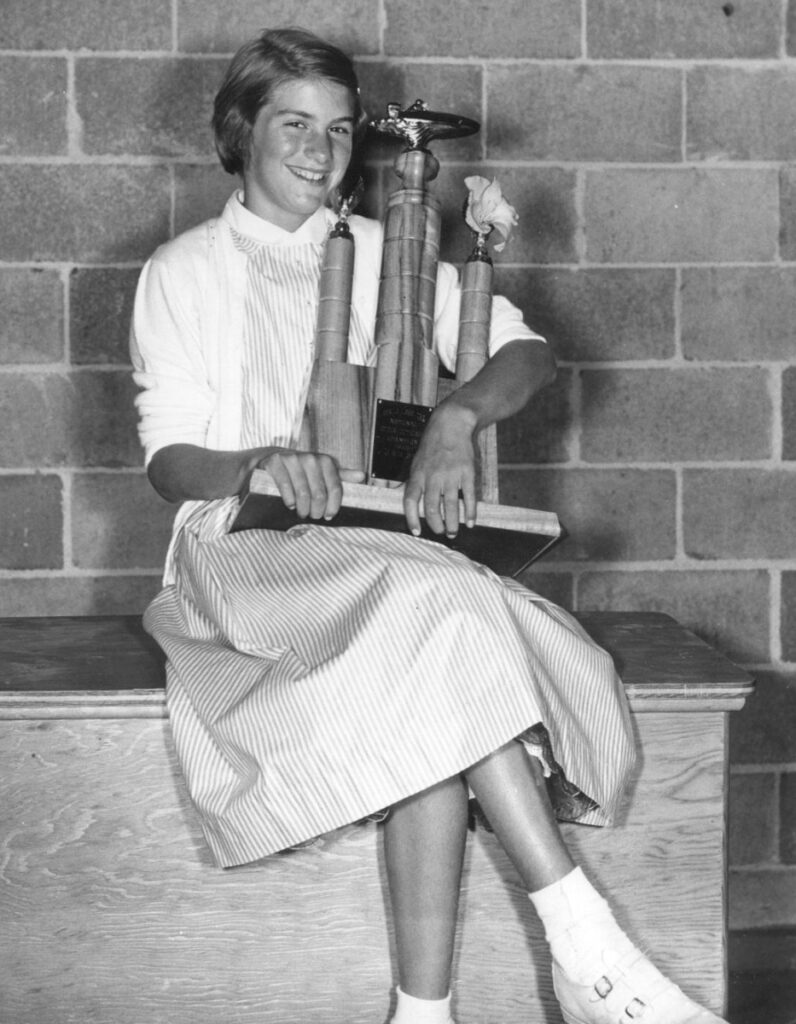 Ginny Lea with favorite trophy at the 1955 Stock Nationals
Bob Carver Photo
Was your trophy from the race at Green Lake?
No, actually it was the 1955 U.S. Nationals (Devil's Lake, Oregon, National Stock Outboard Championship, JSR, third place). My first trophy was the only trophy I kept, because it meant so much. It's kind of interesting; I can say it now, but in this race my boat had a pretty big fin on it. Jim Spinner told my brother to take the fin off—not knowing whether it was legal or not. Take the fin off. So I had to go out testing in the morning. I think there were eight buoy turns at Devil's Lake, and I had to find out when to start turning with no skid fin on. So I did that. And holy cow, I got third. I mean, I was racing Billy Schumacher and all the Nationals people. But no one ever said anything.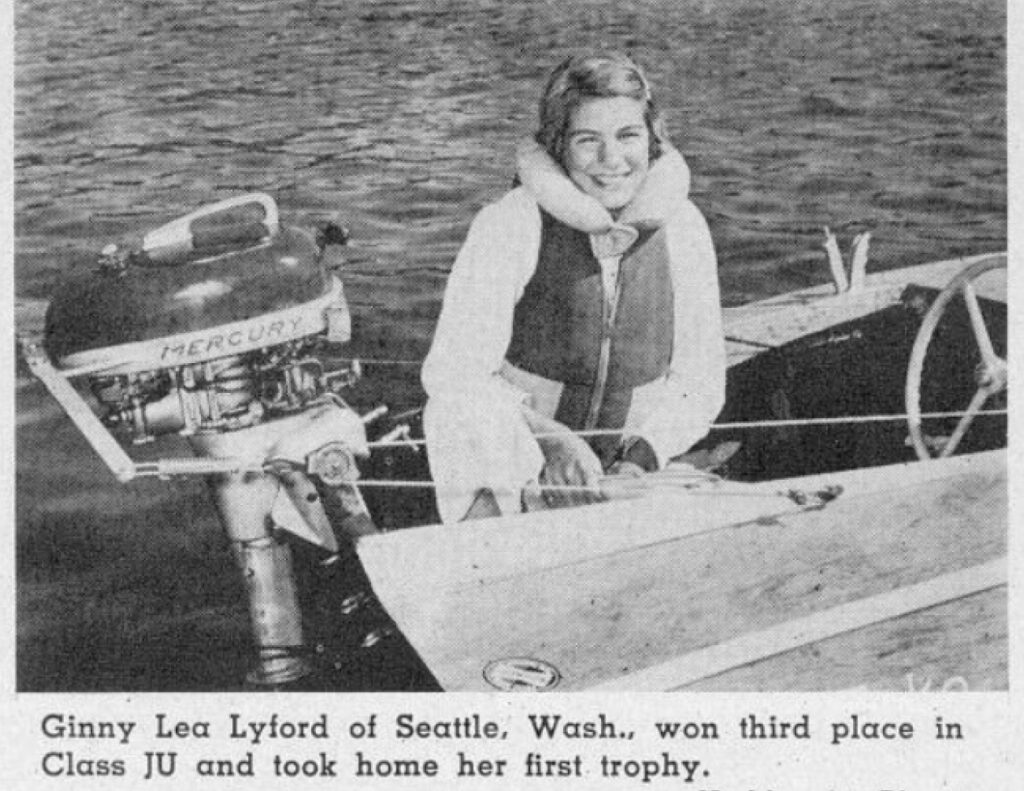 Ginny Lea, JU 3rd place finisher at the 1955 Stock Nationals
Speed and Spray magazine photo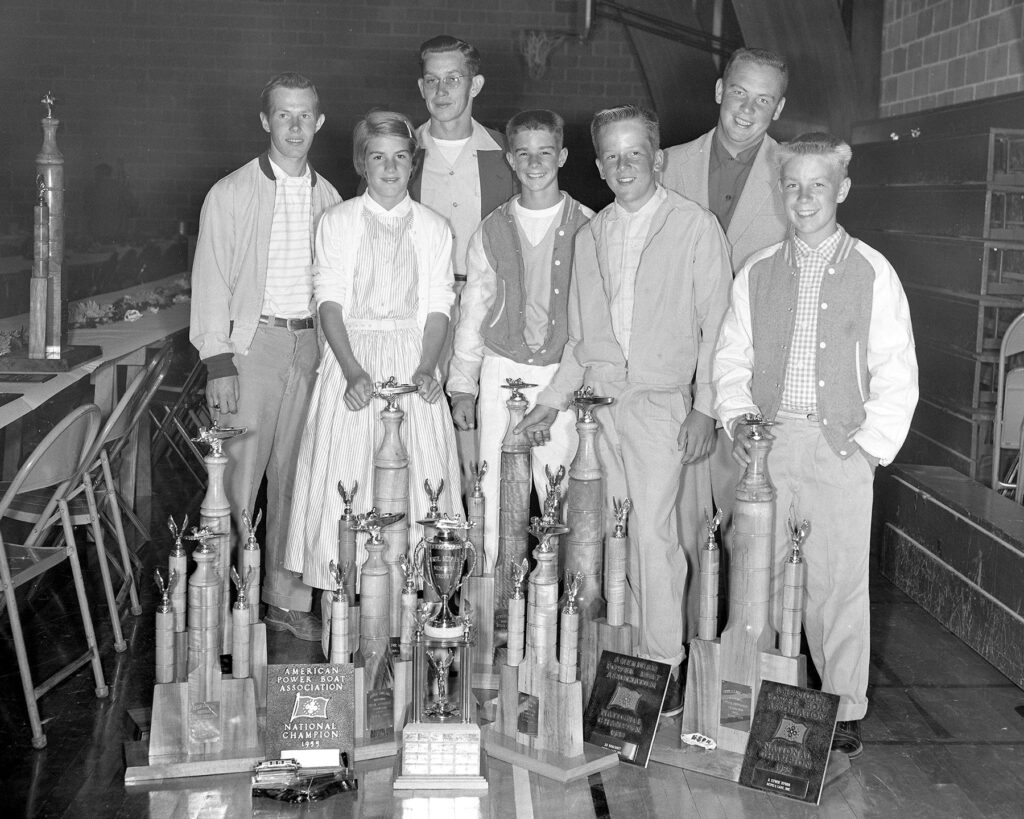 Above, Ginny Lea with Seattle trophy winners at the 1955 Stock Nationals.
Left to right in front: Bud Sullivan, Ginny Lea Lyford, Chuck Lyford,
Billy Schumacher, Don Benson. Back row: Dick Brunes and Johnny Sangster.
Bob Carver Photo
One would think it would have been caught in inspection.
Well, maybe they didn't have inspection in 1955. All I know is that's life, and it was a wonderful experience to get a first trophy in the Nationals, as you can imagine.
And you were 12 years old when that happened?
Yeah, and then…(looking at more photos).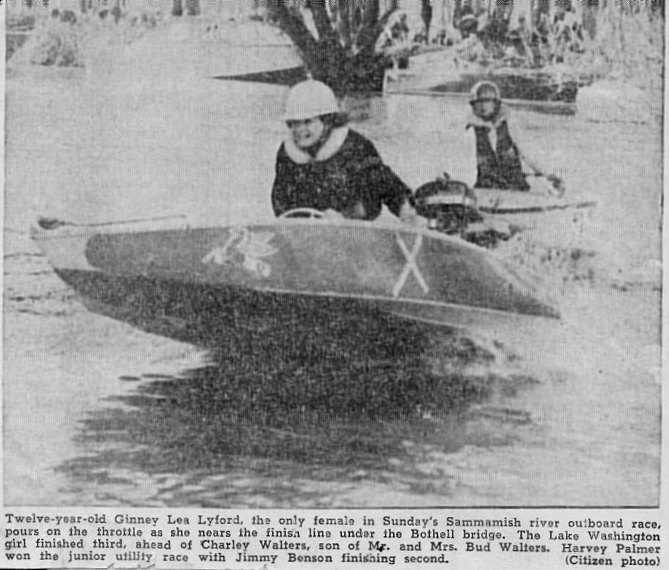 Ginny Lea in the 1955 Sammamish Slough Race
Seattle Times photo
You're actually ahead of Charlie Walters in this photo.
Oh, I remember Charlie Walters. Bless his heart.
This is Silver Lake (in Everett, Washington). This is Jim Spinner's helmet, 'cause I had a football helmet. That was the first paint job on my boat First Miss Take. This was A Stock. I loved A Stock (Runabout). And for a while I raced A Stock Hydro.
Ginny Lea in her AU runabout First Miss-Take
Bob Carver Photo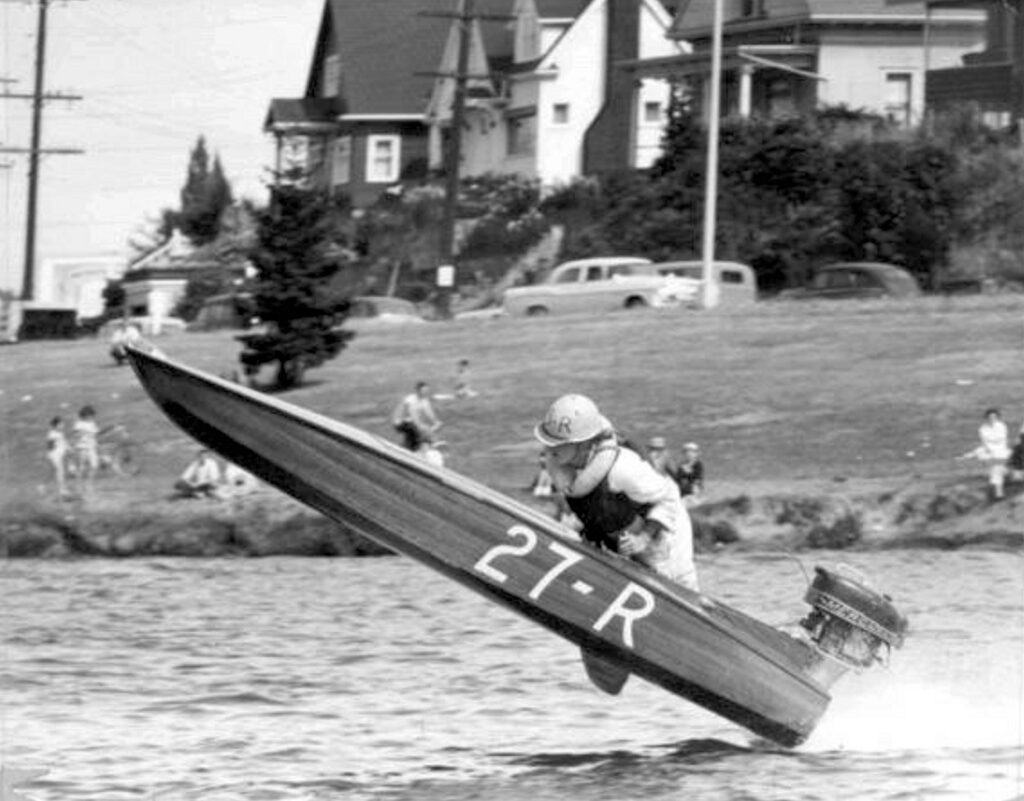 Ginny Lea in her JU runabout at Seattle's Green Lake. Bob Carver Photo
This was another Jacobsen boat of Chuck's I'm driving.
This is Green Lake. This is my favorite boat. I used to go out with (photographer) Bob Carver in a boat. Rodney Entrop and Bob went out. Carver was sort of teaching me to wait for the money shot, you know. Nowadays, you pick the one best shot out of a movie and it's great, but I'd go by him and I'd kind of pick the boat up a little bit to get a good shot. (Laughs.) Vanity, there… So anyway, I went on to A Stock Runabout, which I really loved the most. And then I got into skiing. And then Chuck got into airplanes, the P-51s, and we switched from boats to airplanes. Then it was children. OK, go back to the boats.
Who did your engine work?
My brother Chuck. I remember taking a penny with Chuck and we filed it down as thin as we could so we could put the penny in the butterfly valve so we had a little less wind resistance to it. We'd do stuff like that and he was brilliant.
I remember one time my brother and I were working on my brand new runabout. I was pretty light in those days, and it was really "floaty." We figured out that we needed a little more weight to be forward. There were not many pieces of lead you could buy, but we wanted a piece of flat lead that would go just forward of my knees. So, we put a cookie sheet on Dad's barbecue, melted lead into the cookie sheet, and then put holes in it. Then somehow Chuck bolted it in there. The boat had less potential to go this way and that. We were always working on going faster.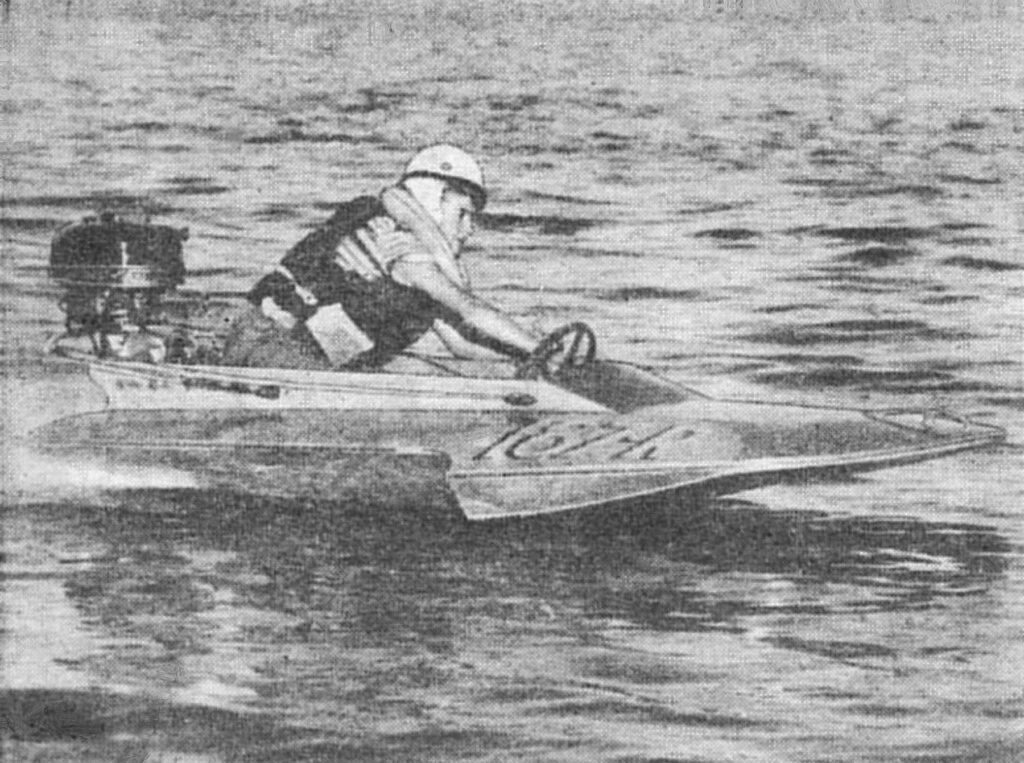 Above, Ginny Lea driving an A Stock Hydro
Lyford Family collection from Seattle Times article
You mostly ran runabouts, not hydros?
Yeah, I showed you a picture of A Stock Hydros, but I loved the runabouts. I loved the inconsistency. It's fun to learn to keep the nose down and distribute your weight. Once in awhile you'd hit a little wave and you'd have kind of a wild ride. If you got wild in a hydro it was usually all over—you blew over. But I really loved the runabouts. They were busy boats. No contest. Wilder the better.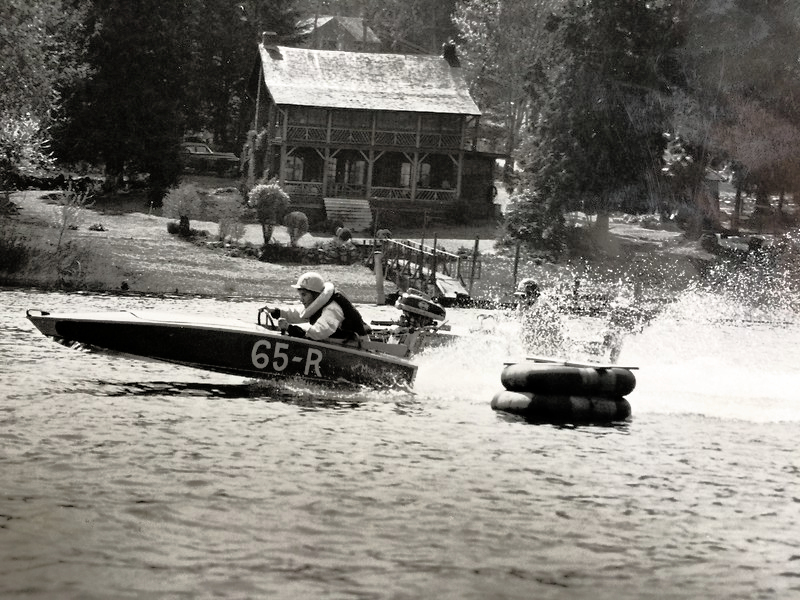 Ginny Lea in her favorite ride, a runabout
Bob Carver Photo
That's what you learned in.
Yes, oh, yes.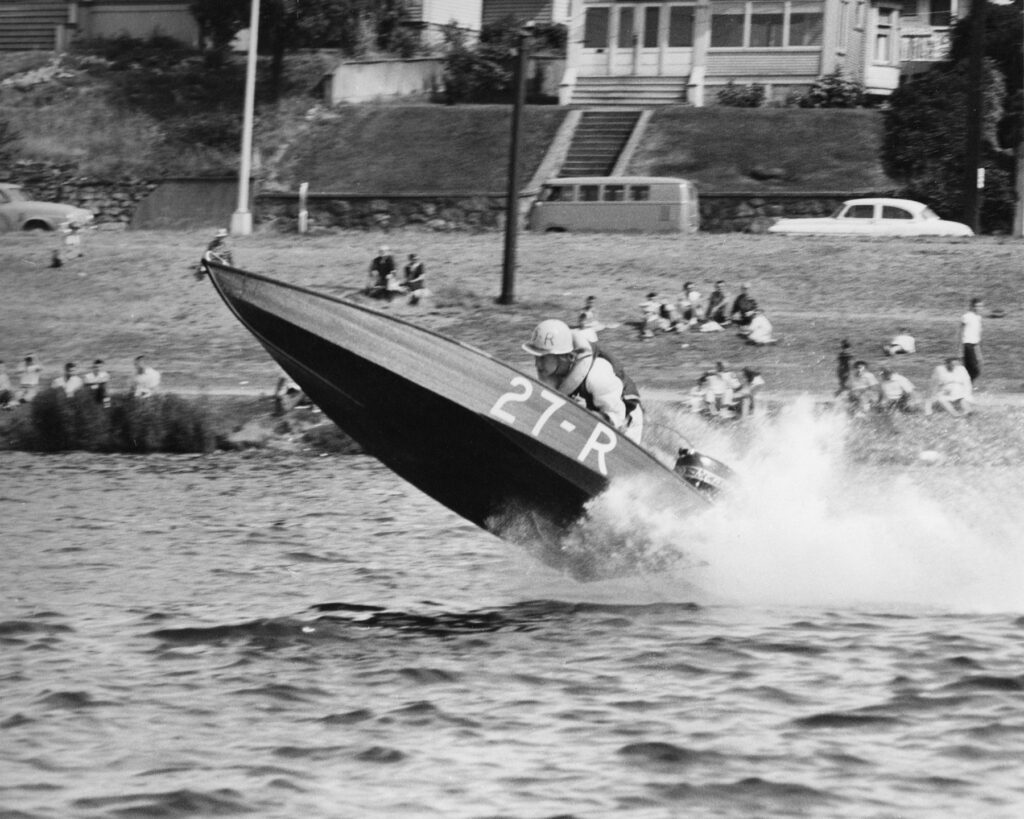 Ginny Lea in her bucking bronco AU Runabout at Seattle's Green Lake.
Bob Carver Photo
Ginny Lea and racing mates with a typical traveling rig. Left to right: Chuck Lyford, Eugene Gross, Don Benson, Jimmy Benson, Bill Noble standing behind Jimmy, and Ginny Lea Lyford on far right.
Bob Carver Photo
How did you get to the races?
My mother was always taking us and doing the boat racing thing. Dad was a forest engineer and he was always gone. My mother would haul us all over. Chuck wasn't old enough to drive. We had a '49 Buick. Ruthie and Ed Karelsen drove this old Buick with Chuck and his A Stock Hydro and Runabout boats to Tennessee or someplace. They had four boats stacked, one on top of the Buick. It was very exciting to get the boat and the car painted to match. And off they went. (Ginny did not go on the trip to Tennessee.) They had a great time. I remember that part. That was a neat story.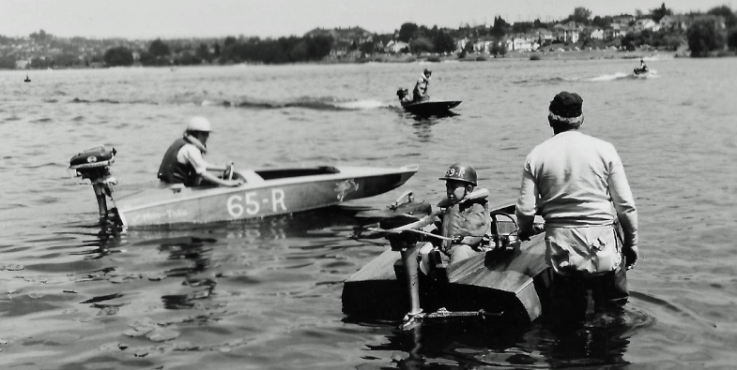 Ginny Lea in her JU runabout with Jimmy and Al Benson to her right at Seattle's Green Lake. Lyford Family collection
Did you have a favorite racecourse?
I think Green Lake was the most fun, because it was so open. Green Lake was my favorite. But it was a series of lakes—Lake Sutherland, Silver Lake, D-Lake, and Green Lake. A lot of the races were on—not rural, but out-of-the-way lakes—and nothin' was around. But it was fun to race in the hub of Seattle. It felt like the old-time Seafair.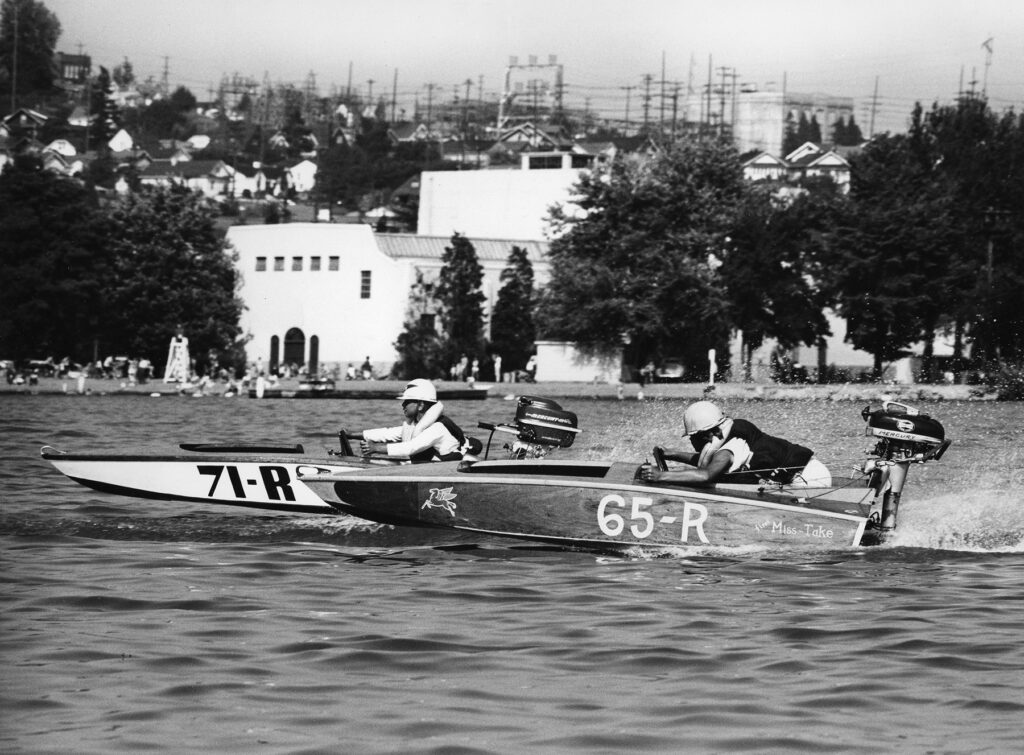 Ginny Lea, 65-R, in intense JU battle with fellow competitor, Jack Holden, at Seattle's Green Lake. Bob Carver Photo
You got coverage and…
Well, not that so much; it was just part of Seafair. And Seafair and the Unlimiteds, from the early times I heard the boats crank up, that was just thrilling. Even these days, if I hear a P-51 fly over, tears come to my eyes. There's an engine noise and an engine smell that I think runs in the genes, and I have that amazing internal combustion engine gene. Really do.
How many times did you run the Slough?
Twice. At the first Slough race I was in, my boat hadn't been painted yet so I was Miss X. The Slough was fun. It scared me, though. It always scared me.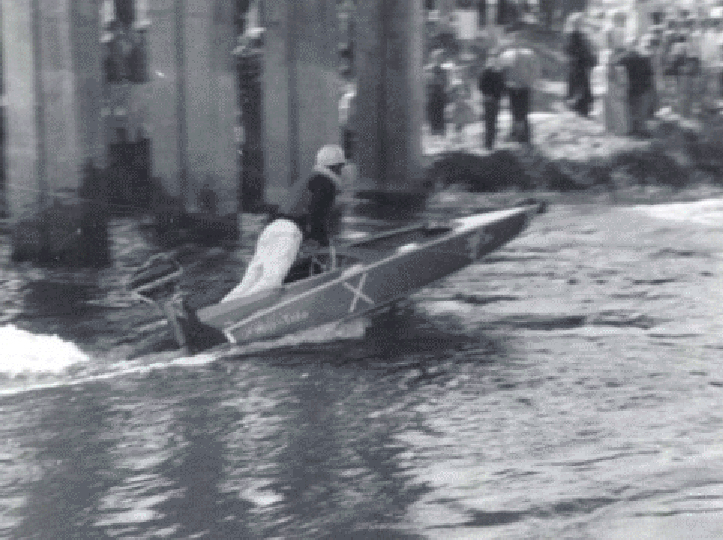 Ginny Lea at the infamous Bothell Bridge pilings on the Sammamish Slough
Lyford Family collection
And how did you do?
A third in one race, and back behind third in the other one. Chuck and I would go up there. One time he hit the Bothell bridge. I was behind him; and when I came around, his boat was upside down on a cement piling, and he was under it. There were a lot of deadheads and stuff and Chuck was stuck in them. There was a man who stopped his truck and ran down the bank and came over. He went across and pulled the boat up and Chuck got out from under it. That was before the first race. And I was nervous, nervous about the junk in the Slough.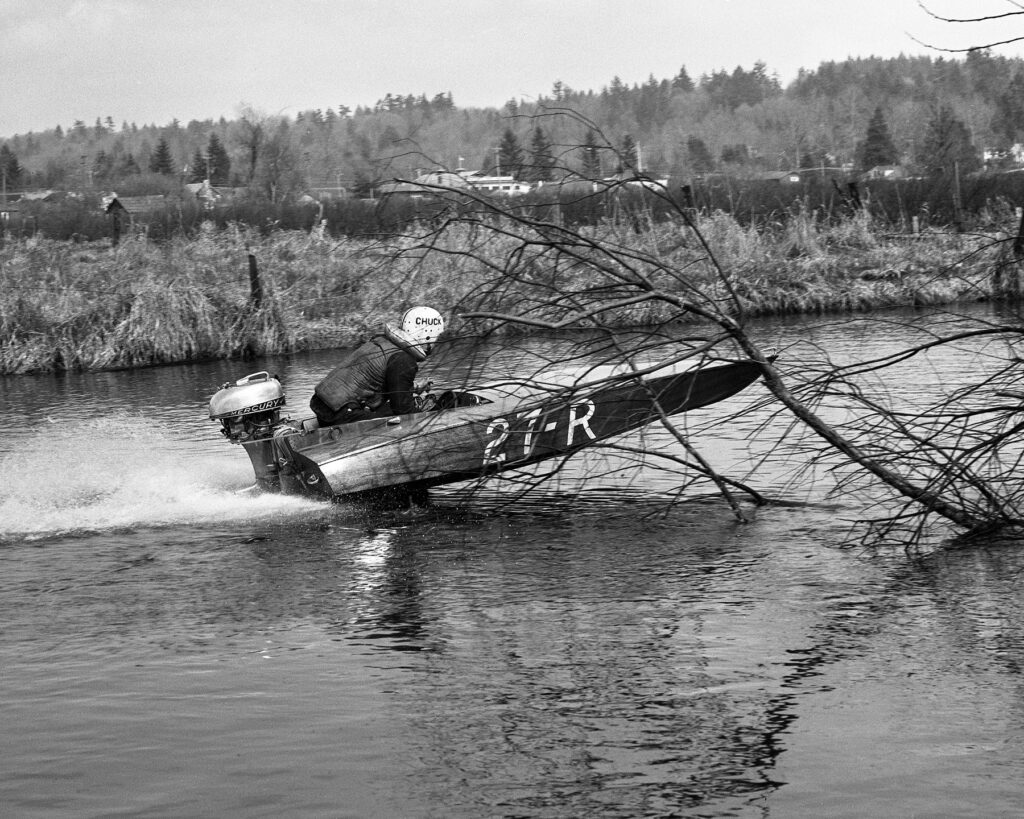 Chuck Lyford encountering overhanging Sammamish Slough tree branches
Bob Carver Photo
OK.
And then my uncle, who worked for Walt Disney, was in charge of the Mickey Mouse Club newsreels. He decided it would be fun to do a Mickey Mouse Club newsreel – I think this was in 1955 or '56 – and have us pretend we were running the Slough. We have looked all over Disney property for that little short. The idea was for Chuck and me, and I think two other JU racers, to split between a couple of film locations and Uncle Richard would write a story around it. It was for kids that did unusual racing. I remember very clearly, going too fast in one fairly easy turn, I hit the beach, did a somersault, and there was a cow standing there looking at me. You know, Rrrr, Rrrr, Rrrr. So, I did have a couple of little exciting moments practicing for the Slough. But I think what was around the next corner was a little scary for me. The fear is part of it—the adrenalin and everything.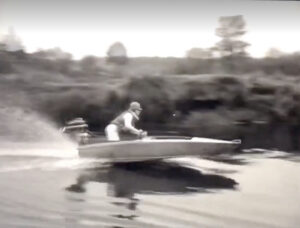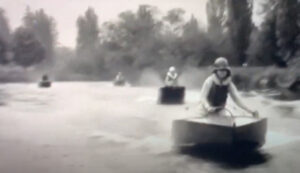 Above: Ginny Lea in Sammamish Slough Race movie, and Ginny Lea leading the race in Sammamish Slough Race movie. YouTube screen captures
Would it be fair to say the Slough really wasn't your favorite place?
Yeah, yeah. For an 11-year-old, 12-year-old girl, it had a lot of spookiness to it. Especially 'cause I got dumped out under a cow and saw my brother upside down under the bridge, I had not too good memories. Seeing Chuck there was kind of a shock. But, I pushed 'cause it's speed and 'cause I'm a Lyford.
Did your dad race at all?
My dad raced C Service later. He didn't race 'til I was starting to get out of it. He probably raced for one season.
Did you go to a lot of the Seattle Outboard Association club meetings in those days?
Yes and no. My mother would go. I ran the clock with Billy Carver in a lot of races. That was a hand clock. Billy and I were really good at it. He'd do the timer and I'd do the hand clock in the regattas where I didn't race. I think I even ran it while I was racing. On Lake Sammamish, I remember running the clock with Billy, and then racing. But Js were, I learned later from some of the wives, so boring. It took so long at 26, 27 miles an hour to have 'em go around the course. To answer your question, I went to the meetings because of the fact that I ran the clock. I needed to be at least interested and current with what was going on. And a lot of the meetings were held out on Bothell Way at a restaurant. I think it was an Italian restaurant. I knew Spinner and Benson and Eileen (Crimmin) and Bob Carver—all those people. They were kind of a nucleus of the organization and whatnot that went on behind it.
Yes.
And then another story. When Chuck got in the 225 limiteds, at Green Lake, a guy named Loren Caldwell flipped and the next boat ran over him. Our doctor, Randy Pillow, was the medic. The ambulance boat driver had gone to the restroom in the Aqua Center. Dr. Pillow said, "Ginny, do you know how to drive this boat?" I said, "I think so." I'd never been in that ambulance boat. There was this tall, nice-looking fellow there and I asked if he could come and help. That was Ragnar, who had come from Norway. He was crewing for John Ryan. I married him a while later. Loren Caldwell died the next day because he was in pieces when we picked him up.
When you got out of outboard racing, what did you do with the boats? Did you sell them?
Yeah, I think they just disappeared. They got sold. I can't tell you how and where and why, but they're like old guns. You put 'em in a used boat store and they just get bought.
What came next?
Then I got into skiing and developed a real passion for downhill racing. I was on a couple of national teams but broke my leg in Aspen in 1959. At that time we strapped our bindings on with long thongs, you know. Once you have pain, you have caution.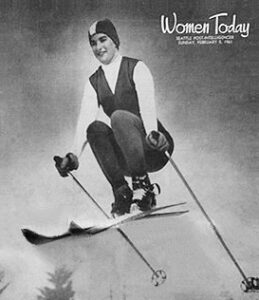 Ginny Lea, downhill ski racer
Seattle Post Intelligencer photo
That's for sure.
The year after I broke my leg, the Nationals were in Sugarloaf, Maine. I made the team but I was cautious. Once I learned caution I learned fear, and I lost the edge in downhill racing.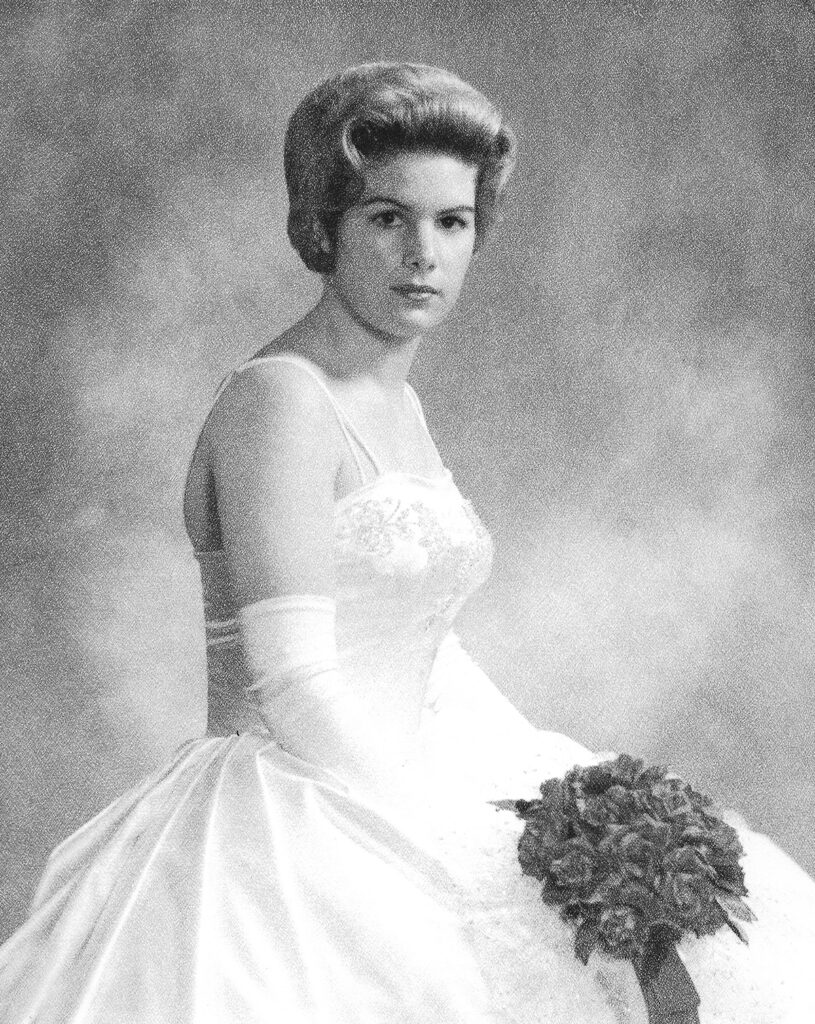 Ginny Lea debutante photo in 1961
Lyford Family collection
Well, moving into the next period in your life, you were also a debutant.
(Whispers.) Oh, yes. Gosh, you know, that was hard for me. I was not the debutant type. I guess I wasn't a girly-girl. I would rather be in the garage with all the guys, but yeah, I was a debutant. I look at the photos and can't believe it. Did I look happy? Not an important part of my life. My mother would have liked it to have been. She sent me to ballet school and all that sort of stuff. I flunked ballet school big time. I took chocolate chips and threw 'em on the floor and got 'em all over those pink slippers. Chocolate crunchy, and I was expelled from ballet school.
Oh, oh.
Yes, but I went on to be a Seattle debutant at the Christmas ball. Later, after I was married, I was a fishing guide at a resort. Remember Blaine Freer from the P-I (Seattle Post-Intelligencer)? He was the hunting and fishing news guy. He came out to our lodge and I was his fishing guide. So for a while I fished a lot in Canada.
You had a hunting and fishing lodge?
We had 10 acres in Woodinville. Ragnar was a hunter, so we bought this lodge. The hunting wasn't anything I was ever interested in. I could kill fish, but not critters. That was a very interesting time in our life. Then Ragnar wanted to build a house up there and live there full time, and our paths went different ways. I went back to school, to Seattle University. Loved that part of my life because marrying as young as I did, at 19, I didn't have the idea of taking care of myself. So I learned that, and had quite a few jobs and loved them all. And then got into shooting in 1988. My brother had a gun company called Detonics that made stainless steel .45s. I got into shooting and I called it gun racing. I was in competition shooting with a .45. You know, compete in-kind with targeting and win.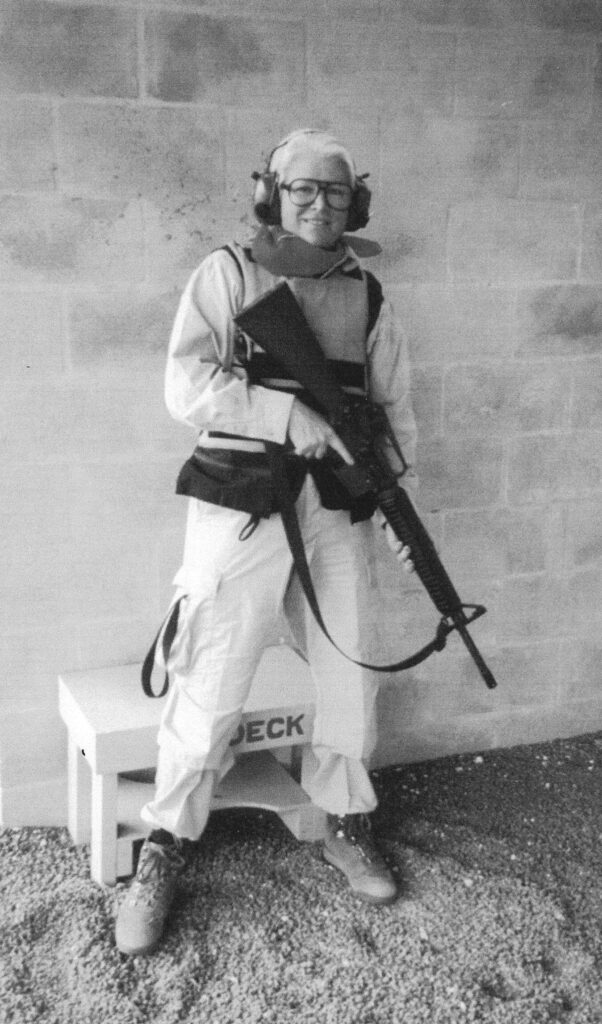 Ginny Lea, Professional Firearms Instructor. Lyford Family collection
Did you get into that through Chuck, more or less?
In a way. It's an interesting story. Chuck was flying for the Contra war in El Salvador with a man named Jeff Cooper. Col. Jeff had a place called Gunsite down in Arizona that trained civilians in the art of pistol craft. After Chuck took his class, Clint Smith (one of the gentlemen who used to run the range for Jeff Cooper at Gunsite) had his own school on the road, so Chuck paid for me to take his three-day school in Lynnwood, Washington. He provided me with a .45 auto-loader and I absolutely fell in love with shooting.
This was 1988, you said?
Yes, 1988. And then I passed that class on to my daughter Heidi, who was in college. We went to Sun Valley and Clint Smith would teach around the Northwest. Well, we were smitten with the art of full-frame .45 and shooting at targets. We came across a lot of law enforcement people who had difficulty because their wives were afraid of guns. There's a whole population of people who hate 'em but know nothing about 'em. We didn't aim to get people to love shooting. We had an all-day class where we'd start with a .45 that was in pieces, and ammunition that was in pieces. Showed 'em the mechanics of how it worked and that the gunpowder didn't explode. Our classes were all in the Northwest and we'd haul all the guns around. If the ladies wanted to shoot in the afternoon, they could. And all of 'em did, and some of 'em said they still hated guns but they weren't afraid of them. That was our focus. We got very popular. From that point, there were few females who were teaching firearms safety and management. Some of 'em were really loud, and talked about shooting the man in the… or were just very quiet little ladies who said, "This is how it is." In 1992, I got hired to come in and be on staff in Texas, at a place called Thunder Ranch.
Hmm.
They would fly in instructors from various areas, all of them being law enforcement and military. Clint Smith wanted someone who was in the general public. The idea was that if you get a lot of hotshots and SWAT guys in there, 20 at a time, they have nothing they can learn from an old blonde lady. (Laughter.) But I was so fascinated and knew how to fix guns, so when their guns would break down, Clint would send 'em to me and I'd fix the guns. Gradually I earned the respect of the firearms community 'cause, you know, I wasn't one of those. There's a word for people like that, but I'm just very quiet. I love to shoot, I'm good at it, and that's it. Clint then hired my daughter, who had also become an excellent shooter. Then his wife passed on very suddenly, within six months, of brain cancer. Heidi ended up marrying him. So my son-in-law is Clint Smith of Thunder Ranch. They now have a Thunder Ranch here in Oregon.
They're very conservative. The best person to have a gun is someone who never has to use one. If you know what you're doing, and you learn that behind every bullet is a lawyer and that you might lose everything you have, you may not be careless. So, avoidance is the first lesson; never display a firearm in any way that could be dangerous. You have these shootings where a little kid accidentally gets hold of a gun. That's just pure negligence and that's the sad part about it. You manage a gun right and you follow the safety rules, treat all guns as if they're loaded, never point it at what you don't want to shoot, be sure of your target. It is a simple formula, but unfortunately people learn off the TV.
Oh, yeah.
Like Thelma and Louise! Where'd you learn? Off the TV. So that was a passion of mine for quite a long time. I still work for Thunder Ranch. I'm the gear manager. They sell hats and shirts and that sort of thing and I take the orders and charge 'em and wrap 'em and ship 'em from here.
You won some awards as a sharpshooter?
Oh, yeah, but that's not important. The notebook we handed out was very simple. Again, we had many people come away not being afraid of guns. That was our goal.
You drove the inboard Wee Wahoo once?
Yeah, on Lake Washington. They had it down there to test before the Unlimited race. I think it was Junie Cech, Frank Cech's son and Marci Boeing's brother, who said, "Hey, Ginny, why don't you drive?" In the photo, I have this look on my face that somewhat reflects fear. I usually was able to overcome fear, but I always acknowledged that it was there. It was a wonderful experience, but when I came in to the Stan Sayres pits, we had a scare. Frank Cech was near the stern of the boat. He looked down and turned quite pale because he said it looked like under the water, between the rudder and the back of the boat, I had maybe run over a blonde water skier. Everybody jumped to look closer. The Coast Guard had been putting up the log boom with a hemp rope, had cut off a pretty good chunk of the rope and thrown it in the water, and I'd picked it up. So it looked like blonde hair kind of moving under the water behind the boat. So that was my excitement and that was a real thrill. Yeah, that was pretty darn thrilling.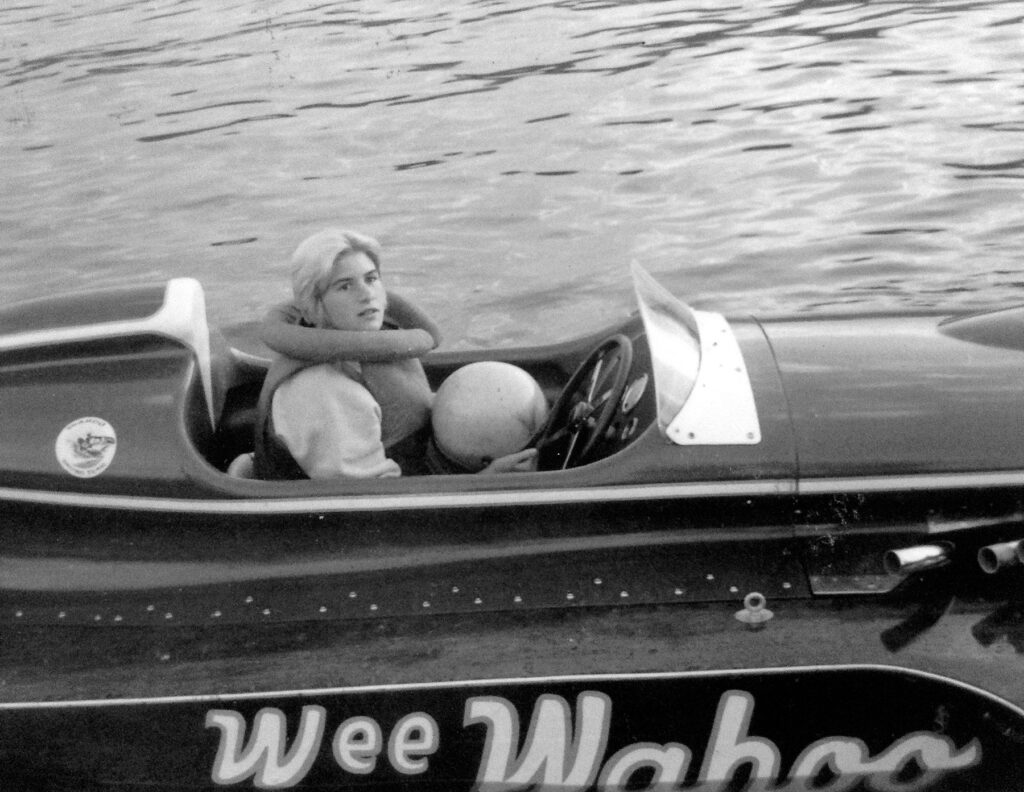 Ginny Lea about to test drive Bill Boeing, Jr.'s and Mira Slovak's 280 Limited Hydro, Wee Wahoo. Lyford Family collection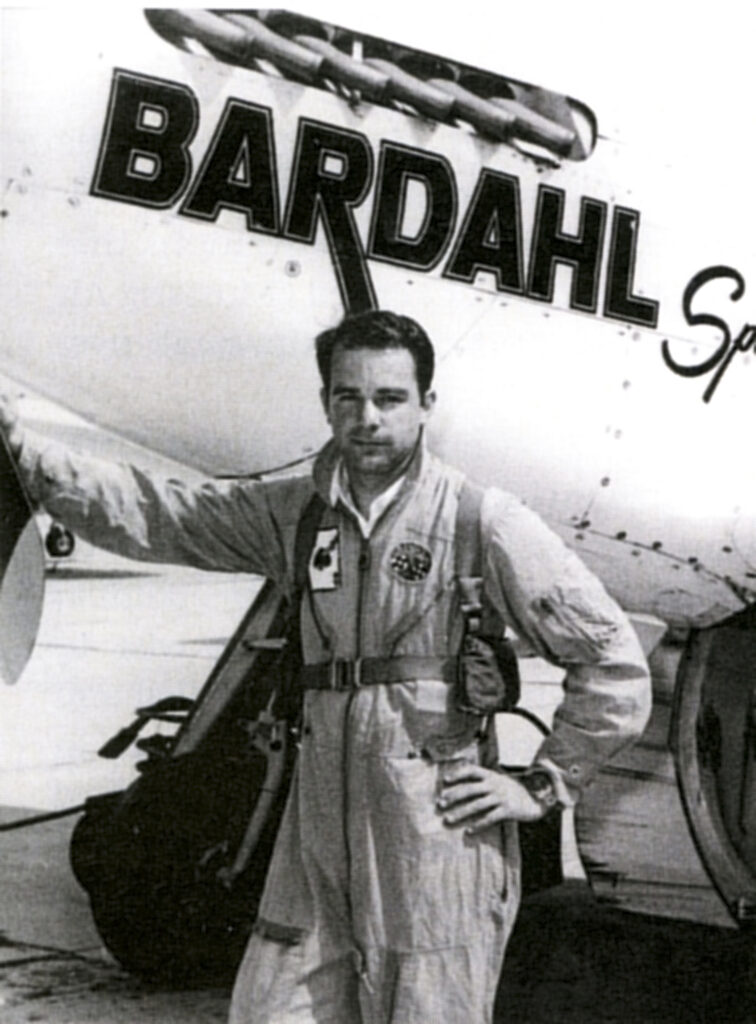 Chuck Lyford with his P-51 Mustang, Bardahl Special Flight Journal magazine photo (Editor's note: Chuck Lyford was killed in 2017 while racing in his race car (shown below). The interview was conducted before his accident.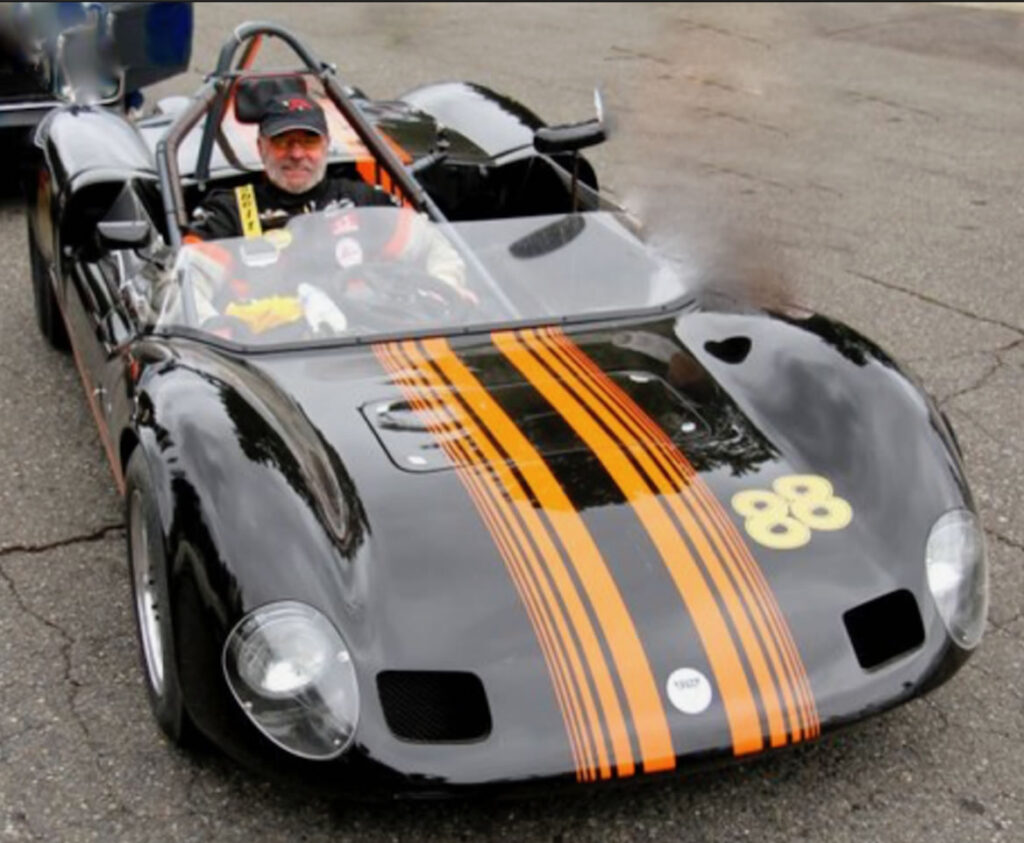 If anyone had offered you a chance to drive an inboard, would you have taken it?
No. It's kind of interesting how you graduate into wisdom when you're young. When Chuck started flying the P-51 Mustang in the air shows and I flew with him, I'd always go in and throw up before I flew, because I didn't want to throw up on my brother or anybody else. I acknowledged the fear. I knew it was there but I still went ahead with whatever. I think that's kind of how life is, but there was a series of crashes where we lost four Unlimited drivers…
Musson, Manchester, Wilson, and then Chuck Thompson.
And Tommy Fults.
That was '70. That was a little later, but they lost a lot of 'em in short…
Yeah, it was as if aqua-dynamics and aerodynamics came together and they drove so fast that they became aerodynamic. It just seemed like the design had outlived the staying on the water effect. And we hadn't learned caution.
Yeah.
Yet I really liked going fast in downhill racing, and we didn't even wear helmets in those days. We're lucky to be here.
Right, maybe so.
OK, thanks.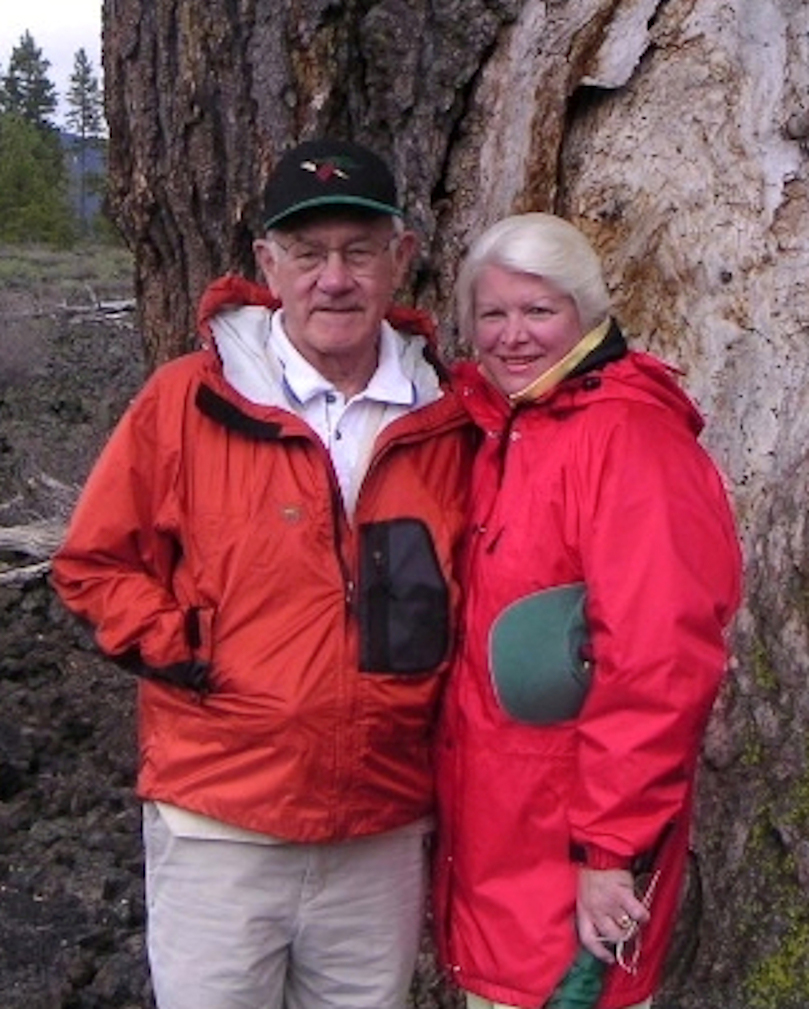 Jim and Ginny Lyford Asp near their home in central Oregon
Lyford Family collection
Featured Articles